Recent progress in advanced optical materials based on gadolinium aluminate garnet (Gd 3 Al 5 O 12 )
ABSTRACT
---
This review article summarizes the recent achievements in stabilization of the metastable lattice of gadolinium aluminate garnet (Gd3Al5O12, GAG) and the related developments of advanced optical materials, including down-conversion phosphors, up-conversion phosphors, transparent ceramics, and single crystals. Whenever possible, the materials are compared with their better known YAG and LuAG counterparts to demonstrate the merits of the GAG host. It is shown that novel emission features and significantly improved luminescence can be attained for a number of phosphor systems with the more covalent GAG lattice and the efficient energy transfer from Gd3+ to the activator. Ce3+ doped GAG-based single crystals and transparent ceramics are also shown to simultaneously possess the advantages of high theoretical density, fast scintillation decay, and high light yields, and hold great potential as scintillators for a wide range of applications. The unresolved issues are also pointed out.
No MeSH data available.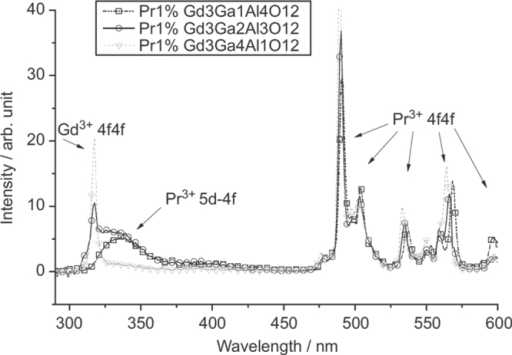 © Copyright Policy - open-access
License 1 - License 2


getmorefigures.php?uid=PMC5036492&req=5

Mentions: GAG-based single crystal scintillators are mostly studied by Kamada et al [24, 25, 95–97] through crystal growth by the μ-PD and CZ techniques. The CZ-grown Gd3(Al2Ga3)O12:1 at%Ce single crystal, where Ga3+ is a lattice stabilizer, was reported to have a high light yield of 46 000 photons/MeV for the Ce3+ emission (31 000 photons/MeV for LYSO:Ce), an energy resolution of 4.9% at 662 keV, a primary decay time of 88 ns (91%), and a high theoretical density of 6.63 g cm−3 [24]. The crystals are thus regarded as promising scintillators for PET, SPECT, and gamma camera. The μ-PD grown Gd3(Al5−xGax)O12:1 at%Pr single crystals (x = 1–5) were found to exhibit the 5d → 4f and intra-4f2 transition emissions of Pr3+ in the 300–400 and 480–600 nm (dominant) regions, respectively, together with the intra-4f7 Gd3+ emission at 310 nm (figure 20) [25]. A higher Ga3+ content would suppress the 5d → 4f Pr3+ emission while enhance the f–f transitions of both Gd3+ and Pr3+. A low light output of ∼4500 photons/MeV, only about 1/5 of the CZ-grown LuAG:Pr standard, and a relatively long primary decay time of 214 ns (98.8%) were reported for the Gd3(Al2Ga3)O12:1 at%Pr single crystal [25]. The poor light output was suggested to be associated with an energy transfer from the 5d state of Pr3+ to the 4f state of Gd3+ and non-radiative relaxations from the 5d to 4f states of Pr3+, with the former being dominant, as schematically shown in figure 21 [98]. Pr3+ was thus suggested not to be a proper activator for Gd3+-containing scintillators. By simultaneously modifying GAG with Lu3+ for Gd3+ and Ga3+ for Al3+, (Gd2Lu1)(Al5−xGax)O12:Ce single crystals (x = 1–5; Ce3+ content: 0.2, 1.0, and 3 at%) were grown by the μ-PD technique and thoroughly investigated for their luminescence properties [95]. It was shown that decay of the 5d → 4f Ce3+ emission at ∼520 nm accelerates with increasing Ga or Ce concentration, and the best composition of (Gd2Lu1)(Al2Ga3)O12:1 at%Ce has a light yield of ∼22 000 photons/MeV, about 70% of LYSO:Ce (31 000 photons/MeV), a theoretical density of 6.88 g cm−3, and a decay time of 76.5 ns (83%) and 282 ns (17%). With the combinatorial approach, Kamada et al made comprehensive composition optimization for 0.2 at% Ce3+ doped (Gd3−xLux)(Al5−yGay)O12 [96] and (Gd3−xYx)(Al5−yGay)O12 [97] single crystals. The light output of Ce3+ in the best hosts of (Gd2Y1)(Al2Ga3)O12 and Gd3(Al2Ga3)O12 reached ∼42 000–44 000 photons/MeV, being ∼150% of the value of LYSO:Ce and 730% of that of BGO (5700 photons/MeV), with the scintillation decay time dominated by 50–80 ns. The energy resolution at 662 kV was determined to be 8.3% [96], which, though inferior to the 6.7% for high-quality CZ-grown LuAG:Ce, is comparable to the 8.7% measured for LYSO:Ce. Bandgap engineering was pointed out to be crucial in developing high quality scintillators, as also suggested by previous studies. For example, the 5d → 4f luminescence of Ce3+ is quenched in the high density garnets of Lu3Ga5O12 (7.4 g cm−3) and Gd3Ga5O12 (7.04 g cm−3) owing to positioning of the Ce3+ 5d states in the conduction band of the host [99], and the performance of LuAG:Ce is strongly degraded by shallow electron traps (LuAl anti-site defects) via delaying energy transfer to Ce3+ and giving rise to quite slow components in the scintillation response [100, 101]. A balanced Ga and Gd admixture may eliminate the trapping effects by burying the shallow traps in the bottom of the conduction band and at the same time avoid ionization of the Ce3+ activators by separating the 5d excited level from the conduction band, as schematically shown in figure 22 [96, 97].