Recent progress in advanced optical materials based on gadolinium aluminate garnet (Gd 3 Al 5 O 12 )
ABSTRACT
---
This review article summarizes the recent achievements in stabilization of the metastable lattice of gadolinium aluminate garnet (Gd3Al5O12, GAG) and the related developments of advanced optical materials, including down-conversion phosphors, up-conversion phosphors, transparent ceramics, and single crystals. Whenever possible, the materials are compared with their better known YAG and LuAG counterparts to demonstrate the merits of the GAG host. It is shown that novel emission features and significantly improved luminescence can be attained for a number of phosphor systems with the more covalent GAG lattice and the efficient energy transfer from Gd3+ to the activator. Ce3+ doped GAG-based single crystals and transparent ceramics are also shown to simultaneously possess the advantages of high theoretical density, fast scintillation decay, and high light yields, and hold great potential as scintillators for a wide range of applications. The unresolved issues are also pointed out.
No MeSH data available.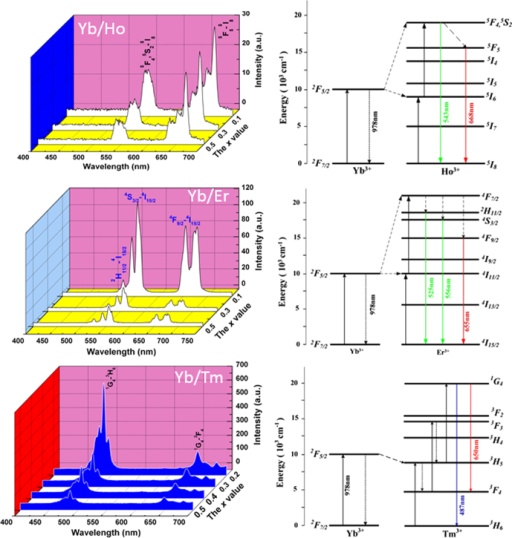 © Copyright Policy - open-access
License 1 - License 2


getmorefigures.php?uid=PMC5036492&req=5

Mentions: UC luminescence is an anti-Stokes process in which a longer wavelength radiation, usually near infrared (NIR) or IR light, is converted to a shorter wavelength such as UV or visible light via a two-photon or multi-photon mechanism [79]. The materials are drawing wide interest since they can be used as biological labels for medical diagnosis and therapy, in photovoltaic cells to efficiently harvest solar energy, and also in laser and anti-counterfeit fields [79]. The activators used for UC are those that usually do not exhibit efficient DC luminescence, including Pr3+, Sm3+, Ho3+, Er3+, and Tm3+. Though when properly doped in a host the above activators themselves have been able to produce UC emission, the efficiency is usually rather limited owing to their unsatisfactory NIR/IR excitations. Yb3+ is thus widely employed as a codopant to improve NIR absorption (at ∼980 nm, the 2F7/2 → 2F5/2 Yb3+ transition) and to sensitize UC emission via nonradiative energy transfer from Yb3+ to the activator. The most preferred and widely used hosts for UC luminescence are fluorides owing to their low phonon energy, though other material types, such as Y2O3 transparent ceramics [80, 81] and Gd2O2S powder [82], were also explored. YAG was suggested to possess a large ground-state Stark splitting and has a quasi three-level energy structure, which may enable a broad and intense absorption of Yb3+ in it [83]. The energy transferred from Yb3+ may effectively populate the upper level of Tm3+ in YAG [83]. UC performances were recently studied for stabilized GAG with the compositions of [(Gd1-xLux)0.948Yb0.05Ln0.002]AG (x = 0.1–0.5, Ln = Er, Ho, and Tm) [53, 84, 85]. Despite the dilute Yb and Ln concentrations, strong UC luminescence was clearly observed in each case upon laser exciting Yb3+ at 978 nm, as shown in figure 18 together with the mechanism of UC. The UC luminescence presents as an intense blue band at ∼487 nm (1G4 → 3H6 transition) and a weaker red one at ∼650 nm (1G4 → 3F4) for Tm3+, as a fairly strong green band at 543 nm (5F4,5S2 → 5I8) and a strong red band at 668 nm (5F5 → 5I8) for Ho3+, and as three bands at 525 nm (green, 2H11/2 → 4I15/2), 556 nm (yellow, 4S3/2 → 4I15/2) and 655 nm (red, 4F9/2 → 4I15/2) for Er3+. CIE chromaticity coordinates of the UC luminescence were found to be around (0.14, 0.19) for Tm3+, (0.38, 0.58) for Ho3+, and (0.34, 0.64) for Er3+, corresponding to blue, greenish yellow, and green colors, respectively (figure 19). Lowered luminescence with increasing Lu incorporation and enhanced emission with increasing temperature of phosphor synthesis were found for the above UC systems. Analyzing the emission intensity against excitation power indicated that the UC luminescence may have occurred via a three-photon process for Tm3+ and a two-photon process for both Ho3+ and Er3+, which are schematically shown in the right part of figure 18 [53, 84, 85].