Recent progress in advanced optical materials based on gadolinium aluminate garnet (Gd 3 Al 5 O 12 )
ABSTRACT
---
This review article summarizes the recent achievements in stabilization of the metastable lattice of gadolinium aluminate garnet (Gd3Al5O12, GAG) and the related developments of advanced optical materials, including down-conversion phosphors, up-conversion phosphors, transparent ceramics, and single crystals. Whenever possible, the materials are compared with their better known YAG and LuAG counterparts to demonstrate the merits of the GAG host. It is shown that novel emission features and significantly improved luminescence can be attained for a number of phosphor systems with the more covalent GAG lattice and the efficient energy transfer from Gd3+ to the activator. Ce3+ doped GAG-based single crystals and transparent ceramics are also shown to simultaneously possess the advantages of high theoretical density, fast scintillation decay, and high light yields, and hold great potential as scintillators for a wide range of applications. The unresolved issues are also pointed out.
No MeSH data available.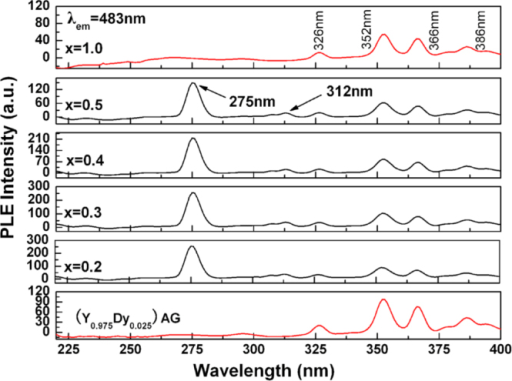 © Copyright Policy - open-access
License 1 - License 2


getmorefigures.php?uid=PMC5036492&req=5

Mentions: The primary interest in using Dy3+ as an activator is that it simultaneously emits blue (∼483 nm, 4F9/2→6H15/2 transition) and yellow (∼584 nm, 4F9/2 → 6H13/2 transition) lights, which are needed to develop white light in LEDs and optical display systems [69]. Dy3+-containing compounds are also used as thermographic phosphors to measure surface temperature by applying a thin coating of the phosphor to the substrate [70]. The luminescence behavior of Dy3+ is governed by parity law, and in the cubic lattice of Ln2O3 sesquioxide the emission spectrum is dominated by the yellow band at ∼584 nm [71, 72]. This is because the blue (parity allowed) and yellow (parity forbidden) emissions come from the Dy3+ ions taking symmetric and non-symmetric (or low symmetric) lattice sites, respectively, while in this type of oxide the centrosymmetric S6 site has a much lower occupancy (25%) than the non-centrosymmetric C2 site (75%) [73]. Relative intensity of the blue emission can be improved in YAG lattice owing to higher site symmetry, but the overall emission intensity is rather limited since within the 4f9 configuration of Dy3+ the excited electrons have high probabilities of non-radiative cross relaxation owing to the relatively limited energy gap between the excited and ground states and also the abundant energy multiplets for both the states [64, 66]. (Gd,Lu)AG was recently demonstrated to be significantly superior to YAG as the host for Dy3+ emission [74]. With the more covalent lattice and particularly via an efficient Gd3+ → Dy3+ energy transfer, greatly enhanced blue and yellow emissions were simultaneously attained. The optimal Dy3+ concentration was found to be ∼2.5 at%, close to the ∼2.0 at% reported for YAG [69], above which luminescence quenching occurs via dipole-dipole interactions. The excitation behaviors of [(Gd1-xLux)0.975Dy0.025]AG, (Y0.975Dy0.025)AG, and (Lu0.975Dy0.025)AG (x = 1.0) are compared in figure 13, where the intra-4f9 excitations of Dy3+ are similarly found at ∼326, 352, 366, and 386 nm for the 6H15/2 to 6P3/2, 4I11/2+4M15/2+6P7/2, 4P3/2+6P3/2,5/2, and 4I13/2+4F7/2+4K17/2+4M19/2,21/2 transitions, respectively. It is also seen that the main excitation at 352 nm is generally stronger for [(Gd1−xLux)0.975Dy0.025]AG than (Y0.975Dy0.025)AG and particularly (Lu0.975Dy0.025)AG owing to the lower electronegativity of the (Gd1−xLux)3+ pair. A significant difference is that [(Gd1-xLux)0.975Dy0.025]AG has an additional excitation band at 275 nm, being the strongest in the whole excitation spectrum, that corresponds to the 8S7/2 → 6IJ Gd3+ transition, indicating the happening of efficient Gd3+ → Dy3+ energy transfer. The 8S7/2→ 6PJ Gd3+ transition appears at ∼312 nm. Figure 14 compares luminescence spectra of the three types of phosphors, from which it is seen that neither the Lu content nor excitation wavelength (275 or 352 nm) brings about appreciable change to the peak position. Emission intensity of the Gd-containing phosphor under 275 nm excitation is roughly two times that under 352 nm excitation, implying that the energy transfer is of high efficiency. Exciting the most luminescent [(Gd0.8Lu0.2)0.975Dy0.025]AG phosphor under 275 nm produced an emission intensity roughly six and three times those of (Lu0.975Dy0.025)AG and (Y0.975Dy0.025)AG under 352 nm excitation, respectively (figure 14(a)). Even under identical excitation at 352 nm, the emission intensity of [(Gd0.8Lu0.2)0.975Dy0.025]AG is about 3.1 and 1.5 times those of (Lu0.975Dy0.025)AG and (Y0.975Dy0.025)AG, respectively (figure 14(b)). Furthermore, the [(Gd1−xLux)0.975Dy0.025]AG phosphor has color coordinates of (0.33, 0.35), very close to the ideal white point of (0.33, 0.33) in the CIE chromaticity diagram, with a color temperature of ∼5609 K [74].