Recent progress in advanced optical materials based on gadolinium aluminate garnet (Gd 3 Al 5 O 12 )
ABSTRACT
---
This review article summarizes the recent achievements in stabilization of the metastable lattice of gadolinium aluminate garnet (Gd3Al5O12, GAG) and the related developments of advanced optical materials, including down-conversion phosphors, up-conversion phosphors, transparent ceramics, and single crystals. Whenever possible, the materials are compared with their better known YAG and LuAG counterparts to demonstrate the merits of the GAG host. It is shown that novel emission features and significantly improved luminescence can be attained for a number of phosphor systems with the more covalent GAG lattice and the efficient energy transfer from Gd3+ to the activator. Ce3+ doped GAG-based single crystals and transparent ceramics are also shown to simultaneously possess the advantages of high theoretical density, fast scintillation decay, and high light yields, and hold great potential as scintillators for a wide range of applications. The unresolved issues are also pointed out.
No MeSH data available.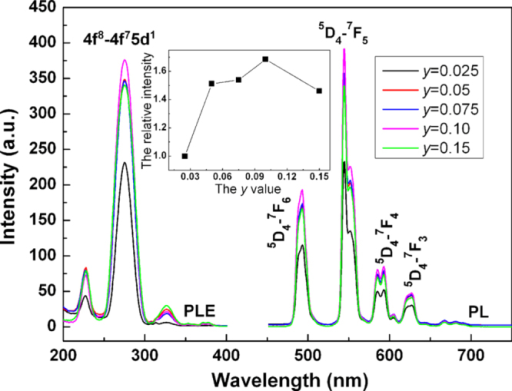 © Copyright Policy - open-access
License 1 - License 2


getmorefigures.php?uid=PMC5036492&req=5

Mentions: YAG:Tb green phosphors are widely studied for applications in cathode ray tubes and flat panel displays such as FED and electroluminescent display, since it is thermally stable and resists saturation under high-current excitations [61, 62]. The GAG-based green phosphor of (Gd, Lu)AG:Tb could be an alternative choice for these purposes and improved performance might also be expected from the possible Gd3+ → Tb3+ energy transfer. The effects of Tb3+ content on photoluminescence of [(Gd0.8Lu0.2)1−xTbx]AG were studied in figure 12, from which the quenching concentration was determined to be ∼10 at% (x = 0.1), almost identical to that of YAG:Tb [63], and luminescence quenching was suggested to occur via exchange interactions [53]. The excitation spectrum consists of three 4f8 → 4f75d1 transition bands at ∼227 nm (E1–23 level, spin allowed), 276 nm (E1–32 level, spin allowed), and 323 nm (E1 level, spin forbidden), with the 276 nm one being dominant as widely observed [29]. It should be noted that the 8S7/2 → 6IJ Gd3+ transition (∼275 nm) well overlaps the 276 nm excitation, suggesting the likelihood of Gd3+ → Tb3+ energy transfer, since the 6IJ state of Gd3+ lies higher than the 5D3,4 emission states of Tb3+ in the energy diagram of excited states for Ln3+ [64–66]. The emission spectrum obtained under 276 nm excitation has four groups of bands at ∼490 (blue), 545 (green, the strongest), 589 (yellow), and 623 nm (red), corresponding to the 5D4 → 7F6,5,4,3 transitions, respectively. Emission from the higher 5D3 excited level, usually in the 450–490 nm region, is hardly observable, which can be explained by cross-relaxation via resonance between the excited and ground states of two Tb3+ ions, that is, populating the 5D4 level by quenching the 5D3 level via Tb3+ (5D3) + Tb3+ (7F0) → Tb3+ (5D4) + Tb3+ (7F6) [67]. Emission from the 5D3 state was experimentally found for YAG doped with 1 at% [61] but not with 5 at% of Tb3+ [62], and 1 at% is generally accepted as the up-limit for the 5D3 emission to appear in many hosts. It is noteworthy that the charge transfer state (CTS) of the host lattice also determines the occurrence of 5D3 emission [68]. In La2O2S:Tb3+, for example, it is completely quenched even at very low Tb3+ concentrations, not owing to cross relaxation but by thermal excitation of the 5D3 electrons into CTS since the two states have similar energies [68]. Comparative studies showed that the [(Gd1−xLux)0.9Tb0.1]AG phosphors with x = 0.1 and 0.2 have emission intensities close to (Y0.9Tb0.1)AG and (Lu0.9Tb0.1)AG, though the latter two have better crystallinity owing to their ease of crystallization, and have fluorescence lifetimes of ∼3.31 ms (3.18 ms for YAG:Tb) and CIE color coordinates of (0.35, 0.57) [53]. Electron-beam excited luminescence of (Gd,Lu)AG:Tb3+ is yet needed to study for the aforesaid applications.