Recent progress in advanced optical materials based on gadolinium aluminate garnet (Gd 3 Al 5 O 12 )
ABSTRACT
---
This review article summarizes the recent achievements in stabilization of the metastable lattice of gadolinium aluminate garnet (Gd3Al5O12, GAG) and the related developments of advanced optical materials, including down-conversion phosphors, up-conversion phosphors, transparent ceramics, and single crystals. Whenever possible, the materials are compared with their better known YAG and LuAG counterparts to demonstrate the merits of the GAG host. It is shown that novel emission features and significantly improved luminescence can be attained for a number of phosphor systems with the more covalent GAG lattice and the efficient energy transfer from Gd3+ to the activator. Ce3+ doped GAG-based single crystals and transparent ceramics are also shown to simultaneously possess the advantages of high theoretical density, fast scintillation decay, and high light yields, and hold great potential as scintillators for a wide range of applications. The unresolved issues are also pointed out.
No MeSH data available.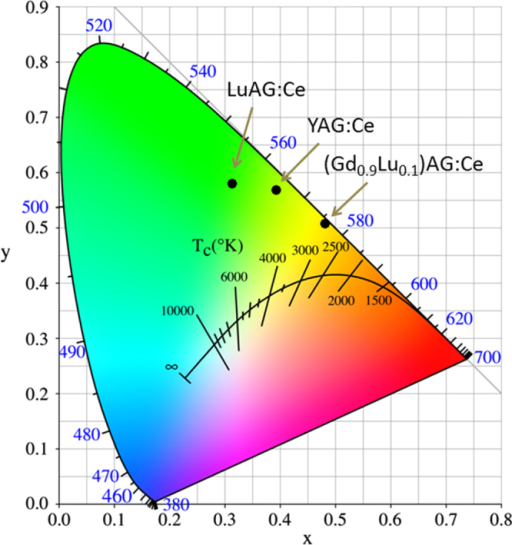 © Copyright Policy - open-access
License 1 - License 2


getmorefigures.php?uid=PMC5036492&req=5

Mentions: The yellow emission of Ce3+ arises from the 4f05d1 → 4f15d0 (2F5/2 and 2F7/2 ground states) inter-configurational electronic transition. As the exposed 5d electron readily interacts with the surrounding anion ligands, Ce3+ emission is strongly influenced by centroid shifting and crystal field splitting of the 5d energy level (figure 9) [55]. YAG:Ce3+ has been the most prominent and widely used yellow phosphor in LED lighting, since it can be efficiently excited with (Ga, In)N blue LED chips (∼450 nm) and exhibits a high quantum yield of ∼90% for its ∼540 nm emission [7]. One shortcoming is that, for warm-white lighting, YAG:Ce3+ has low color rendering and high correlated color temperature due to its lack of a sufficient red portion in the emission spectrum. To overcome this, partially replacing the Y3+ sites with less electronegative La3+ or Gd3+ [6, 56] and more recently doping YAG with Si3N4 to form the oxynitride solid solution of Y2.925Ce0.075Al5−xSixO12−xNx (x < 0.4 for phase pure garnet) [57] were shown to be able to push down the lowest crystal-splitting component (2D3/2) of the 5d1 excited level to yield red-shifted emissions. Red-shifting can also be achieved by partially substituting Al3+ with Mg2+–Si4+ pairs on the octahedral and tetrahedral sites, respectively, to enhance lattice covalency [58, 59]. Alternatively, red-shifted Ce3+ emission can be directly attained with a more covalent host lattice, such as TbAG and GAG-based garnets. With single crystal films, Zorenko et al [29] found that TbAG:Ce exhibits broad band emission peaking at 550 nm under 470 nm excitation [4f1(2F5/2) → 5d1(E2g) Ce3+ transition], with light yields of ∼62–71% depending on the Ce3+ content. An efficient Tb3+ → Ce3+ energy transfer was identified through directly exciting the Tb3+ ions in the host lattice at 325 nm. Chiang et al [23] found that the emission wavelength of Ga3+-stabilized (Gd0.97Ce0.03)3(Al1−xGax)5O12 yellow phosphors gradually shortens from ∼565 to 552 nm (λex = 470 nm) with increasing Ga3+ substitution from x = 0.1 to 0.3, yet substantially longer than the ∼540 nm emission of YAG:Ce, and the shortening was ascribed to the higher electronegativity of Ga3+ (χ = 1.81) than Al3+ (χ = 1.61). Li et al [32] studied in detail the synthesis and optical properties of [(Gd1−xLux)1−yCey]AG yellow phosphors. It was found that 1 at% (y = 0.01) of much larger Ce3+ (0.1143 nm) can be doped into the garnet lattice in the presence of 10 at% of Lu (x = 0.1) and more Ce3+ needs more Lu3+. The optimal Ce3+ concentration was experimentally determined to be ∼1 at%, and luminescence quenching mainly resulted from exchange interactions. Intensity ratio (Ib/Ia) of the 460 nm [4f1(2F5/2) → 5d1(E2g)] to 340 nm [4f1(2F5/2) → 5d1(T2g)] excitations was observed to significantly increase from ∼4.8 at y = 0.01 to ∼9.0 at y = 0.02 and then to ∼12 at y = 0.03, due to successively stronger non-radiative absorptions. Energy transfer from Gd3+ to Ce3+ was identified from the appearance of 8S7/2 → 6IJ Gd3+ transition at ∼275 nm. Figure 10 compares the emission spectra of [(Gd1−xLux)0.99Ce0.01]AG (λex = 455 nm), (Y0.99Ce0.01)AG (λex = 454 nm), and (Lu0.99Ce0.01)AG (λex = 448 nm), from which it is seen that the emission covers the broad range of ∼475–750 nm in each case and the peak wavelength of [(Gd1−xLux)0.99Ce0.01]AG red-shifts relative to those of YAG:Ce and LuAG:Ce even at the high Lu content of 50 at% (x = 0.5). Increasing Lu incorporation steadily shortens the emission wavelength due to decreased lattice covalency by the high electronegativity of Lu3+ (χ = 1.27) and monotonically lowers the emission intensity possibly owing to lattice distortion and defect introduction. The best luminescent [(Gd0.9Lu0.1)0.99Ce0.01]AG has an integrated emission intensity ∼97% of (Y0.99Ce0.01)AG and ∼128% of (Lu0.99Ce0.01)AG at the same temperature of powder synthesis. The excellent emission, high theoretical density, and relatively low cost of [(Gd0.9Lu0.1)0.99Ce0.01]AG may allow it to compete with YAG:Ce and particularly LuAG:Ce for scintillation applications. CIE chromaticity coordinates (figure 11) of the three phosphors are around (0.48, 0.51), (0.39, 0.57), and (0.31, 0.58), corresponding to color temperatures of ∼3044, 4612 and 6010 K, respectively. The chromaticity data again confirm that the GAG-based yellow phosphor has a stronger red component in its emission and is more desirable for warm-white LED lighting.