Recent progress in advanced optical materials based on gadolinium aluminate garnet (Gd 3 Al 5 O 12 )
ABSTRACT
---
This review article summarizes the recent achievements in stabilization of the metastable lattice of gadolinium aluminate garnet (Gd3Al5O12, GAG) and the related developments of advanced optical materials, including down-conversion phosphors, up-conversion phosphors, transparent ceramics, and single crystals. Whenever possible, the materials are compared with their better known YAG and LuAG counterparts to demonstrate the merits of the GAG host. It is shown that novel emission features and significantly improved luminescence can be attained for a number of phosphor systems with the more covalent GAG lattice and the efficient energy transfer from Gd3+ to the activator. Ce3+ doped GAG-based single crystals and transparent ceramics are also shown to simultaneously possess the advantages of high theoretical density, fast scintillation decay, and high light yields, and hold great potential as scintillators for a wide range of applications. The unresolved issues are also pointed out.
No MeSH data available.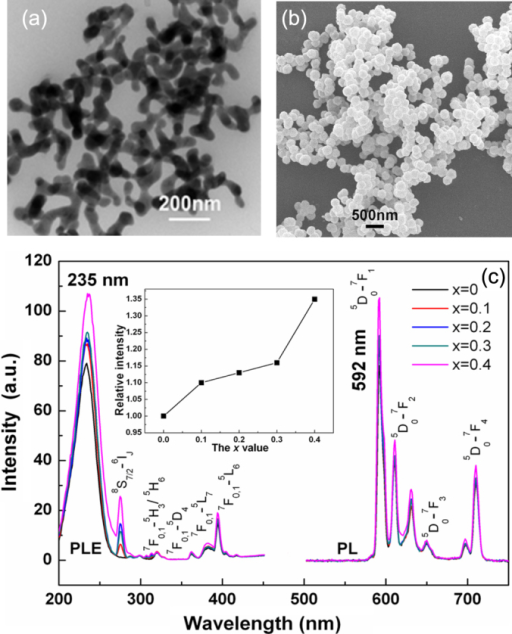 © Copyright Policy - open-access
License 1 - License 2


getmorefigures.php?uid=PMC5036492&req=5

Mentions: The carbonate coprecipitation technique, with ammonium bicarbonate as the precipitant, has been able to produce low-aggregation garnet powders, but the primary particles are not separable from each other and are not in a spherical shape (figure 8(a)). Current advances in high-resolution displays not only need finer phosphor particles to improve the resolution by decreasing pixel size but also prefer a spherical particle shape to build a uniform luminescence screen and to improve the brightness of luminescence by minimizing the light scattering on particle surfaces. Urea-based homogeneous precipitation (UBHP) frequently finds success in synthesizing well-dispersed spherical particles of uniform size (monosheres) for single-/multi-cation oxides of the lanthanides [19, 42–48], but failed for YAG in most of the previous studies [49, 50] owing to substantially different solution chemistries of the constituent Y3+ and Al3+ ions. YAG:Ce phosphor microspheres are thus alternatively made via crystallizing the glassy microbeads quenched from melt droplets produced with laser heating [51]. Xu et al [52] identified that, with nitrate as the rare-earth source in UBHP, the aluminum source plays an essential role in the formation of precursor microspheres for YAG:Nd. They found that ammonium aluminum sulfate (alum) is indispensable and the optimal alum/Al(NO3)3 molar ratio is 1/1. Mechanistic study further revealed that microspheres of the Al component are formed at the early stage of precipitation, followed by Y3+ precipitation as basic carbonate. Annealing the sulfate-containing precursor at 1100 °C produced YAG:Nd microspheres that can be densified to a translucent state via vacuum sintering of the dry-compacted green body at 1650 °C for 3.5 h. Such a strategy proved similarly successful for [(Lu1−xGdx)0.95Eu0.05]AG red phosphor microspheres (x ≤ 0.4, figure 8(b)) [53], though Gd3+ and Lu3+ are different from Y3+ in solution chemistry owing to lanthanide contraction. Again, the best results were obtained with alum/Al(NO3)3 = 1:1 molar ratio. When Al(NO3)3 is the sole Al source, only a gelatinous precursor that would aggregate into a glasslike hard mass upon drying was produced, implying that the sulfate anions from alum have significantly modified the solution chemistry of cations, particularly that of the significantly smaller Al3+, and have taken part in precipitation. When the alum/Al(NO3)3 ratio is over 1, the primary spheres tend to glue together to form porous precipitates as observed for YAG [50], suggesting that superfluous SO42− may serve as a flocculant. The diameter of [(Lu1−xGdx)0.95Eu0.05]AG microspheres can be finely tuned from ∼500 to 150 nm by increasing the urea/(Al+Ln) molar ratio from 20 to 100, showing the flexibility of the UBHP technique. A photoluminescence study [53] found successively stronger 5D0 → 7F1 emission (591 nm) with increasing x (the Gd content), owing to increased lattice covalency (figure 8(c)), and gradually weaker emission at a decreasing particle size owing to surface effects [47, 54].