Recent progress in advanced optical materials based on gadolinium aluminate garnet (Gd 3 Al 5 O 12 )
ABSTRACT
---
This review article summarizes the recent achievements in stabilization of the metastable lattice of gadolinium aluminate garnet (Gd3Al5O12, GAG) and the related developments of advanced optical materials, including down-conversion phosphors, up-conversion phosphors, transparent ceramics, and single crystals. Whenever possible, the materials are compared with their better known YAG and LuAG counterparts to demonstrate the merits of the GAG host. It is shown that novel emission features and significantly improved luminescence can be attained for a number of phosphor systems with the more covalent GAG lattice and the efficient energy transfer from Gd3+ to the activator. Ce3+ doped GAG-based single crystals and transparent ceramics are also shown to simultaneously possess the advantages of high theoretical density, fast scintillation decay, and high light yields, and hold great potential as scintillators for a wide range of applications. The unresolved issues are also pointed out.
No MeSH data available.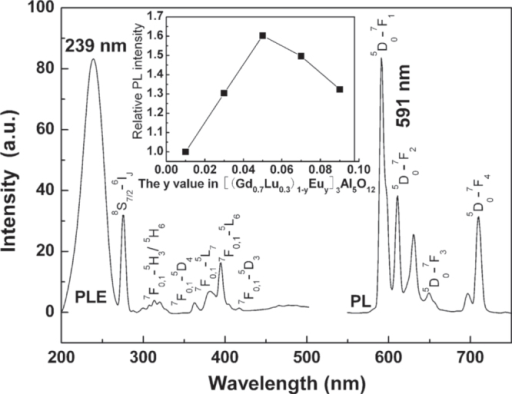 © Copyright Policy - open-access
License 1 - License 2


getmorefigures.php?uid=PMC5036492&req=5

Mentions: Eu3+ is well known for its orange red/red emission arising from the 5D0 → 7F1,2 electronic transitions. The Eu3+ ions doped in LnAG are assumed to replace the Ln3+ sites and thus inherit a D2 point symmetry, which is only slightly perturbed from the highly symmetric D2h point group [34]. For this, the emission of YAG:Eu and LuAG:Eu is dominated by the parity-law allowed 5D0 → 7F1 magnetic dipole transition at ∼590 nm rather than the forced 5D0 → 7F2 electric dipole transition at ∼610 nm as observed from the well-known Y2O3:Eu red phosphor. A [(Gd1−xLux)1−yEuy]AG solid solution has recently been developed as efficient red phosphor with Lu3+ as the lattice stabilizer, and the effects of various factors on optical properties were thoroughly investigated [31]. Taking [(Gd0.7Lu0.3)1−yEuy]AG for example, the material was shown to be efficiently excitable with the charge transfer band (CTB) at ∼239 nm to produce a sharp orange–red emission at 591 nm (figure 7), with CIE chromaticity coordinates of (0.62, 0.38) and a full width at half maximum of only ∼6 nm for the emission peak. The optimal Eu3+ content was experimentally determined to be ∼5 at% (y = 0.05), and the quenching mainly resulted from exchange interactions, possibly via phonon assisted three Eu3+ ion nonresonant interactions. Greatly improved emission intensity and quantum yield, shortened fluorescence lifetime, and increased asymmetry factor of luminescence (the I591/I610 intensity ratio) were observed along with increasing synthesis temperature up to 1500 °C [31], primarily owing to lattice perfection, defect elimination, and particle growth. The [(Gd0.7Lu0.3)0.95Eu0.05]AG phosphor synthesized at 1500 °C has internal/external quantum efficiencies (%) of 83.2/56.1, an asymmetry factor of ∼2.85, and a fluorescence lifetime of ∼4.1 ms for the 591 nm emission [31]. The lifetime is close to that (4.66 ms) reported for YAG:Eu [35] but is significantly longer than those (generally 0.5–2.5 ms) of the well-known red phosphors of Y2O3:Eu [36, 37], (Gd1−xLnx)2O3:Eu (Ln = Y, Lu) [22, 38], and La2O2S:Eu [39], since the Eu3+ activator takes the highly symmetric D2 lattice site in garnet. Increasing Lu incorporation up to x = 0.5 would lower excitation/emission and also blue-shift the CTB due to gradually decreased covalency of the host lattice (χ = 1.27 for Lu3+), for which a minimized Lu content was recommended as long as the garnet lattice can be effectively stabilized [31]. Similar phenomena were observed in the development of (Gd1−xLnx)2O3:Eu red phosphors (Ln = Y, Lu) [38]. Compared with YAG:Eu, the GAG-based phosphor (figure 7) has an additional excitation band arising from the 8S7/2 → 6IJ Gd3+transition at ∼275 nm (significantly stronger than the strongest 7F0,1 → 5L6 intra-4f6 transition of Eu3+ at ∼395 nm), suggesting substantial energy migration from Gd3+ to Eu3+. The advantage of GAG over YAG as a host lattice was demonstrated in another study by the authors [40]. For example, the internal quantum yield (∼76%) of [(Gd0.9Lu0.1)0.95Eu0.05]AG is appreciably higher than that (∼71%) of (Y0.95Eu0.05)AG at the same temperature of phosphor synthesis. This is primarily owing to the higher lattice covalency of the former, which allows improved excitation absorption and higher probability of electronic transitions. Though [(Gd1−xLux)0.95Eu0.05]AG has had a sufficiently high theoretical density and emission intensity, its fluorescence lifetime is too long for scintillation. Shortening the lifetime to below ∼1.0 ms via codoping (such as Pr3+) seems necessary for it to compete with the commercialized (Y,Gd)2O3:Eu scintillator [41].