Recent progress in advanced optical materials based on gadolinium aluminate garnet (Gd 3 Al 5 O 12 )
ABSTRACT
---
This review article summarizes the recent achievements in stabilization of the metastable lattice of gadolinium aluminate garnet (Gd3Al5O12, GAG) and the related developments of advanced optical materials, including down-conversion phosphors, up-conversion phosphors, transparent ceramics, and single crystals. Whenever possible, the materials are compared with their better known YAG and LuAG counterparts to demonstrate the merits of the GAG host. It is shown that novel emission features and significantly improved luminescence can be attained for a number of phosphor systems with the more covalent GAG lattice and the efficient energy transfer from Gd3+ to the activator. Ce3+ doped GAG-based single crystals and transparent ceramics are also shown to simultaneously possess the advantages of high theoretical density, fast scintillation decay, and high light yields, and hold great potential as scintillators for a wide range of applications. The unresolved issues are also pointed out.
No MeSH data available.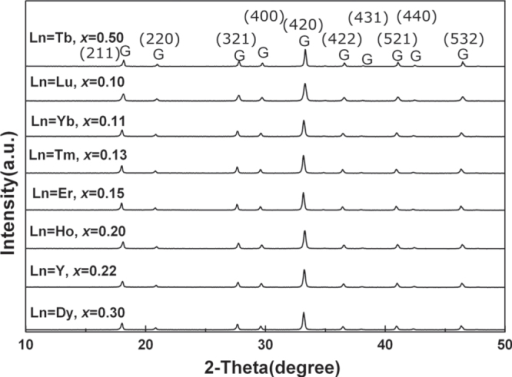 © Copyright Policy - open-access
License 1 - License 2


getmorefigures.php?uid=PMC5036492&req=5

Mentions: Tb3+ is the largest single Ln3+ for a stable LnAG to be formed, and thus its size can be taken as a reference for a lattice stabilization study of GAG. The minimum amount of Lu3+ (∼17 at%) calculated from the ionic size of Tb3+ (0.1040 nm for CN = 8), however, is significantly larger than the ∼10 at% found in practice (figure 3(b)). This indicates that stable garnet solid solutions exist if the average ionic size of (Ln1,Ln2)3+ pair lies in between those of Gd3+ (0.1053 nm for CN = 8) and Tb3+, in agreement with the fact that TbAG [28–30] and even (Gd0.9Lu0.1)AG [31, 32] can be further doped with larger Eu3+ (0.1066 nm, CN = 8) and Ce3+ (0.1143 nm, CN = 8) for luminescence. Taking the average ionic size of (Gd0.9Lu0.1)3+ (~0.1045 nm) as a standard, Li et al [33] analyzed the minimum amounts of various small Ln3+ that are needed for GAG stabilization, and the x value was predicted to be ∼0.5 for Tb3+, 0.3 for Dy3+ (0.1027 nm), 0.22 for Y3+ (0.1019 nm), 0.2 for Ho3+ (0.1015 nm), 0.15 for Er3+ (0.1004 nm), 0.13 for Tm3+ (0.0994 nm), and 0.11 for Yb3+ (0.0985 nm). Practical powder synthesis indeed shows that (Gd1−xLnx)AG garnet can be obtained in high phase purity with incorporation of the calculated amount of dopant in each case (figure 5). The results may thus lay a base for flexible materials design by properly combining different types of stabilizers to achieve diverse optical functionalities. The characteristic emission of Ln3+ in (Gd0.5Ln0.5)AG was observed by the authors for Tb (green), Dy (similarly strong blue and yellow), Ho (green), and Tm (blue), despite the high Ln3+ concentration (figure 6).