A short guide to topological terms in the effective theories of condensed matter
ABSTRACT
---
This article is meant as a gentle introduction to the topological terms that often play a decisive role in effective theories describing topological quantum effects in condensed matter systems. We first take up several prominent examples, mainly from the area of quantum magnetism and superfluids/superconductors. We then briefly discuss how these ideas are now finding incarnations in the studies of symmetry-protected topological phases, which are in a sense a generalization of the concept of topological insulators to a wider range of materials, including magnets and cold atoms.
No MeSH data available.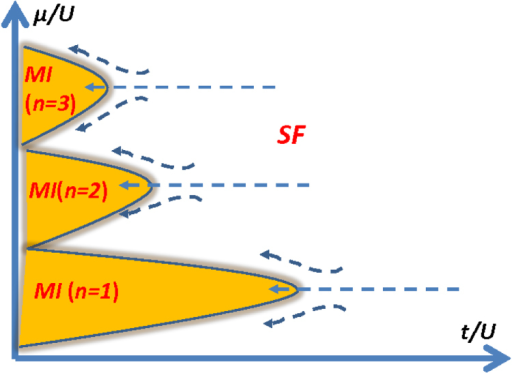 © Copyright Policy - open-access
License
getmorefigures.php?uid=PMC5036487&req=5
Mentions: The phase factor of equation (8) can lead to important consequences. Generally, when a condensation of vortex excitations in a superfluid condensate (point vortices in 2D, vortex loops in 3D, spacetime vortices, or phase-slip events in 1D) occurs, it will destroy the superfluidity, and the system is expected to enter a new phase. While we are familiar with these types of phase transitions that occur at finite temperatures, they can also happen at zero temperature with the variation of some control parameters. Quantum phase transitions of this variety can be studied in detail using the boson Hubbard model, which has recently attracted much attention due to its direct relevance to the physics of cold atoms. This model has the following lattice Hamiltonian [12], 9The summation in the first term is to be taken with respect to nearest neighbor sites, bi () is a boson annihilation (creation) operator, is the boson number operator, and μ and U are each the chemical potential and the onsite Coulomb repulsion. Advances in cold atom experiments now enable researchers to access a wide region of the phase diagram of this model, which is depicted in figure 3. When , the system is in a superfluid phase, for which the effective action of equation (7) gives a suitable description. When is reduced, the tendency to form a superfluid weakens, and one naively expects to encounter a phase transition into a Mott insulator phase. However, as already noted, this transition proceeds by the condensation of vortices, which are each accompanied by the Berry phase factors of the form written in equation (8). For generic (irrational) values of ρ, which translate in the lattice model to generic boson filling factors, these will enter into the path integral as random phase factors. Although further analysis is necessary to work out the details [12], it is then reasonable to deduce that configurations containing vortices will cancel out and effectively drop out from the partition function altogether, meaning that the system cannot undergo a transition into the insulating phase. An exception occurs however when , i.e. at integer boson filling, since for this case the phase factor of equation (8) is unity. This expectation can be confirmed by a study of the boson Hubbard model. At integral filling, a transition into the Mott insulator phase occurs at the tip of the Mott insulator phase lobe, while for generic filling factors, the constant-ρ contour avoids entering the insulator phase and escapes into the region between the lobes. (The case where the filling factor is a nonintegral rational number requires a careful treatment; the possibility that vortices with some higher vorticity will condense, giving rise to an exotic phase, has to be taken into account and is beyond the scope of the present argument.) Although we have focused in the above on a 2D system, it is straightforward to show that similar reasonings apply to systems of other dimensionalities.