Engineering Dirac electrons emergent on the surface of a topological insulator
ABSTRACT
---
The concept of the topological insulator (TI) has introduced a new point of view to condensed-matter physics, relating a priori unrelated subfields such as quantum (spin, anomalous) Hall effects, spin–orbit coupled materials, some classes of nodal superconductors, superfluid 3He, etc. From a technological point of view, TIs are expected to serve as platforms for realizing dissipationless transport in a non-superconducting context. The TI exhibits a gapless surface state with a characteristic conic dispersion (a surface Dirac cone). Here, we review peculiar finite-size effects applicable to such surface states in TI nanostructures. We highlight the specific electronic properties of TI nanowires and nanoparticles, and in this context we contrast the cases of weak and strong TIs. We study the robustness of the surface and the bulk of TIs against disorder, addressing the physics of Dirac and Weyl semimetals as a new research perspective in the field.
No MeSH data available.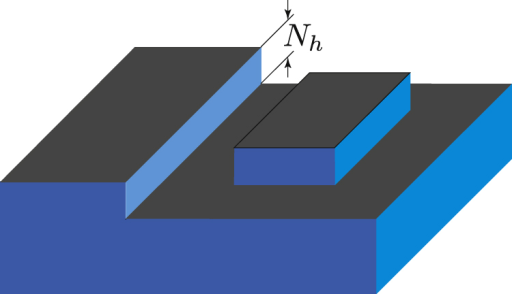 © Copyright Policy - open-access
License
getmorefigures.php?uid=PMC5036486&req=5
Mentions: To highlight the even/odd feature, we first consider the spectrum of a WTI sample with top, bottom, and side surfaces. The top and bottom surfaces are oriented normal to the z-axis. To realize a typical situation, we assume that the top and bottom surfaces are gapped surfaces (no Dirac cone). We then consider electronic states on a side surface, here chosen to be on the zx-plane. The two Dirac cones are typically located at kz = 0 and at . Low-energy electron states at or in the vicinity of the Dirac points may be represented by a plane wave:14Here, the crystal momentum, q1 or q2, of the electron is measured from the corresponding Dirac cone. Now, if we consider the presence of top and bottom surfaces, located respectively at and z = 1 for example, we need to confine the above electron in the region of This means that we impose the boundary condition such that the wave function of the surface state, ψ, which may be expressed as a linear combination of and satisfies15To cope with the boundary condition at z = 0, we choose the constants c1 and c2 such that . Also, at a given energy, E, one can set q1 and q2 such that . We are then left with16and this must vanish at . Therefore, for Nz odd,17where can be an arbitrary integer. Similarly, for Nz even, the vanishing of equation (16) at implies18where and is an arbitrary odd integer. Since the spectrum of the surface state is given as [31]19equations (17) and (18) signify that the surface spectrum is gapless when Nz is odd, while it is gapped when Nz is even [30, 31]. Also, replacing Nz with Nh, one can equally apply equations (17) and (18) for characterizing the 1D helical modes that appear along a step formed on the surface of a WTI [18] (cf figure 3 and discussion given in the next section).