N- and S-doped high surface area carbon derived from soya chunks as scalable and efficient electrocatalysts for oxygen reduction
ABSTRACT
---
Highly stable, cost-effective electrocatalysts facilitating oxygen reduction are crucial for the commercialization of membrane-based fuel cell and battery technologies. Herein, we demonstrate that protein-rich soya chunks with a high content of N, S and P atoms are an excellent precursor for heteroatom-doped highly graphitized carbon materials. The materials are nanoporous, with a surface area exceeding 1000 m2 g−1, and they are tunable in doping quantities. These materials exhibit highly efficient catalytic performance toward oxygen reduction reaction (ORR) with an onset potential of −0.045 V and a half-wave potential of −0.211 V (versus a saturated calomel electrode) in a basic medium, which is comparable to commercial Pt catalysts and is better than other recently developed metal-free carbon-based catalysts. These exhibit complete methanol tolerance and a performance degradation of merely ∼5% as compared to ∼14% for a commercial Pt/C catalyst after continuous use for 3000 s at the highest reduction current. We found that the fraction of graphitic N increases at a higher graphitization temperature, leading to the near complete reduction of oxygen. It is believed that due to the easy availability of the precursor and the possibility of genetic engineering to homogeneously control the heteroatom distribution, the synthetic strategy is easily scalable, with further improvement in performance.
No MeSH data available.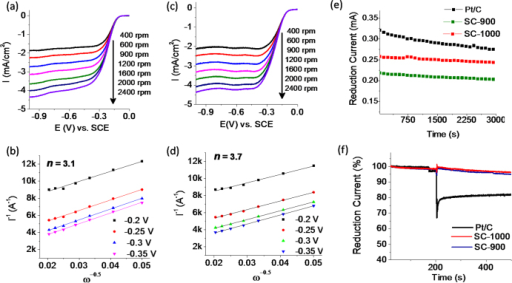 © Copyright Policy - open-access
License 1 - License 2


getmorefigures.php?uid=PMC5036483&req=5

Mentions: The LSV for SC-1000 and SC-900 were collected at different rotation rates to estimate the number of electrons (n) transferred per oxygen molecule during the reduction of oxygen and the corresponding ORR efficiency by employing the Koutecky–Levich equation (figures 8(a)–(d)). n for SC-900 and SC-1000 were found to be 3.1 and 3.7, respectively, indicating nearly complete reduction of oxygen by SC-1000. On the other hand, we believe that a considerable amount of H2O2 is generated while using SC-900. It may be noted that it is the graphitic N in a carbon framework that favours the 4e- reduction process, while the pyridinic N leads to the 2e-reduction process, leading to H2O2 production [10, 37, 38]. From the XPS investigations of these samples, since SC-1000 contains a higher content of graphitic N (1.75 atomic % compared to 0.71% for SC-900), it has exhibited a higher number of electron transfers. Further, to check the stabilities of these samples, we performed chronoamperometry at a constant potential of −0.4 V, where the reduction current nearly saturates, for 3000 s at 1600 rpm (figure 8(e)). The decrease in the reduction currents were found to be 5.48, 7.1 and 13.9% for samples of SC-1000, 900 and commercial Pt/C, respectively. Finally, the methanol tolerance for our catalysts were checked, since methanol is a common catalyst-poison for noble metal catalysts in a direct methanol fuel cell. We added 4 mL of methanol in 80 mL of an electrolyte at 200 s while performing chronoamperometry at −0.4 V at 1600 rpm. As can be seen for our samples in figure 8(f), no significant change in reduction current was observed before and after the addition of methanol, whereas due to the oxidation of methanol on Pt/C, its catalytic activity decreased abruptly post methanol addition. Based on these performance parameters, including the onset and half-wave potential and the electron transfer number and stability, SC-1000 is the best performing catalyst among all our samples. We therefore compared its performance with other recently reported important carbon-based catalyst systems. As seen from table 2, SC-1000 represents one of the best carbon-based ORR catalysts reported with a very high onset and half-wave potential.