N- and S-doped high surface area carbon derived from soya chunks as scalable and efficient electrocatalysts for oxygen reduction
ABSTRACT
---
Highly stable, cost-effective electrocatalysts facilitating oxygen reduction are crucial for the commercialization of membrane-based fuel cell and battery technologies. Herein, we demonstrate that protein-rich soya chunks with a high content of N, S and P atoms are an excellent precursor for heteroatom-doped highly graphitized carbon materials. The materials are nanoporous, with a surface area exceeding 1000 m2 g−1, and they are tunable in doping quantities. These materials exhibit highly efficient catalytic performance toward oxygen reduction reaction (ORR) with an onset potential of −0.045 V and a half-wave potential of −0.211 V (versus a saturated calomel electrode) in a basic medium, which is comparable to commercial Pt catalysts and is better than other recently developed metal-free carbon-based catalysts. These exhibit complete methanol tolerance and a performance degradation of merely ∼5% as compared to ∼14% for a commercial Pt/C catalyst after continuous use for 3000 s at the highest reduction current. We found that the fraction of graphitic N increases at a higher graphitization temperature, leading to the near complete reduction of oxygen. It is believed that due to the easy availability of the precursor and the possibility of genetic engineering to homogeneously control the heteroatom distribution, the synthetic strategy is easily scalable, with further improvement in performance.
No MeSH data available.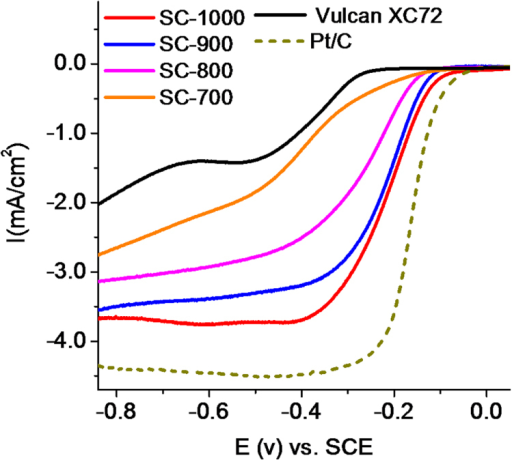 © Copyright Policy - open-access
License 1 - License 2


getmorefigures.php?uid=PMC5036483&req=5

Mentions: Based on the above observations, we found that with the increasing processing temperature, graphitization of soya leads to the following: (1) an increase in the extent of graphitization, (2) an alteration of the extent of heteroatom doping, (3) an increase in surface area. It is possible that due to these factors, conductivity of the samples also changes with the processing temperature. Although it is difficult to envision the contribution of each factor toward electrocatalytic ORR activities of these materials, certainly some of them ought to outweigh the others in favour of higher efficiency. The electrocatalytic activities of these pyrolyzed samples were investigated for ORR by RDE using a three-electrode electrochemical system in an Ar- and O2-saturated 0.1 M KOH solution, respectively. In order to compare their performance with a standard catalyst, the performance of a commercially available Pt-loaded carbon was further estimated. Figure 7 shows the linear sweep voltammograms of all the samples in an O2-saturated 0.1 M KOH solution collected using a scan rate of 5 mV s−1 at 1600 rpm. It was found that the catalyst parameters steadily improve with the increased processing temperature. For SC-1000, we have recorded onset and half-wave (E1/2) potentials of −0.045 V and −0.211 V, respectively. The performance of SC-900 is somewhat poorer (onset −0.091 V and E1/2 = −0.227 V, respectively. In particular, the onset potentials of these two samples are comparable to that of C-Pt/C (onset −0.021 V, E1/2 = −0.172 V). SC-800 and SC-700 have shown comparatively suppressed ORR activity with onset and half-wave potentials of −0.129 V, −0.271 V and −0.144 V, −0.413 V, respectively. Although the onset potentials of SC-1000 and 900 are almost the same, the E1/2 as well as the saturation currents for SC-1000 are superior to SC-900. Considering the composition and structural features of both samples, we believe that the lower onset potential of SC-900 is due to the higher heteroatom content. On the other hand, a high pyrolysis temperature for SC-1000 causes better graphitization (as evident from Raman spectra) which in turn may increase the conductivity of the sample and consequently E1/2. The higher saturation current for SC-1000 is due to its higher surface area in comparison to SC-900. In order to evaluate the effect of heteroatom doping, we have also performed ORR using commercially available amorphous carbon, Vulcan XC72 (with a BET surface area of 265 m2 g−1), under identical conditions. As seen in figure 7, it has exhibited negligible ORR activity with an onset of −0.212 V and very little saturation current.