N- and S-doped high surface area carbon derived from soya chunks as scalable and efficient electrocatalysts for oxygen reduction
ABSTRACT
---
Highly stable, cost-effective electrocatalysts facilitating oxygen reduction are crucial for the commercialization of membrane-based fuel cell and battery technologies. Herein, we demonstrate that protein-rich soya chunks with a high content of N, S and P atoms are an excellent precursor for heteroatom-doped highly graphitized carbon materials. The materials are nanoporous, with a surface area exceeding 1000 m2 g−1, and they are tunable in doping quantities. These materials exhibit highly efficient catalytic performance toward oxygen reduction reaction (ORR) with an onset potential of −0.045 V and a half-wave potential of −0.211 V (versus a saturated calomel electrode) in a basic medium, which is comparable to commercial Pt catalysts and is better than other recently developed metal-free carbon-based catalysts. These exhibit complete methanol tolerance and a performance degradation of merely ∼5% as compared to ∼14% for a commercial Pt/C catalyst after continuous use for 3000 s at the highest reduction current. We found that the fraction of graphitic N increases at a higher graphitization temperature, leading to the near complete reduction of oxygen. It is believed that due to the easy availability of the precursor and the possibility of genetic engineering to homogeneously control the heteroatom distribution, the synthetic strategy is easily scalable, with further improvement in performance.
No MeSH data available.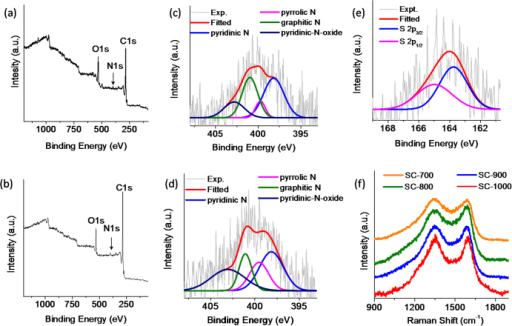 © Copyright Policy - open-access
License 1 - License 2


getmorefigures.php?uid=PMC5036483&req=5

Mentions: The surface compositions of SC-900 and SC-1000 were analyzed by XPS. As anticipated, on the basis of the composition of the soya precursor, in the survey spectra both the samples show the predominant presence of carbon (1s, 284.6 eV) along with heteroatoms O (1s, 532 eV) and N (1s, 399.5 eV) in them (figures 6(a) and (b)) [37]. High-resolution XPS spectra were further collected to quantify the doping amounts of the heteroatoms in the carbon framework (figures 6(c)–(e)). The relative ratios of atoms are tabulated in table 1. It revealed that as the graphitization temperature increases, the oxygen quantity gradually decreases. On the other hand, the N content remains unaltered at this temperature range. In both cases the N-1s peak can be deconvoluted into four peaks: pyridinic-N (398.15 eV ± 0.2), pyrrolic –N (399.55 eV ± 0.2), graphitic-N (401.1 eV ± 0.2) and pyridinic oxide-N (403.3 eV ± 0.2) [38]. The atomic percentages of each type of these N are 1.51, 0.9, 0.71 and 1.2% for SC-900 and 2.2, 0.47, 1.75 and 0.85% for SC-1000. Similarly, the S content also decreases with the increasing temperature, and no S was detected in the case of the SC-1000. The peak corresponding to sulphur (2p, 164.2 eV) was observed only in the case of the SC-900, which can be deconvoluted to two peaks corresponding to the 2p1/2 (163.9 eV) and 2p3/2 (164.8 eV) transitions [11]. However, notwithstanding our expectations of P-doping due to its presence in the precursor, we could not detect any signal pertaining to P in the XPS spectra. A small quantity of this was however observed very rarely in EDAX measurements. It is possible that P might have been removed in one of the processing steps as phosphate ions; another possibility is the evaporation of phytic acid (flash point 674 °C) at high reaction temperatures. Unlike O, S and N atoms, which are connected to a C atom in the precursor, P atoms are not directly connected to C and are instead connected to four oxygen atoms as a phosphate ion. This situation may not offer an opportunity for P to get incorporated into the carbon framework in our reaction condition, though phosphates are a preferred precursor for P-doping in carbon [29, 31].