Recent progress on magnetic iron oxide nanoparticles: synthesis, surface functional strategies and biomedical applications
ABSTRACT
---
This review focuses on the recent development and various strategies in the preparation, microstructure, and magnetic properties of bare and surface functionalized iron oxide nanoparticles (IONPs); their corresponding biological application was also discussed. In order to implement the practical in vivo or in vitro applications, the IONPs must have combined properties of high magnetic saturation, stability, biocompatibility, and interactive functions at the surface. Moreover, the surface of IONPs could be modified by organic materials or inorganic materials, such as polymers, biomolecules, silica, metals, etc. The new functionalized strategies, problems and major challenges, along with the current directions for the synthesis, surface functionalization and bioapplication of IONPs, are considered. Finally, some future trends and the prospects in these research areas are also discussed.
No MeSH data available.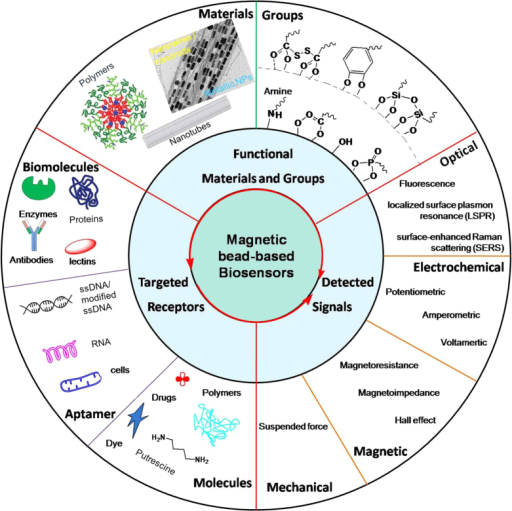 © Copyright Policy - open-access
License 1 - License 2


getmorefigures.php?uid=PMC5036481&req=5

Mentions: However, to date, magnetic biosensors for diagnosis have not only been based on the properties of IONPs, but also on functionalized coated materials. The magnetic bead-based biosensors are functionalized IONPs by conjugating targeting ligands, which endow new specificity to the magnetic bead–based biosensors. Simultaneously, the IONPs, together with targeted receptors and functionalized layers/materials, act as the generator or detector of a signal, assigning the sensitivity of magnetic bead-based biosensors (figure 26). Generally, optical-magnetic bead-based biosensors exhibit excellent optical performance because of the unique interactions between light waves and the surface coating materials (such as Au, Ag, QDs and fluorescent molecules), which displayed excellent localized surface plasmon resonance (LSPR), surface-enhanced Raman scattering (SERS), and fluorescence [372, 373]. One-dimensional nanostructures (such as carbon nanotube, nanowires, and grapheme) have been applied as functional components for electrochemical magnetic bead-based biosensors [374, 375]. Those are usually based on a field-effect transistor (FET) where analyte molecules act as a gate, which controls the electrical resistance by causing depletion or accumulation of charge carriers. And the electrochemical–magnetic bead-based biosensors in clinical diagnosis are based on glucose, lactate, cholesterol, urea, creatine, and creatinine biosensors [376–378].