Recent progress on magnetic iron oxide nanoparticles: synthesis, surface functional strategies and biomedical applications
ABSTRACT
---
This review focuses on the recent development and various strategies in the preparation, microstructure, and magnetic properties of bare and surface functionalized iron oxide nanoparticles (IONPs); their corresponding biological application was also discussed. In order to implement the practical in vivo or in vitro applications, the IONPs must have combined properties of high magnetic saturation, stability, biocompatibility, and interactive functions at the surface. Moreover, the surface of IONPs could be modified by organic materials or inorganic materials, such as polymers, biomolecules, silica, metals, etc. The new functionalized strategies, problems and major challenges, along with the current directions for the synthesis, surface functionalization and bioapplication of IONPs, are considered. Finally, some future trends and the prospects in these research areas are also discussed.
No MeSH data available.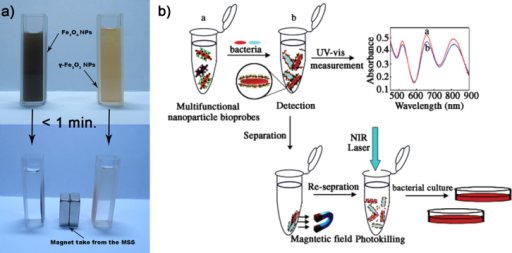 © Copyright Policy - open-access
License 1 - License 2


getmorefigures.php?uid=PMC5036481&req=5

Mentions: As a successful application of magnetic IONPs, bioseparation is also an important kind of application, especially for in vitro DNA, antibody, protein, gene, enzyme, cell, virus and bacteria separation [355–358]. Compared with the traditional separation procedures, magnetic separation has many advantages of being able to be quickly localized or retrieved with a common magnet (as shown in figure 25(a)) [18], which is faster and more cost-effective than traditional column affinity chromatography. Generally, surface functionalized magnetic IONPs with suitable intermediates are commonly used to enhance the separation efficiency with such modification of surfactants, polymers, and ligands for introducing functional end groups (such as –OH, –NH2, –SH, –COOH, etc) through the selective adsorption to the target biomolecules [359].