Recent progress on magnetic iron oxide nanoparticles: synthesis, surface functional strategies and biomedical applications
ABSTRACT
---
This review focuses on the recent development and various strategies in the preparation, microstructure, and magnetic properties of bare and surface functionalized iron oxide nanoparticles (IONPs); their corresponding biological application was also discussed. In order to implement the practical in vivo or in vitro applications, the IONPs must have combined properties of high magnetic saturation, stability, biocompatibility, and interactive functions at the surface. Moreover, the surface of IONPs could be modified by organic materials or inorganic materials, such as polymers, biomolecules, silica, metals, etc. The new functionalized strategies, problems and major challenges, along with the current directions for the synthesis, surface functionalization and bioapplication of IONPs, are considered. Finally, some future trends and the prospects in these research areas are also discussed.
No MeSH data available.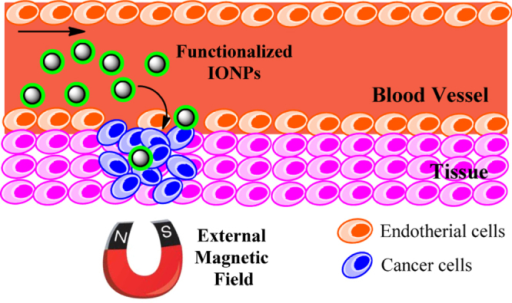 © Copyright Policy - open-access
License 1 - License 2


getmorefigures.php?uid=PMC5036481&req=5

Mentions: In traditional drug delivery systems, such as oral ingestion or intravascular injection, the medication is distributed throughout the body through systemic blood circulation. For most therapeutic agents, however, only a small portion of the medication reaches the affected organ and there is reduced drug diffusion through biological barriers causing a high incidence of adverse effects. Targeted drug delivery (TDD) seeks to concentrate the medication in the tissues of interest while reducing the relative concentration of the medication in the remaining tissues and crossing the biological barriers by active accumulation or an active targeting strategy [306]. Furthermore, magnetic IONP-based drug targeting (figure 21) is a promising cancer treatment method for avoiding the side effects of conventional chemotherapy by reducing the systemic distribution of drugs and lowering the doses of cytotoxic compounds [307]. Functionalized IONPs as a carrier can deliver a wide range of drugs to all areas in the body. Hence the efficient intracellular delivery of NPs is one of the main factors in enhancing the efficacy of the encapsulation therapeutic agent. Generally, magnetic IONPs are used as the core and biocompatible components act as a functionalized shell to form the core–shell structure for TDD carriers, and the drugs are bound or encapsulated into the polymer matrix. In a drug carrier system, the sizes, surface properties, and stability are the crucial features. Partially, the IONPs should be small enough to penetrate through the capillary bed. However, if the diameter of the IONPs is smaller than 10 nm, they will be rapidly removed through extravasations and renal clearance. Therefore, IONPs with a diameter ranging from 10 to 100 nm are optimal for intravenous injection and have the most prolonged blood circulation times [68]. Additionally, IONPs with a positive charge are better internalized by human breast cancer cells than those IONPs with negative charge. However, intake of these IONPs also depends upon cell type. IONPs with a hydrophobic surface are easily adsorbed at the protein surface and show a low circulation time [308]. Hence, many biocompatibility materials have been used to functionalize IONPs for TDD, such as biocompatible organic polymers (PEG, chitosan, dextran, etc), liposomes, silica, and bioceramics [182].