Recent progress on magnetic iron oxide nanoparticles: synthesis, surface functional strategies and biomedical applications
ABSTRACT
---
This review focuses on the recent development and various strategies in the preparation, microstructure, and magnetic properties of bare and surface functionalized iron oxide nanoparticles (IONPs); their corresponding biological application was also discussed. In order to implement the practical in vivo or in vitro applications, the IONPs must have combined properties of high magnetic saturation, stability, biocompatibility, and interactive functions at the surface. Moreover, the surface of IONPs could be modified by organic materials or inorganic materials, such as polymers, biomolecules, silica, metals, etc. The new functionalized strategies, problems and major challenges, along with the current directions for the synthesis, surface functionalization and bioapplication of IONPs, are considered. Finally, some future trends and the prospects in these research areas are also discussed.
No MeSH data available.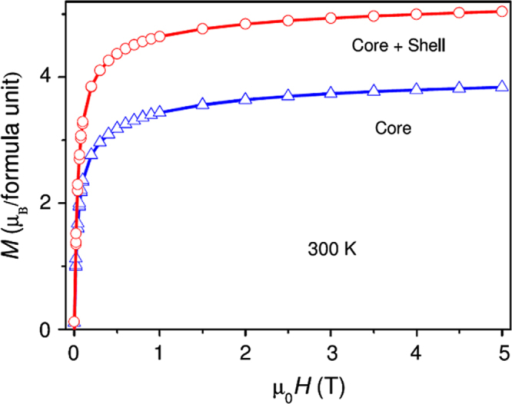 © Copyright Policy - open-access
License 1 - License 2


getmorefigures.php?uid=PMC5036481&req=5

Mentions: Magnetic materials coated on magnetic IONPs usually have a dramatic influence on the final magnetic properties, including the iron oxide itself [296], Co3O4 [297, 298], NiO [299], MnxOy [300, 301], CoFe2O4, MnFe2O4, etc. The combination of two different magnetic phases will generate new magnetic composites with many possible applications. For example, Manna et al have reported the magnetic proximity effect in a ferrimagnetic Fe3O4 core–ferrimagnetic γ-Mn2O3 shell nanoparticle system. As shown in figure 20, the magnetization of core–shell NPs is clearly greater than that of the bare core NPs [302]. Liu et al have developed the manufacture of a series of multifunctional magnetic core–shell hetero-nano-architectures (designated as Fe3O4@NiO and Fe3O4@Co3O4) by an in situ solvothermal-coating/decomposition approach. The resulting core–shell NPs presented a number of important characteristics, such as controllable shell thickness, excellent magnetism, stable recyclability as well as a large surface-exposure area. By taking advantage of the high affinity of the metal ion on the shell surface toward biomolecules and rapid response toward an assistant magnet, the Fe3O4@NiO can be applied to magnetically separate His-tagged proteins from a cell lysate and efficiently enrich peptides with different molecular weights from complex sample systems for mass spectrometry analysis [303].