Recent progress on magnetic iron oxide nanoparticles: synthesis, surface functional strategies and biomedical applications
ABSTRACT
---
This review focuses on the recent development and various strategies in the preparation, microstructure, and magnetic properties of bare and surface functionalized iron oxide nanoparticles (IONPs); their corresponding biological application was also discussed. In order to implement the practical in vivo or in vitro applications, the IONPs must have combined properties of high magnetic saturation, stability, biocompatibility, and interactive functions at the surface. Moreover, the surface of IONPs could be modified by organic materials or inorganic materials, such as polymers, biomolecules, silica, metals, etc. The new functionalized strategies, problems and major challenges, along with the current directions for the synthesis, surface functionalization and bioapplication of IONPs, are considered. Finally, some future trends and the prospects in these research areas are also discussed.
No MeSH data available.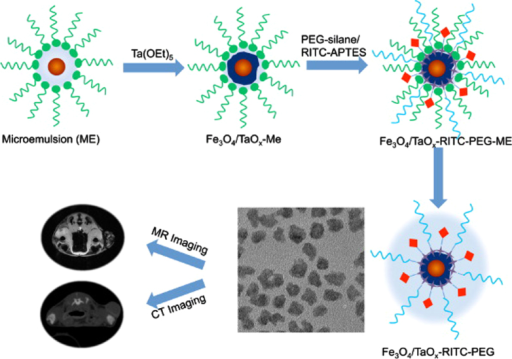 © Copyright Policy - open-access
License 1 - License 2


getmorefigures.php?uid=PMC5036481&req=5

Mentions: Oxide and sulfide semiconductors are the most common compounds that are used to functionalize magnetic IONPs, such as TiO2 [279–281], ZnO [282], SnO2 [283, 284], WO3 [285], Cu2O [286], CdS [287–289], ZnS [290, 291], PbS [292], Bi2S3 [293], etc. For example, the spindle-like IONP@SnO2, IONP@TiO2 and IONP@ZnO composite NPs were synthesized successively by different wet-chemical routes; their composite NPs exhibited enhanced photocatalytic abilities for organic dyes, mainly owing to the synergistic effect between the narrow and wide bandgap semiconductors and effective electron-hole separation at the interfaces of iron oxides/semiconductors [281–284]. As shown in figure 19, Lee et al developed a sol–gel reaction of tantalum (V) ethoxide in a microemulsion containing Fe3O4 NPs that was used to synthesize multifunctional Fe3O4/TaOx core–shell NPs recently, which were biocompatible and exhibited a prolonged circulation time. When the NPs were intravenously injected, the tumor-associated vessel was observed by using computed tomography (CT), and MRI revealed the high and low vascular regions of the tumor [294]. Wu et al have presented a very simple strategy for the synthesis of superparamagnetic and fluorescent Fe3O4–ZnS hollow nanospheres by a combining of corrosion and the Ostwald ripening process. These hollow nanospheres with diameters smaller than 100 nm are not only nontoxic with a highly porous shell but also exhibit very good magnetic resonance and fluorescence [295]. Indeed, semiconductors are common used as a functionalized layer to coat IONPs for obtaining bi-functional composite NPs, such as fluorescence and magnetic [212], photocatalyst and magnetic, etc.