Recent progress on magnetic iron oxide nanoparticles: synthesis, surface functional strategies and biomedical applications
ABSTRACT
---
This review focuses on the recent development and various strategies in the preparation, microstructure, and magnetic properties of bare and surface functionalized iron oxide nanoparticles (IONPs); their corresponding biological application was also discussed. In order to implement the practical in vivo or in vitro applications, the IONPs must have combined properties of high magnetic saturation, stability, biocompatibility, and interactive functions at the surface. Moreover, the surface of IONPs could be modified by organic materials or inorganic materials, such as polymers, biomolecules, silica, metals, etc. The new functionalized strategies, problems and major challenges, along with the current directions for the synthesis, surface functionalization and bioapplication of IONPs, are considered. Finally, some future trends and the prospects in these research areas are also discussed.
No MeSH data available.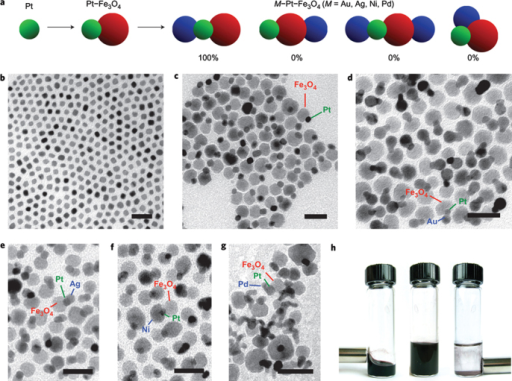 © Copyright Policy - open-access
License 1 - License 2


getmorefigures.php?uid=PMC5036481&req=5

Mentions: In all the above mechanisms, the formation of IONP/metal structures was via molecular or charged links between IONPs and metal, whereas the dumbbell IONP/metal structures interfacial interaction originate from electron transfer across the nanometer contact at the interface of IONPs and metal NPs, inducing new properties that are not present in the individual component [267]. Sun et al developed a series of dumbbell IONP/metal structures through controlling the nucleation and growth of only one Fe3O4 on each Au (or Pt, or Pd) seeding NPs under the current synthetic conditions, which was attributed to the possible electron transfer between Au and Fe, and applied for enhanced catalysis, target-specific imaging and delivery [121, 123, 268, 269]. Furthermore, they based this on the understanding of the formation mechanism and took insight from the mechanical property of dumbbell-like Au–Fe3O4 NPs by overgrowing Au2 on Au1–Fe3O4 NPs. The 'tug-of-war' mechanism between Au2 and Fe3O4 was attributed to the formation of a Au2–Au1–Fe3O4 ternary nanostructure after Au2 growing on the preformed Au1–Fe3O4 NPs. The strain energy between Au1 and Fe3O4 played an important role, which not only decided their structure stability, but might also affect their functional performance. The reduced compressive stress in Au1 NP will result in possibly unbalanced stress across the interface. As a result, Au2 extracted Au1 out from the Au1–Fe3O4 conjugation, generating a new dumbbell-like Au2–Au1 and a dented Fe3O4 NP [270, 271]. As shown in figure 18, Buck et al have developed a total-synthesis framework for the construction of hybrid nanoparticle architectures that include M–Pt–Fe3O4 (M = Au, Ag, Ni, Pd) heterotrimers, MxS–Au–Pt–Fe3O4 (M = Pb, Cu) heterotetramers and higher-order oligomers based on the heterotrimeric Au–Pt–Fe3O4 building block. This synthetic framework conceptually mimics the total-synthesis approach used by chemists to construct complex organic molecules. The reaction toolkit applies solid-state nanoparticle analogues of chemoselective reactions, regiospecificity, coupling reactions and molecular substituent effects to the construction of exceptionally complex hybrid nanoparticle oligomers [272].