Recent progress on magnetic iron oxide nanoparticles: synthesis, surface functional strategies and biomedical applications
ABSTRACT
---
This review focuses on the recent development and various strategies in the preparation, microstructure, and magnetic properties of bare and surface functionalized iron oxide nanoparticles (IONPs); their corresponding biological application was also discussed. In order to implement the practical in vivo or in vitro applications, the IONPs must have combined properties of high magnetic saturation, stability, biocompatibility, and interactive functions at the surface. Moreover, the surface of IONPs could be modified by organic materials or inorganic materials, such as polymers, biomolecules, silica, metals, etc. The new functionalized strategies, problems and major challenges, along with the current directions for the synthesis, surface functionalization and bioapplication of IONPs, are considered. Finally, some future trends and the prospects in these research areas are also discussed.
No MeSH data available.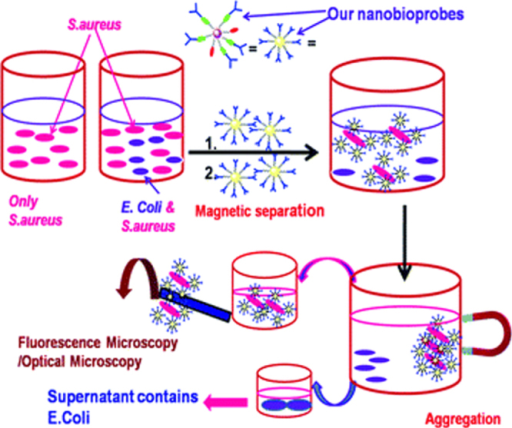 © Copyright Policy - open-access
License 1 - License 2


getmorefigures.php?uid=PMC5036481&req=5

Mentions: For instance, Magro et al reported on the surface characterization, functionalization, and application of stable water suspensions of novel surface active maghemite NPs by avidin. Bound avidin was determined by measuring the disappearance of free avidin absorbance at 280 nm, as a function of increasing nanoparticle concentration, showing the presence of 10 ± 3 avidin molecules per nanoparticle. Fe2O3@avidin was applied for the large scale purification of recombinant biotinylated human sarco/endoplasmic reticulum Ca2+-ATPase (hSERCA-2a), expressed by Saccharomyces cerevisiae. The protein was magnetically purified, and about 500 μg of a 70% pure hSERCA-2a were recovered from 4 L of yeast culture, with a purification yield of 64% [210]. As shown in figure 14, Bhattacharya et al demonstrated a rapid, sensitive, specific and efficient method for the detection of Staphylococcus aureus (S. aureus) as the model analyte at ultra-low concentrations using antibody labeled multifunctional Au-Fe3O4 nanocomposites. Fluorescence/confocal as well as optical microscopy could detect a total count of S. aureus within concentrations of 102–107 CFU mL−1 in 30 min and the detection limit is 102 CFU mL−1. These antibody targeted NPs are a potent probe for a broad application in detecting specific bacteria, S. aureus, in various biodetection systems [211]. The biological molecule functionalized IONPs will greatly improve the particles' biocompatibility. Such magnetic IONPs can be very useful to assist an effective separation of proteins, DNA, cells, biochemical products, etc.