Non-covalent polymer wrapping of carbon nanotubes and the role of wrapped polymers as functional dispersants
ABSTRACT
---
Carbon nanotubes (CNTs) have been recognized as a promising material in a wide range of applications from biotechnology to energy-related devices. However, the poor solubility in aqueous and organic solvents hindered the applications of CNTs. As studies have progressed, the methodology for CNT dispersion was established. In this methodology, the key issue is to covalently or non-covalently functionalize the surfaces of the CNTs with a dispersant. Among the various types of dispersions, polymer wrapping through non-covalent interactions is attractive in terms of the stability and homogeneity of the functionalization. Recently, by taking advantage of their stability, the wrapped-polymers have been utilized to support and/or reinforce the unique functionality of the CNTs, leading to the development of high-performance devices. In this review, various polymer wrapping approaches, together with the applications of the polymer-wrapped CNTs, are summarized.
No MeSH data available.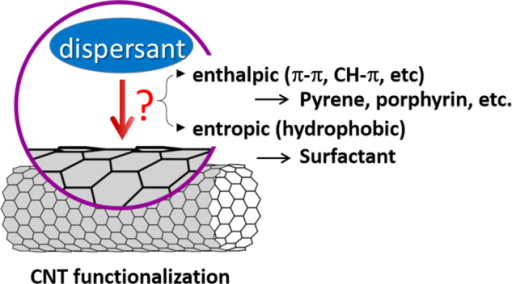 © Copyright Policy - open-access
License 1 - License 2


getmorefigures.php?uid=PMC5036478&req=5

Mentions: Non-covalent functionalization is realized via 1) enthalpy-driven interactions, such as π−π, CH−π, NH−π, etc, between the CNT surface and the dispersants and/or 2) entropy-driven interaction; i.e. hydrophobic interaction using surfactants (figure 2) [40]. In the case of the surfactant dispersion, sodium dodecyl sulfate (SDS) [41–43], sodium dodecylbenzene sulfonate (SDBS) [44–48], sodium cholate (SC) [49–51], cethyltrimethylammonium bromide (CTAB) [46, 52], Brij [46, 51], Tween [46, 51] and Triton X [44, 46, 51, 53] have typically been used due to their availability and cost [50]. It is important to understand that the surfactant molecules on the surface of the CNTs are in a dynamic equilibrium between the surfactants in the bulk solution (figure 3, upper) [54]. Therefore, the dispersants are easily removed by filtration or dialysis, resulting in the aggregation of the CNTs (figure 3) [55]. Similar dynamic dispersions also take place in the case of the enthalpy-driven functionalization using small molecules as the dispersant. On the other hand, when the polymer is used in the enthalpy-driven functionalization, static dispersion due to the multi-point interaction between polymers and the surface of the CNTs is often realized [55]. In this case, the non-covalently surrounded polymers remained even after the washing process, such as filtration, to provide the 'polymer-wrapped CNTs'. In some applications, such wrapped dispersants act as a contaminate, but in some cases, the wrapped CNTs synergistically improve the performance of the CNTs if the polymers are strategically designed. In this review, such polymers that offer additional functions to the CNTs are categorized as 'functional dispersants'. Due to the tailorable design of the polymers, the concept of the functional dispersant has recently been widely recognized and utilized.