Novel PEPA-functionalized graphene oxide for fire safety enhancement of polypropylene
ABSTRACT
---
Polypropylene (PP) is a general-purpose plastic, but some applications are constrained by its high flammability. Thus, flame retardant PP is urgently demanded. In this article, intumescent flame retardant PP (IFRPP) composites with enhanced fire safety were prepared using 1-oxo-4-hydroxymethyl-2,6,7-trioxa-1-phosphabicyclo [2.2.2] octane (PEPA) functionalized graphene oxide (PGO) as synergist. The PGO was prepared through a mild chemical reaction by the covalent attachment of a caged-structure organic compound, PEPA, onto GO nanosheets using toluene diisocynate (TDI) as the intermediary agent. The novel PEPA-functionalized graphene oxide not only improves the heat resistance of GO but also converts GO and PEPA from hydrophobic to hydrophilic materials, which leads to even distribution in PP. In our case, 7 wt% addition of PGO as one of the fillers for IFRPP composites significantly reduces its inflammability and fire hazards when compared with PEPA, by the improvement of first release rate peak (PHRR), total heat release, first smoke release rate peak (PSRR) and total smoke release, suggesting its great potential as the IFR synergist in industry. The reason is mainly attributed to the barrier effect of the unburned graphene sheets, which protects by the decomposition products of PEPA and TDI, promotes the formation of graphitized carbon and inhibits the heat and gas release.
No MeSH data available.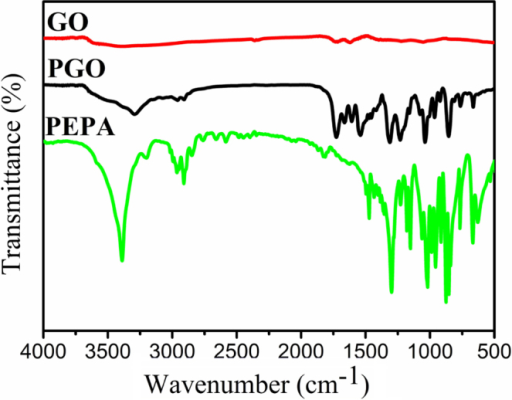 © Copyright Policy - open-access
License 1 - License 2


getmorefigures.php?uid=PMC5036477&req=5

Mentions: The chemical components of GO and PGO were studied by FTIR and XPS. In the FTIR spectra (figure 2), the GO curve shows the characteristic absorption of GO: −OH at 3389 cm−1, C=O at 1718 cm−1, C=C and the hydroxyl in the adsorbed water at 1617 cm−1 and C–O–C at 1000–1300 cm−1 [4]. The structure of PEPA is confirmed with characteristic absorption at 3393 cm−1 (−OH stretching absorption), 2968 cm−1, 2908 cm−1 (−CH2−), 1295 cm−1 (P=O), 1017 cm−1, 952 cm−1 (P–O–C), and 854 cm−1, 761 cm−1, 663 cm−1, 625 cm−1 (typical of caged structure) in the FTIR spectra (figure 2), which is consistent with previous report [36]. The main peaks of GO and PEPA could be observed at the spectra of PGO, and the peaks at 3078, 1608, 1540 and 1475 cm−1 is attributed to benzene ring. It demonstrates the actual occurrence of the chemical reactions among GO, PEPA, and TDI, in addition the caged structure of PEPA does not been destroyed in the reactions.