Concurrent bandgap narrowing and polarization enhancement in epitaxial ferroelectric nanofilms
ABSTRACT
---
Perovskite-type ferroelectric (FE) crystals are wide bandgap materials with technologically valuable optical and photoelectric properties. Here, versatile engineering of electronic transitions is demonstrated in FE nanofilms of KTaO3, KNbO3 (KNO), and NaNbO3 (NNO) with a thickness of 10–30 unit cells. Control of the bandgap is achieved using heteroepitaxial growth of new structural phases on SrTiO3 (001) substrates. Compared to bulk crystals, anomalous bandgap narrowing is obtained in the FE state of KNO and NNO films. This effect opposes polarization-induced bandgap widening, which is typically found for FE materials. Transmission electron microscopy and spectroscopic ellipsometry measurements indicate that the formation of higher-symmetry structural phases of KNO and NNO produces the desirable red shift of the absorption spectrum towards visible light, while simultaneously stabilizing robust FE order. Tuning of optical properties in FE films is of interest for nanoscale photonic and optoelectronic devices.
No MeSH data available.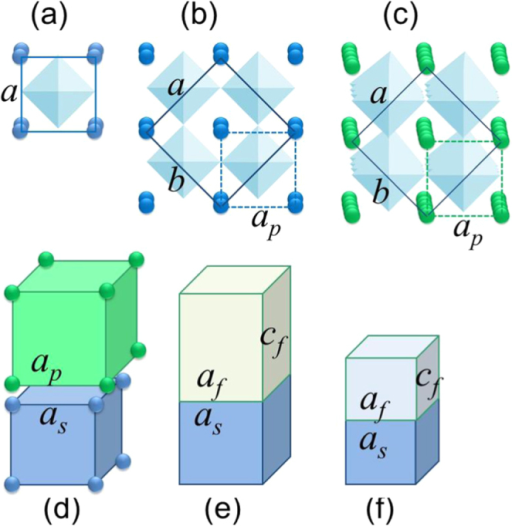 © Copyright Policy - open-access
License 1 - License 2


getmorefigures.php?uid=PMC5036465&req=5

Mentions: At room temperature, the bulk crystal structure of KTO is cubic (figure 1(a)) and the bulk lattices of KNO (figure 1(b)) and NNO (figure 1(c)) are orthorhombic, whereas all materials (KTO, KNO, NNO, and STO) possess a cubic crystal structure at Tdep = 973 K [40]. During cube-on-cube epitaxy of KTO, KNO, and NNO on STO (001) substrates, the in-plane lattice parameters of the perovskite cell are compressed for all films (figure 1(d)). The in-plane biaxial misfit strain s in the films, here defined as s = (as/ap − 1) with ap and as indicating the bulk lattice parameters of the perovskite film material and the STO substrate, is about −2% in KTO, −3% in KNO, and –1% in NNO. As a result, the films grow with a metrically tetragonal structure (figure 1(e)) up to a critical thickness, beyond which the strain starts to relax [41]. Upon cooling to room temperature, the film strain changes due to a mismatch between the thermal expansion coefficient of the film and substrate (figure 1(f)). The resulting room temperature crystal structures, biaxial in-plane lattice strains, and electric phases of ideal cube-on-cube epitaxial KTO, KNO, and NNO nanofilms on STO (001) are summarized in table 1. Compared to bulk crystals, novel structural and FE phases form in epitaxial films on STO [34, 42], namely the FE tetragonal c-phase with out-of-plane polarization along the [001] crystal direction in KTO (s = −2.1%) and KNO (s = −2.8%) and the FE pseudo-cubic r-phase with polarization along the out-of-plane [001] and in-plane [110] directions in NNO (s = 0%). Thus, compared to bulk crystals, the structural symmetry is lowered in nanofilms of KTO [43] and it is enhanced in KNO and NNO.