Improved compaction of ZnO nano-powder triggered by the presence of acetate and its effect on sintering
ABSTRACT
---
The retention of nanocrystallinity in dense ceramic materials is still a challenge, even with the application of external pressure during sintering. The compaction behavior of high purity and acetate enriched zinc oxide (ZnO) nano-powders was investigated. It was found that acetate in combination with water plays a key role during the compaction into green bodies at moderate temperatures. Application of constant pressure resulted in a homogeneous green body with superior packing density (86% of theoretical value) at moderate temperature (85 °C) in the presence of water. In contrast, no improvement in density could be achieved if pure ZnO powder was used. This compaction behavior offers superior packing of the particles, resulting in a high relative density of the consolidated compact with negligible coarsening. Dissolution accompanying creep diffusion based matter transport is suggested to strongly support reorientation of ZnO particles towards densities beyond the theoretical limit for packing of ideal monosized spheres. Finally, the sintering trajectory reveals that grain growth is retarded compared to conventional processing up to 90% of theoretical density. Moreover, nearly no radial shrinkage was observed after sinter-forging for bodies performed with this advanced processing method.
No MeSH data available.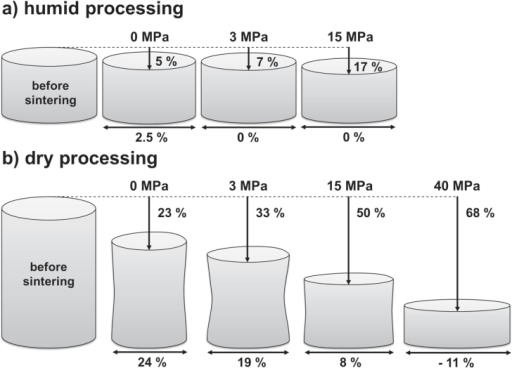 © Copyright Policy - open-access
License 1 - License 2


getmorefigures.php?uid=PMC5036464&req=5

Mentions: In the following, a uniaxial pressure of 15 or 40 MPa was applied during sintering. Table 1 lists the obtained respective grain sizes and relative densities for humid warm and dry processed specimens. The final density achieves 95% TD, when an external pressure of 15 MPa is applied, but grain size increases as well to 600 nm. Dry processed samples show a comparable behavior. Here, density is stagnating around 95.5% TD and grain size is increasing up to 1.4 μm. The evolution of final relative density is within 0.2%, which lies within the error range. Thus, density is not affected by the application of an external pressure, whereas the grain size is increasing with increasing external pressure. Interestingly, the grain size is smaller for the dry condition than for humid warm processed bodies at a uniaxial pressure of 15 MPa. Typically, the application of an external pressure retards grain growth in comparison to free sintering of ceramics, as the mechanism of densification is enhanced while the one of coarsening is not affected. Nevertheless, similar results are found in the literature on sintering of alumina [44, 45] and BaLa4Ti4O15 [46, 47]. Besson and Abouaf [44, 45] sintered pure alumina by hot isostatic pressing and found a final grain size proportional to the applied stress (up to 200 MPa). They suggested that the applied stress induced point defects and dislocations during densification, which are eliminated by grain growth. Amaral et al [46, 47] observed exaggerated grain growth during densification of sintered constrained films of BaLa4Ti4O15, which resulted in a much larger grain size for a given density than for freely sintered bulk. Interestingly, the grain size of dry processed ZnO samples remains lower compared to the humid warm condition at an external pressure of 15 MPa (table 1). High strain rates are suggested at the beginning of the sintering in order to eliminate interagglomerate pores prior to the onset of the final stage of sintering, when substantial grain growth occurs [48]. It is already known that neck growth and densification are promoted in the plane perpendicular to its direction under uniaxial loading which may also lead to anisotropy of a sintering body [49]. Figure 10 schematically illustrates the shape evolution of sintered samples from pressureless sintering towards increasing applied external pressure, which corresponds to axial (∊z) and radial (∊r) strain. Only 2.5% radial strain was detected for the pressureless sintered specimen under humid warm processing (figure 10(a)). Under dry processing, radial and axial strains are nearly equal (24%) for pressureless sintering, which was already reported before for free sintering (figure 10(b)) [18]. Thus, strains in both directions are equal (axial versus radial strain ratio ∊z/∊r ∼ 1), whereas a strain ratio ∊z/∊r of 2.5 was found for the humid warm specimen, but with absolute strain nearly one order of magnitude lower than under the dry condition. In general, the evolution of the strain ratio strongly depends on the applied external pressure. Rahaman et al [18] have already reported for sintered ZnO in 1991, that the strain ratio ∊z/∊r increases from ∼1 to ∼1.56 by the application of a uniaxial pressure. Moreover, they found that the strain ratio ∊z/∊r regains with a value of ∼1.2 by a strong increase in initial green density (73% TD). Thus, an increase of initial green density will decrease the radial stain and accordingly a lower pressure is required for zero radial strain. This finding is convenient with the results of the present study, whereas the strain ratio is lower for humid warm processed ZnO (∼5 g cm−3 initial density) in comparison to the dry condition (∼3 g cm−3 initial density). In addition the surface of the dry sintered samples shows a concave curvature. On the one hand, the degree of curvature is decreasing with increasing pressure, which is conclusive. On top of that, the radial strain is negative (−11%) under a uniaxial pressure of 40 MPa for dry processed specimens, resulting in a radial expansion, whereas similarly high pressures of 40–100 MPa would lead to a radial expansion for the humid warm specimen as well. Finally, zero radial shrinkage was already achieved by the application of a uniaxial pressure of 3 MPa. In the case of the dry processed specimen, linear interpolation of radial strain data from figure 10 gave a uniaxial pressure of 27 MPa for zero radial strain. It seems conclusive that the higher initial density of the humid warm processed specimen governs a lower sintering stress in axial and radial directions. Bordia et al [50] showed that a compressive uniaxial pressure between 20 MPa and 30 MPa during the intermediate stage of sintering is necessary to achieve a zero radial strain rate for sintering submicron alumina. This value, which depends on the viscous parameters of the sintering material, is in good agreement with the presented results of dry processed ZnO in this study.