Improved compaction of ZnO nano-powder triggered by the presence of acetate and its effect on sintering
ABSTRACT
---
The retention of nanocrystallinity in dense ceramic materials is still a challenge, even with the application of external pressure during sintering. The compaction behavior of high purity and acetate enriched zinc oxide (ZnO) nano-powders was investigated. It was found that acetate in combination with water plays a key role during the compaction into green bodies at moderate temperatures. Application of constant pressure resulted in a homogeneous green body with superior packing density (86% of theoretical value) at moderate temperature (85 °C) in the presence of water. In contrast, no improvement in density could be achieved if pure ZnO powder was used. This compaction behavior offers superior packing of the particles, resulting in a high relative density of the consolidated compact with negligible coarsening. Dissolution accompanying creep diffusion based matter transport is suggested to strongly support reorientation of ZnO particles towards densities beyond the theoretical limit for packing of ideal monosized spheres. Finally, the sintering trajectory reveals that grain growth is retarded compared to conventional processing up to 90% of theoretical density. Moreover, nearly no radial shrinkage was observed after sinter-forging for bodies performed with this advanced processing method.
No MeSH data available.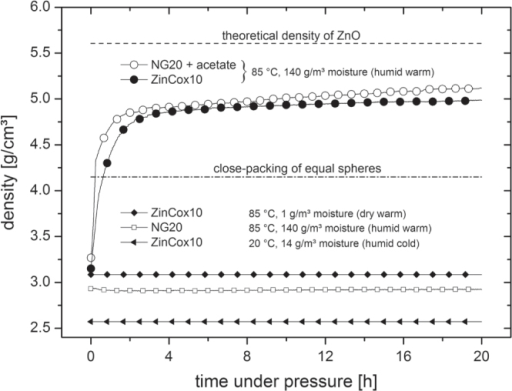 © Copyright Policy - open-access
License 1 - License 2


getmorefigures.php?uid=PMC5036464&req=5

Mentions: The two nanocrystalline ZnO powders were investigated with respect to their compaction behavior. The absolute density is given as a function of time during compaction in figure 2. Interestingly, the initial density was around 3 g cm−3 (55% TD) at the beginning of compaction for both ZnO powders at 85 °C. In contrast, the compact under humid cold condition shows a constant density of 2.57 g cm−3 (45.8% TD). The pure NG20 powder was pressed to a density of 2.93 g cm−3 (52.3% TD) under humid warm condition and shows no further increase in density with time. Densities around 45–57% TD for green compacts are typical even for dry, cold pressing at 50 MPa [10, 16, 32]. In contrast, the density of the ZinCox10 powder strongly increases within the first hour up to a value of approximately 4 g cm−3 if compacted under humid warm condition. The densification rate further decreases successively until a constant density of approximately 4.99 g cm−3 is achieved after 20 h of compaction. The measured absolute density of ZinCox10 powder compacts after compaction needs to be corrected in order to take into account the presence of acetate. The corrected density is 85.9% TD, which is extremely high. The addition of zinc acetate to pure NG20 powder results into the same compaction behavior under humid warm condition. To our knowledge, this study presents the highest reported value by uniaxial pressing of ceramic powders. Mazaheri et al [8] achieved 61% TD by cold uniaxial pressing at 200 MPa for pure ZnO powder with comparable initial nanoparticle size. Ewsuk et al [33] achieved similar green density with 62% TD by granulation, uniaxial and isostatic pressing at 140 MPa for both, macroscopic and nanoscale powder. Alternative methods, e.g. pressure filtration, slip casting of ceramic slurries, result into a density of 50–70% TD [10, 15, 19]. The slightly elevated temperature of 85 °C may raise the reorientation process and the presence of water may lower the friction between the ZnO particles. However, these findings are in contradiction with the model for the highest packing of ideal monosized spheres, whereas the packing density is theoretically restricted to 74% TD [34]. On top of that, particles were found to show polyhedral instead of spherical shape, which should result in an even lower maximum theoretical value. Thus, not solely reorientation, but another process discussed in the next section seems responsible for the huge gain in green density. In contrast, no change in density was measured during the compaction step neither under dry warm condition (85 °C, 1 g m−3 moisture) nor under humid cold condition (20 °C, 14 g m−3 moisture). Thus, a combination of temperature and humidity is required to increase the green body density, if acetate is present in the compacted ZnO powder.