The anterior versus posterior hippocampal oscillations debate in human spatial navigation: evidence from an electrocorticographic case study
ABSTRACT
---
Introduction: Hippocampal oscillations have been regularly described as playing a dominant role in spatial memory and navigation in rodents. In humans, the relative role of anterior versus posterior rhythms during navigational memory is not established.
Methods: Here, we tested this hypothesis using direct brain ECoG recordings in the anterior and posterior hippocampus of a patient, in a navigational task requiring spatial memory. We assessed multiple oscillatory bands during encoding and retrieval phases.
Results: We found navigation related 1–3.5 Hz activity during retrieval, both in the anterior and posterior hippocampus. Activity between 4 and 8 Hz was identified during both encoding and retrieval, only in the anterior hippocampus.
.: Our findings are consistent with the view that an anterior/posterior functional gradient is present in the hippocampus, and involves two distinct neuronal networks, supporting either encoding or retrieval processes Although this is a single case scenario, these findings suggest that neural oscillations during spatial navigation do vary across hippocampal subregions, as a function of encoding versus retrieval processes during the mnemonic process. In this single case study, the results point to the presence of a dual involvement of multiple frequency bands across hippocampal subregions during encoding and retrieval. Although these results need generalization, they provide a new perspective on distinct physiological properties of the anterior and posterior hippocampus in human spatial navigation during encoding and retrieval.
No MeSH data available.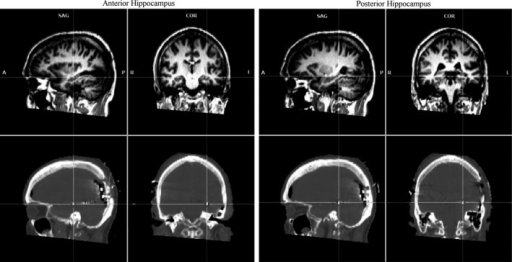 © Copyright Policy - creativeCommonsBy
License
getmorefigures.php?uid=PMC5036430&req=5
Mentions: Electrocorticographic signal was acquired at the Coimbra University Hospital. The signal from 48 electrodes was recorded at high sampling rate (5 kHz), low pass filter at 500 Hz, A/D accuracy of 2.80 μV through a SynAmps2/RT amplifier, using reference electrodes in the right scalp and using the module Maglink RT Acquire in the Scan 4.5 software (NeuroScan, Compumedics, Charlotte, NC). The continuous data were digitally filtered between 1 and 500 Hz and referencing was done to the average reference, as described elsewhere (Zhang and Jacobs 2015), using Scan 4.5. Further processing was performed in the EEGlab toolbox (Delorme and Makeig 2004) for MATlab (MathWorks, Natick, MA). Epochs from −3000 to 21,000 msec were obtained locked to the stimuli onset. Epoch rejection was done by visual inspection to ensure the data was free of ictal artifacts. For encoding, 252 (out of 294) seconds were included in the analysis. For retrieval, 231 sec of task were considered free of artifacts by visual inspection and were included. The time‐frequency analysis (−2000–5000 msec) included frequencies between 1 and 200 Hz, baseline including all negative time‐points, and significance level of 0.01 (number of permutation replications to accumulate: 200). Time‐frequency decomposition done using the function pop_newtimef(), with the wavelet beginning with a 3‐cycle, increasing linearly with the frequency. Correction for multiple comparisons was done using false detection rate (α = 0.004785). Given the aim of the study, we focused on the medial temporal lobe electrodes 36, in the anterior hippocampus (Talairach coordinates x,y,z = ‐31,‐19,‐10), and 39, near the posterior hippocampus (x,y,z = ‐30,‐36,‐8) (Fig. 1).