Review of clinical studies of perampanel in adolescent patients
ABSTRACT
---
Aim: To assess the clinical trial and real‐world data for adjunctive perampanel in adolescents and develop consensus recommendations to guide the use of perampanel in this population in clinical practice.
Methods: In May 2015, 15 epilepsy experts attended a Consensus Development Meeting to assess the clinical trial data for perampanel, specific to the adolescent age group (12‐17 years) and develop consensus treatment recommendations.
Results and discussion: Analysis of the adolescent subgroup data of three pivotal placebo‐controlled, double‐blind, phase 3 trials investigating perampanel in patients with ongoing focal epileptic seizures despite receiving one to three antiepileptic drugs found that perampanel 4–12 mg was superior to placebo. The tolerability profile of perampanel was generally acceptable. Adolescent patients receiving long‐term treatment with perampanel in an open‐label extension study maintained improvements in seizure control compared with baseline, with a favorable risk‐benefit profile. A phase 2 study showed that perampanel had no clinically important effects on cognitive function, growth, and development.
Conclusion: Perampanel is a welcome addition to the armamentarium of existing antiepileptic drugs as it represents a new approach in the management of epilepsy, with a novel mechanism of action, and the potential to have a considerable impact on the treatment of adolescents with epilepsy.
No MeSH data available.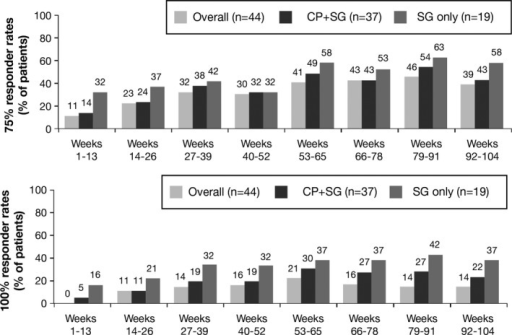 © Copyright Policy - creativeCommonsBy
License
getmorefigures.php?uid=PMC5036429&req=5
Mentions: Interim results from this trial showed that, adolescent patients receiving long‐term treatment with perampanel maintained improvements in seizure control compared with baseline. The decrease in seizure frequency was consistent and maintained in those patients over at least 1 year of perampanel exposure (Fig. 4) (Renfroe et al. 2014). Consistent with the pivotal phase 3 trials (French et al. 2012, 2013; Krauss et al. 2012), perampanel had a favorable tolerability profile in adolescent patients with refractory partial‐onset seizures over the longer term. The most common treatment‐related TEAEs requiring perampanel interruption or dose adjustment were dizziness (13.2%, n=16), somnolence (11.6%, n=14), aggression (6.6%, n=8), irritability (2.5%, n=3), asthenia, ataxia, convulsion,and abnormal behaviour(n=2;1.7% for each) (Steinhoff et al. 2013). The discontinuation rate due to TEAEs was 14.9% (n=18) and the rate of serious AEs in extension study was 14.0% (n=17). Behavioral TEAEs noted during the extension study included aggression (18.2% n=22), insomnia (6.6% n=8), abnormal behavior (4.1% n=6), anxiety (4.1% n=5), and anger (3.3% n=4). Of the 22 patients experiencing aggression, 21 were receiving higher dose of perampanel, 8–12 mg. A higher incidence of aggression was observed among adolescents compared with adults. However, most cases were mild or moderate (mild [n = 9], moderate [n = 10], severe [n = 3]); three patients with aggression discontinued the study (Steinhoff et al. 2013). Adolescent patients treated with perampanel and their caregivers need to be aware of the potential for aggressive behavior, especially during titration (Rosenfeld et al. 2015). If aggression is noted, a trial of alternate day dosing could be considered (Marina Nikanorova, Danish Epilepsy Centre Filadelfia, pers. Comm. 2015). Overall, perampanel demonstrated a favorable risk–‐benefit profile.