NDRG1 overexpression promotes the progression of esophageal squamous cell carcinoma through modulating Wnt signaling pathway
ABSTRACT
---
N-myc down-regulated gene 1 (NDRG1) has been shown to regulate tumor growth and metastasis in various malignant tumors and also to be dysregulated in esophageal squamous cell carcinoma (ESCC). Here, we show that NDRG1 overexpression (91.9%, 79/86) in ESCC tumor tissues is associated with poor overall survival of esophageal cancer patients. When placed in stable transfectants of the KYSE 30 ESCC cell line generated by lentiviral transduction with the ectopic overexpression of NDRG1, the expression of transducin-like enhancer of Split 2 (TLE2) was decreased sharply, however β−catenin was increased. Mechanistically, NDRG1 physically associates with TLE2 and β−catenin to affect the Wnt pathway. RNA interference and TLE2 overexpression studies demonstrate that NDRG1 fails to active Wnt pathway compared with isogenic wild-type controls. Strikingly, NDRG1 overexpression induces the epithelial mesenchymal transition (EMT) through activating the Wnt signaling pathway in ESCC cells, decreased the expression of E-cadherin and enhanced the expression of Snail. Our study elucidates a mechanism of NDRG1-regulated Wnt pathway activation and EMT via affecting TLE2 and  β-catenin expression in esophageal cancer cells. This indicates a pro-oncogenic role for NDRG1 in esophageal cancer cells whereby it modulates tumor progression.
No MeSH data available.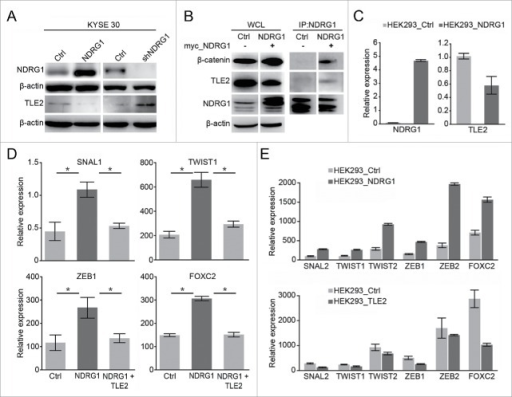 © Copyright Policy - open-access
License
getmorefigures.php?uid=PMC5036407&req=5
Mentions: To determine whether NDRG1 overexpression or knock-down impacts TLE2 protein expression, we used western blot analysis to assess TLE2 expression. As shown in Fig. 4A, NDRG1 overexpression and knock-down altered TLE2 expression at the protein level in KYSE 30 cells. Because the overexpression of NDRG1 in KYSE 30 cells leads to transcriptional changes in several markers that are involved in EMT and because NDRG1 is primarily located in the cytoplasm and nucleus in KYSE 30 cells, we sought to determine whether NDRG1 interacts with TLE2 and β-catenin, which are upstream of EMT markers. To test this, anti-NDRG1 was used to immunoprecipitate endogenous NDRG1; we found that the TLE2 and β-catenin complex formed only in NDRG1-overexpressing KYSE 30 cells (KYSE30-NDRG1, Fig. 4B). It has been previously shown that Wnt signal activation is initiated through an interaction with Wnt growth factors and is transduced inside the cell by the protein β-catenin.34,35 To verify the subcellular localization of β-catenin and TLE, we analyzed the subcellular fractions of NDRG1-overexpressing and control KYSE 30 cells, including the cytosolic fraction and nuclear fractions. As shown in Fig. 3F, we found that β-catenin was enriched in both the cytosolic and nuclear fractions; in contrast, the inverse was found for TLE2, which was greatly decreased in the nuclear fraction after NDRG1 overexpression compared with the control group. To further confirm the epithelial and mesenchymal phenotypes, EMT-associated transcription factors, including Snail, Twist1, ZEB1, and FOXC2, were assessed by real-time PCR analysis. We showed that NDRG1 overexpression increased the levels of EMT-associated transcription factors (Fig. 4D). To confirm the role of NDRG1 in this process, 293T cells were transfected with pCMV-NDRG1. The expression of NDRG1 mRNA in these cells was significantly higher than that in control cells; conversely, TLE2 mRNA levels were decreased (Fig. 4C). EMT-associated transcription factors, including Snail, Twist1, ZEB1, and FOXC2, were upregulated in 293T cells that overexpressed NDRG1. These factors were relatively decreased in 293T cells that overexpressed TLE2 (Fig. 4E). Together, these data indicate that NDRG1 overexpression promotes the activation of the Wnt signaling pathway, through increased β-catenin and decreased TLE2.Figure 4.