NDRG1 overexpression promotes the progression of esophageal squamous cell carcinoma through modulating Wnt signaling pathway
ABSTRACT
---
N-myc down-regulated gene 1 (NDRG1) has been shown to regulate tumor growth and metastasis in various malignant tumors and also to be dysregulated in esophageal squamous cell carcinoma (ESCC). Here, we show that NDRG1 overexpression (91.9%, 79/86) in ESCC tumor tissues is associated with poor overall survival of esophageal cancer patients. When placed in stable transfectants of the KYSE 30 ESCC cell line generated by lentiviral transduction with the ectopic overexpression of NDRG1, the expression of transducin-like enhancer of Split 2 (TLE2) was decreased sharply, however β−catenin was increased. Mechanistically, NDRG1 physically associates with TLE2 and β−catenin to affect the Wnt pathway. RNA interference and TLE2 overexpression studies demonstrate that NDRG1 fails to active Wnt pathway compared with isogenic wild-type controls. Strikingly, NDRG1 overexpression induces the epithelial mesenchymal transition (EMT) through activating the Wnt signaling pathway in ESCC cells, decreased the expression of E-cadherin and enhanced the expression of Snail. Our study elucidates a mechanism of NDRG1-regulated Wnt pathway activation and EMT via affecting TLE2 and  β-catenin expression in esophageal cancer cells. This indicates a pro-oncogenic role for NDRG1 in esophageal cancer cells whereby it modulates tumor progression.
No MeSH data available.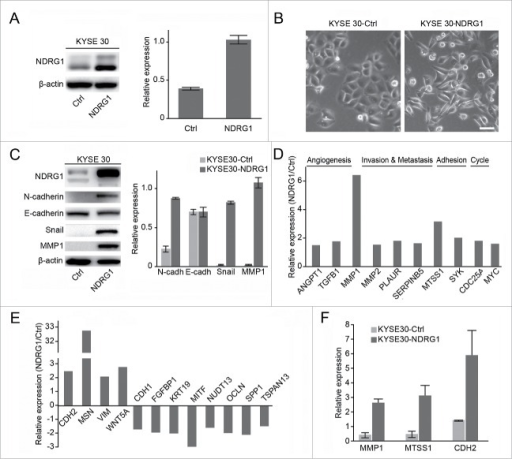 © Copyright Policy - open-access
License
getmorefigures.php?uid=PMC5036407&req=5
Mentions: Our previous data showed that NDRG1 is a pro-oncogenic gene but that it performs a dispensable role in ESCC as a modulator of metastasis.1 NDRG1 overexpression significantly enhanced motility in wound-healing assays in KYSE 30 cells and also elevated MMP2 activity, a surrogate marker of metastasis.1 To functionally validate the role of NDRG1 in esophageal cancer, pCMV-NDRG1 transfection was performed in the KYS E30 esophageal cancer cell line. The expression of NDRG1 protein was analyzed in KYSE 30 cells with pCMV-NDRG1 (KYSE 30-NDRG1) by protein gel blot assay and was found to be significantly higher than in control cells (KYSE 30-Ctrl) (Fig. 2A). Interestingly, NDRG1 overexpression induced a change in KYSE 30 cells from an epithelial morphology to a spindle-like mesenchymal morphology (Fig. 2B). Consistent with the phenotypic changes associated with NDRG1 overexpression, we also observed an increase in the expression of mesenchymal markers, including N-cadherin, Snail and MMP1, but we did not observe decreased expression of the epithelial marker E-cadherin at the protein level (Fig. 2C). To provide new insights into the mechanisms by which NDRG1 might modulate metastasis, we performed an analysis of gene expression profiles in KYSE 30 cells overexpressing NDRG1 (KYS E30- NDRG1) versus mock cells (KYSE 30-Ctrl), focusing on genes in the angiogenesis, metastasis, adhesion, cycle and Wnt pathways using low-density real-time PCR arrays. The expression of 22 genes associated with angiogenesis, metastasis, adhesion, cycle and Wnt pathways, including ANGPT1, TGFB1, MMP1, MMP2, PLAUR, SERPINB5, MTSS1, SYK, CDC25A, MYC, CDH2, MSN, VIM, WNT5A, CDH1, FGFBP1, KRT19, MITF, NUDT13, OCLN, SPP1, and TSPAN13, were altered in response to NDRG1 overexpression. As shown in, Fig. 2D and 2E the expression levels of the angiogenesis-related genes ANGPT1 and TGFB1, invasion and metastasis-related genes MMP1, MMP2, PLAUR and SERPINB5, adhesion-related genes MTSS1 and SYK, cell cycle-related gene CDC25A, and oncogenic transcription factor MYC were significantly enhanced after NDRG1 overexpression. In contrast, the genes CDH1, FGFBP1, KRT19, MITF, NUDT13, OCLN, SPP1, and TSPAN13 were decreased. Thus, NDRG1 overexpression resulted in the induction of EMT in KYSE 30 cells. Quantitative RT-PCR analysis of MMP1, MTSS1 and CDH2 mRNA levels was validated additionally in KYSE 30-NDRG1 and mock cells (KYSE 30-Ctrl, Fig. 2F).Figure 2.