Analysis of circulating tumor cells in colorectal cancer liver metastasis patients before and after cryosurgery
ABSTRACT
---
In this study, we determined the number of peripheral blood circulating tumor cells (CTCs) pre- and post-cryosurgery in patients with colorectal cancer liver metastasis as a reference for understanding the relevance of any changes to the efficacy of cryosurgery. CTC numbers and CTC-related gene expression were measured in the peripheral blood of 55 patients with colorectal liver metastasis at 1 day before and 7 and 30 d after cryoablation using magnetic activated cell sorting (MACS) and fluorescence activated cell sorting (FACS) combined with real-time quantitative PCR (RT-qPCR). The number of CTCs decreased significantly with postoperative time (P < 0.01). Delta cycle threshold values for the CTC-related genes CEA, Ep-CAM, CK18 and CK19 increased significantly after cryoablation. Furthermore, the expression of CEA, Ep-CAM, CK18 and CK19 decreased significantly with time after cryoablation (P < 0.01). RT-qPCR and FACS combined with MACS has significant diagnostic and prognostic value for evaluating the efficacy of cryosurgery in patients with advanced colorectal cancer.
No MeSH data available.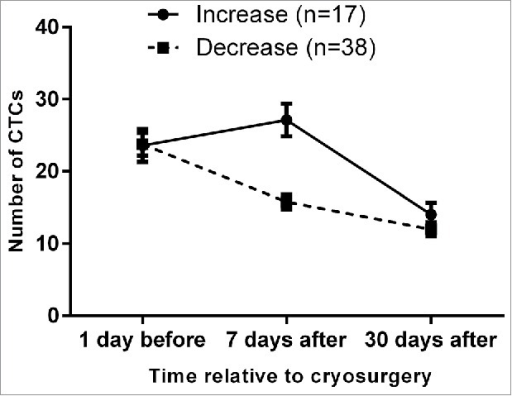 © Copyright Policy - open-access
License
getmorefigures.php?uid=PMC5036405&req=5
Mentions: At 7 d after surgery, the number of CTCs in peripheral blood was increased compared with the preoperative number in 17/55 patients (30.91%), but all patients exhibited a marked decrease at 30 d after surgery (Fig. 5). This phenomenon may be explained by the immunologic response to cryoablation. Cryoablation of tumor tissue causes cells to undergo coagulative necrosis. On thawing, necrotic tumor cells within the ice-ball release intact tumor antigens, proinflammatory cytokines, nuclear proteins and high-mobility group box protein 1, which stimulate the innate immune response and attract granulocytes, macrophages and natural killer cells. These cells release cytokines and chemokines after activation. Dendritic cells, the professional antigen-presenting cells, then reach the damaged tissue and take up tumor antigens in a background of inflammation and abundant cytokines.41 By contrast, cells at the periphery of the ice-ball die through apoptosis. Recognition and phagocytosis of apoptotic cells prevents them releasing their intracellular contents, inhibiting the release of proinflammatory cytokines. Antigens are presented in the absence of an immune stimulus, leading to immune tolerance. Thus, the ratio of necrosis to apoptosis might play a critical role in determining the stimulatory or suppressive nature of the immune response to cryoablation.42 The speed of freezing could also play a role in determining the immunologic effects of cryoablation.42 High speed freezing causes necrosis and activates the immune response; low speed freezing leads to a reduced necrosis:apoptosis ratio resulting in immune suppression. Additionally, when a large amount of tumor is frozen, the large quantities of immune complexes generated may cause "high zone tolerance," or antigen overloading that may lead to immunosuppression.43 As a result, in patients undergoing cryotherapy, an immunosuppressive effect early after the procedure may reduce immune system function so that the number of CTCs detected in peripheral blood is reduced, whereas later (30 d after cryosurgery) immune stimulation increases immune system function so that the number of CTCs detected is increased. However, although the timing of these immune status changes is clear according to our findings, the specific mechanism of the immune stimulatory and immunosuppressive effects at different time points after cryosurgery is unclear and will be explored in our future research.Figure 5.