Monitoring Perinatal Gut Microbiota in Mouse Models by Mass Spectrometry Approaches: Parental Genetic Background and Breastfeeding Effects
ABSTRACT
---
At birth, contact with external stimuli, such as nutrients derived from food, is necessary to modulate the symbiotic balance between commensal and pathogenic bacteria, protect against bacterial dysbiosis, and initiate the development of the mucosal immune response. Among a variety of different feeding patterns, breastfeeding represents the best modality. In fact, the capacity of breast milk to modulate the composition of infants' gut microbiota leads to beneficial effects on their health. In this study, we used newborn mice as a model to evaluate the effect of parental genetic background (i.e., IgA-producing mice and IgA-deficient mice) and feeding modulation (i.e., maternal feeding and cross-feeding) on the onset and shaping of gut microbiota after birth. To investigate these topics, we used either a culturomic approach that employed Matrix Assisted Laser Desorption Ionization Time-of-Flight Mass Spectrometry (MS), or bottom–up Liquid Chromatography, with subsequent MSMS shotgun metaproteomic analysis that compared and assembled results of the two techniques. We found that the microbial community was enriched by lactic acid bacteria when pups were breastfed by wild-type (WT) mothers, while IgA-deficient milk led to an increase in the opportunistic bacterial pathogen (OBP) population. Cross-feeding results suggested that IgA supplementation promoted the exclusion of some OBPs and the temporary appearance of beneficial species in pups fed by WT foster mothers. Our results show that both techniques yield a picture of microbiota from different angles and with varying depths. In particular, our metaproteomic pipeline was found to be a reliable tool in the description of microbiota. Data from these studies are available via ProteomeXchange, with identifier PXD004033.
No MeSH data available.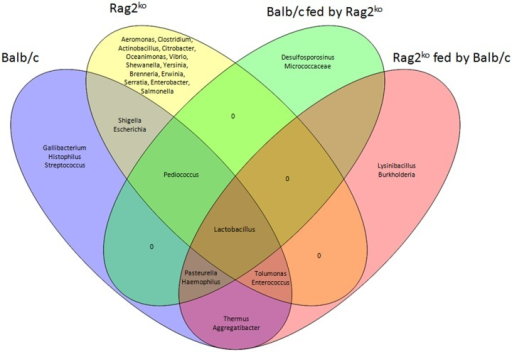 © Copyright Policy
License
getmorefigures.php?uid=PMC5036385&req=5
Mentions: We finally attempted the functional classification of OTUs and their comparison in groups by means of a Venn diagram that would provide us an outline of the possible relationship between OTUs and different sample sets (Figure 5). The diagram showed that the only OTU shared by all groups was Lactobacillus, while Pediococcus was shared amongst Balb/c, Rag2ko and Rag2ko fed by Balb/c. Aeromonas, Clostridium, Actinobacillus, Citrobacter, Oceanimonas, Vibrio, Shewanella, Yersinia, Brenneria, Erwinia, Serratia, Enterobacter, and Salmonella were present only in Rag2ko mice, while Gallibacterium, Histophilus, and Streptococcus were exclusively in Balb/c mice. The two groups shared Shigella and Escherichia.