Biomedical applications of glycosylphosphatidylinositol-anchored proteins
ABSTRACT
---
Glycosylphosphatidylinositol (GPI)-anchored proteins (GPI-APs) use a unique posttranslational modification to link proteins to lipid bilayer membranes. The anchoring structure consists of both a lipid and carbohydrate portion and is highly conserved in eukaryotic organisms regarding its basic characteristics, yet highly variable in its molecular details. The strong membrane targeting property has made the anchors an interesting tool for biotechnological modification of lipid membrane-covered entities from cells through extracellular vesicles to enveloped virus particles. In this review, we will take a closer look at the mechanisms and fields of application for GPI-APs in lipid bilayer membrane engineering and discuss their advantages and disadvantages for biomedicine.
No MeSH data available.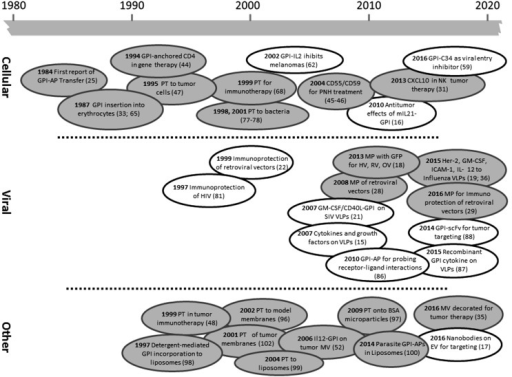 © Copyright Policy - open-access
License 1 - License 2


getmorefigures.php?uid=PMC5036375&req=5

Mentions: Glycosylphosphatidylinositol (GPI)-anchored proteins (GPI-APs) are generated by posttranslational modification and can be found on approximately 0.5 percent of proteins in eukaryotes (1), while similar structures are also found in archaea (2). While the core structure of the GPI anchor is fairly conserved, i.e., a phosphoethanolamine linker located at the protein C terminus that is coupled to a glycan core mostly consisting of mannose residues, glucosamine, and inositol, which in turn comprise the head-group of the phospholipid (see Fig. 1), fatty acid residues can vary significantly as well as carbohydrate side chains. Proteins are singled out for GPI anchoring due to the presence of a GPI signaling sequence (GSS). The GSS contains the later site of GPI attachment (the amino acid in the ω position) and a series of hydrophobic amino acids, essentially forming a membrane-associating domain linking the pre-GPI protein to the luminal side of the endoplasmic reticulum. Biosynthesis of the anchor occurs separately and consists of a complex series of enzymatic reactions involving more than 11 enzymes (3). Synthesis starts at the cytosolic side of the endoplasmic reticulum with phosphoinositol, flips to the lumenal side, and sequentially adds the carbohydrate core elements. The transamidase enzyme complex replaces the GSS with the preformed GPI anchor by amide bond formation to the amino acid in the ω position. The GPI-APs are then transported to their final destination via the Golgi system. During transport, further modification of the anchor lipids occurs in a process termed lipid remodeling (4). GPI-APs may be lost from the membrane either with their anchors intact, in a process termed shedding, or upon enzymatic cleavage, i.e., by phosphoinositol-specific phospholipases B and C (5) (see Fig. 1). Biosynthesis, biochemistry and cell biology, trafficking, organization, and dynamics at the cell surface and the release of GPI-APs have all been reviewed recently in greater detail (4, 6–11). To these detailed insights into the topic, we would like to add information about the applications of GPI-APs in biotechnology, and more specifically, in biomedicine (12–14). These applications are mainly based on the membrane-targeting properties of GPI-APs and directed at modifying or functionalizing lipid bilayer membranes. This can be achieved in two different ways: by genetic (genotypic) engineering (GE) or by protein engineering [PE, also termed phenotypic engineering, protein transfer, or molecular painting (MP)]. Figure 2 summarizes the differences, advantages, and disadvantages of the two strategies. Hallmarks of the development of GPI-AP membrane engineering are depicted in Fig. 3.