Oxysterol binding protein-related protein 8 mediates the cytotoxicity of 25-hydroxycholesterol [S]
ABSTRACT
---
Oxysterols are 27-carbon oxidized derivatives of cholesterol or by-products of cholesterol biosynthesis that can induce cell apoptosis in addition to a number of other bioactions. However, the mechanisms underlying this cytotoxicity are not completely understood. ORP8 is a member of the oxysterol binding protein-related protein (ORP) family, implicated in cellular lipid homeostasis, migration, and organization of the microtubule cytoskeleton. Here, we report that 25-hydroxycholesterol (OHC) induced apoptosis of the hepatoma cell lines, HepG2 and Huh7, via the endoplasmic reticulum (ER) stress response pathway, and ORP8 overexpression resulted in a similar cell response as 25-OHC, indicating a putative functional relationship between oxysterol cytotoxicity and ORP8. Further experiments demonstrated that ORP8 overexpression significantly enhanced the 25-OHC effect on ER stress and apoptosis in HepG2 cells. A truncated ORP8 construct lacking the ligand-binding domain or a closely related protein, ORP5, was devoid of this activity, evidencing for specificity of the observed effects. Importantly, ORP8 knockdown markedly dampened such responses to 25-OHC. Taken together, the present study suggests that ORP8 may mediate the cytotoxicity of 25-OHC.
No MeSH data available.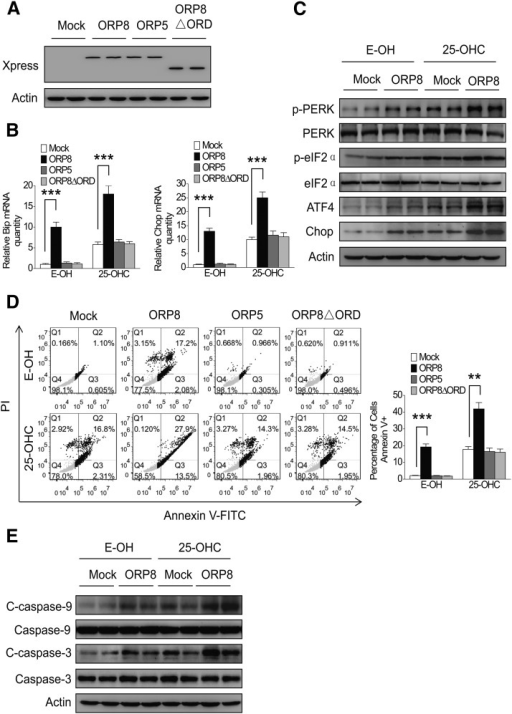 © Copyright Policy - open-access
License 1 - License 2


getmorefigures.php?uid=PMC5036365&req=5

Mentions: We have identified that overexpression of ORP8 induces an ER stress response in HepG2 cells (26), and ORP8 is anchored to ER membranes via its C-terminal transmembrane segment (21). To determine whether ORP8 could mediate 25-OHC-induced ER stress and cell apoptosis, we transfected ORP8 cDNA, ORP8 cDNA lacking the ORD domain (ORP8△ORD), or the related ORP5 cDNA into HepG2 cells and treated them with 25-OHC, followed by analysis of ER stress markers and apoptosis. The results revealed that both 25-OHC treatment and ORP8 overexpression increased the Bip and Chop mRNA expression (Fig. 4A, B), while ORP8△ORD and ORP5 failed to do so. Interestingly, the increase of Bip and Chop mRNA induced by 25-OHC was potentiated upon overexpression of ORP8, but not ORP8△ORD or ORP5 (Fig. 4B), and the protein expression of ER stress markers was in conformity with Bip and Chop mRNA levels (Fig. 4C). Analysis of apoptosis by annexin V-FITC/PI staining showed, consistent with the ER stress results, that both 25-OHC treatment and ORP8, but not ORP8△ORD or ORP5 overexpression, induced an increased apoptotic cell rate (Fig. 4D). Furthermore, combined 25-OHC treatment and ORP8, but not ORP8△ORD or ORP5 overexpression, induced a potentiated increase in apoptotic cells (Fig. 4D). Analysis of the cleavage of caspase-9 and -3 by Western blotting further confirmed this observation (Fig. 4E).