Oxysterol binding protein-related protein 8 mediates the cytotoxicity of 25-hydroxycholesterol [S]
ABSTRACT
---
Oxysterols are 27-carbon oxidized derivatives of cholesterol or by-products of cholesterol biosynthesis that can induce cell apoptosis in addition to a number of other bioactions. However, the mechanisms underlying this cytotoxicity are not completely understood. ORP8 is a member of the oxysterol binding protein-related protein (ORP) family, implicated in cellular lipid homeostasis, migration, and organization of the microtubule cytoskeleton. Here, we report that 25-hydroxycholesterol (OHC) induced apoptosis of the hepatoma cell lines, HepG2 and Huh7, via the endoplasmic reticulum (ER) stress response pathway, and ORP8 overexpression resulted in a similar cell response as 25-OHC, indicating a putative functional relationship between oxysterol cytotoxicity and ORP8. Further experiments demonstrated that ORP8 overexpression significantly enhanced the 25-OHC effect on ER stress and apoptosis in HepG2 cells. A truncated ORP8 construct lacking the ligand-binding domain or a closely related protein, ORP5, was devoid of this activity, evidencing for specificity of the observed effects. Importantly, ORP8 knockdown markedly dampened such responses to 25-OHC. Taken together, the present study suggests that ORP8 may mediate the cytotoxicity of 25-OHC.
No MeSH data available.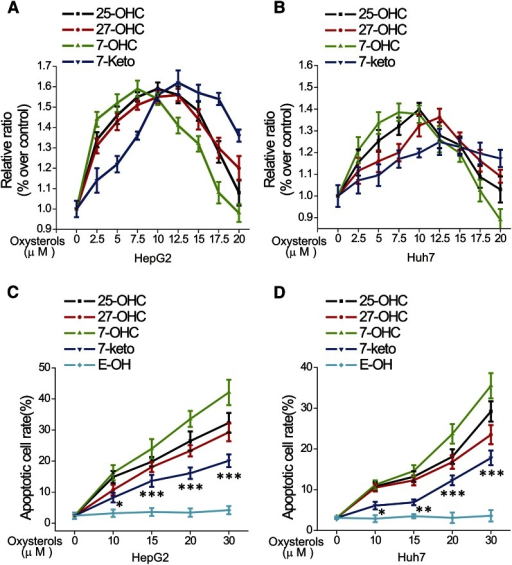 © Copyright Policy - open-access
License 1 - License 2


getmorefigures.php?uid=PMC5036365&req=5

Mentions: Oxysterols have potent effects on cell growth and death, including induction of apoptosis (5, 28). To assess the cytotoxicity of oxysterols, the effects of 7-keto, 7-OHC, 25-OHC, and 27-OHC on the proliferation of HepG2 and Huh7 cells were measured using CCK-8. As shown in Fig. 1A, B, concentrations below 10 μM of 7-keto, 7-OHC, 25-OHC, and 27-OHC promoted cell proliferation, while at concentrations above 10 μM, oxysterols caused a reduction of cell numbers. To further analyze the cytotoxicity of the oxysterols, we employed nuclear staining with Hoechst 33342 in HepG2 and Huh7 cells to determine the proportion of apoptotic cells in the 7-keto-, 7-OHC-, 25-OHC-, and 27-OHC-treated specimens. Compared with the control, the results showed that the number of apoptotic cells increased in a dose-dependent manner upon incubation with all oxysterols (Fig. 1C, D). Of note, HepG2 cells and 10 μM 25-OHC were selected for most of the experiments in this study. Even though this concentration induced stimulation of cell proliferation, it also had a pronounced pro-apoptotic effect (apoptosis rate 14.9% vs. 2.4% in the control). If ORP8 overexpression (see the results below) was combined with 25-OHC concentrations >10 μM, excessive cell death was induced, making it difficult to precisely analyze the apoptotic cell rate (supplemental Fig. S1).