Primary diffuse leptomeningeal oligodendrogliomatosis: A case report and literature review
ABSTRACT
---
Primary leptomeningeal oligodendrogliomatosis (PLO) is a rare low-grade intracranial and spinal canal subarachnoid neoplasm without an obvious primary neoplasm in the brain or spinal cord parenchyma. We present here the serial progression of radiological findings of this rare disease in a 2-year-old male child whose clinical status deteriorated over a period of 4 months with the main complaint of partial seizures. During this period, the MR findings progressed from mild hydrocephalus with minimal leptomeningeal enhancement to leptomeningeal multiple cystic lesions in the entire neuraxis including the spine.
No MeSH data available.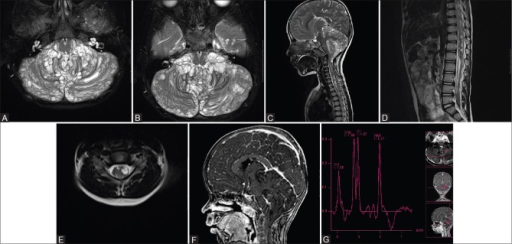 © Copyright Policy - open-access
License
getmorefigures.php?uid=PMC5036331&req=5
Mentions: The case reported here is a child who was born by normal vaginal delivery in a tertiary care hospital with uneventful birth history. The child was asymptomatic till 2 years of age when he presented to the hospital with one episode of simple partial seizure, for which an MRI was done in March 2013 [Figure 1]. The MR findings were mildly dilated ventricles with periventricular T2 hyperintensity representing interstitial edema and prominent tiny cysts along the cerebellar folia. The principal diagnosis of neurocysticercosis was considered. The child was started on anticonvulsant therapy and albendazole for 7 days. Follow-up MRI after 1 month [Figure 2] showed progressive communicating moderate hydrocephalus with periventricular CSF seepage and diffuse leptomeningeal enhancement along the tentorium, prepontine, quadrigeminal and ambient cisterns, with increase in the number of cerebellar cystic lesions. Tuberculous meningitis with communicating hydrocephalus was considered as the primary diagnosis because of the endemicity. Other differentials included leptomeningeal tumor spread and cysticercal meningitis. CSF analysis was nondiagnostic for the nature of leptomeningeal disease and showed glucose 50 mg/dl, protein 58 mg/dl, 97 RBCs/mm3, 12 nucleated cells/mm3 (36% lymphocytes, 58% monocytes, and 6% macrophages) with negative gram stain, acid fast bacilli stain, and cryptococcal antigen. CSF cultures for bacteria and fungi were negative. Cytologic studies did not reveal a neoplastic process. During the course of illness, the child's mother noticed regression of certain previously attained milestones, such as inability to walk and loss of head control. Gradually, the frequency of seizures increased to every 10-12 days. Since the clinical status continued deteriorating, ventriculoperitoneal (VP) shunting was performed to relieve the hydrocephalus. A follow-up contrast MRI brain and spine in June 2013 [Figure 3] showed resolution of hydrocephalus and appearance of multiple new T2-hyperintense small cystic lesions predominantly in the infratentorial region, and also involving the lateral ventricles, cerebral sulci, and the entire spinal canal. MR spectroscopy at TE 135 showed increased lactate and decreased NAA peaks. No significantly elevated choline peak was noted. Leptomeningeal biopsy [Figure 4] showed tumor cells with sharply defined cell borders, clear cytoplasm, and rounded nuclei, consistent with an oligodendroglioma (WHO grade II). The pathologic specimens were negative for 1p or 19q chromosomal deletions, pointing to the diagnosis of PLO. Patient expired despite intensive treatment.