Magnetic resonance neurographic confirmation of extensive Plexiform neurofibroma in neurofibromatosis-1 presenting as ambiguous genitalia
ABSTRACT
---
Genitourinary involvement of neurofibromatosis is uncommon and genital neurofibromatosis is even rarer. Involvement of clitoris by neurofibroma can lead to clitoromegaly masquerading as a male penis. We report such a case of ambiguous genitalia in a 7-year-old female child presenting with clitoromegaly since birth, in which magnetic resonance imaging (MRI) revealed the presence of extensive neurofibromatosis in the clitoris and lumbosacral regions. We emphasize the central role of MRI in evaluation of hormonal and non-hormonal causes of ambiguous genitalia. We further discuss the merits of including MR neurography in the imaging protocol for comprehensive delineation of neurofibromatosis.
No MeSH data available.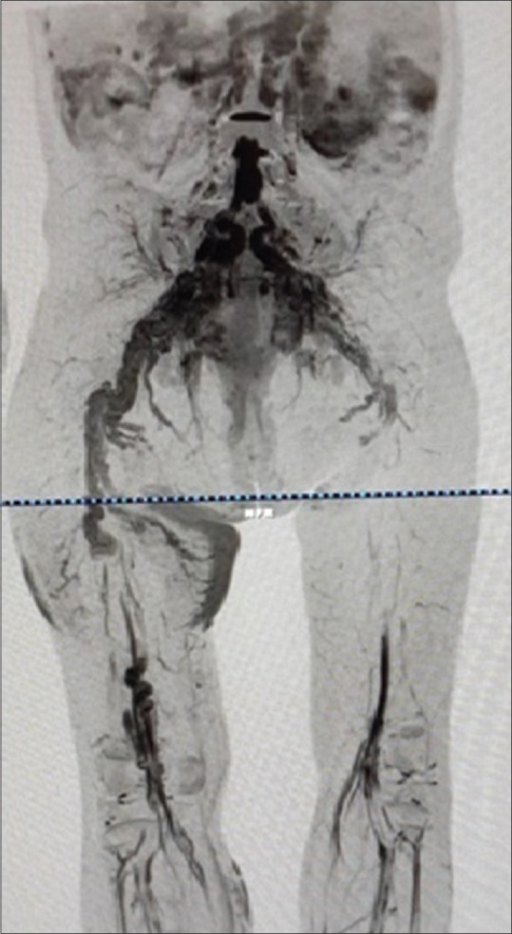 © Copyright Policy - open-access
License
getmorefigures.php?uid=PMC5036330&req=5
Mentions: A 7-year-old child presented to the outpatient department of Endocrinology clinic of our hospital for evaluation of ambiguous genitalia and intersex state. On physical examination [Figure 1], there was presence of multiple light to dark brown patches of pigmentations in the lower abdomen, perineal region, bilateral groins, and upper thighs. There was a lobular swelling in the right thigh. Ophthalmological examination revealed no significant abnormality. There were no first degree relatives with similar complaints. The examination of genital region revealed a small penis that looked like an enlarged clitoris, with small scrotum that was separated and looked like labia. No testes were present within the scrotum. The urethral opening was located posterior to the penis. Based on the clinical examination, the child was presumed to be genetic male and referred for karyotyping and ultrasound of pelvis to look for undescended testes. However, the patients karyotype came out to be 46XX and pelvic sonography revealed normal appearing uterus and bilateral ovaries. Moreover, ultrasonography showed diffusely thickened bladder wall with sacculations and trabeculations. Endocrine evaluation was done that ruled out precocious puberty, congenital adrenal hyperplasia, and other hormonal causes of clitoromegaly. Lumbosacral plain radiographs were obtained which showed widened neural foraminae at the sacral vertebral level [Figure 2]. No other osseous lesions were present. MRI was performed on a 1.5 T superconducting system (Magnetom Avanto, Seimens Medical System, Erlangen, Germany). Routine pelvic MR scan was performed using body array coil with respiratory gating. The scan was performed in supine position after cushioning the legs with arms folded on the chest. Patient was given ear protectors. The sequences used were FSE T2 sagittal, axial with fat saturation, and coronal with fat suppression, and SE T1 coronal and axial with post contrast images. Postcontrast volume extrapolated breath-hold examination (VIBE) axial and coronal images were also obtained with fat suppression. Pelvic MRI (sagittal T2 weighted images (WI) and coronal T1W sequences) confirmed the presence of a uterus measuring approximately 5 × 1.5 × 1.5 cm (appropriate for age) with normally visualized vagina and bilateral ovaries. T2W images showed homogenous lobulated mass lesions in bilateral sacral neural foraminae extending along bilateral lumbosacral plexus. Distal extent of these masses, however, could not be delineated on these images. MR neurography [Figures 3 and 4] of lumbosacral and thigh regions was performed using three-dimensional (3D) Short tau inversion recovery sampling perfection with application-optimized contrasts using varying flip-angle evolutions (STIR-SPACE), which revealed the presence of multiple, lobulated, homogenous mass lesions long the nerve roots of bilateral lumbosacral plexus, bilateral sacral neural foraminae, extending into right thigh along the femoral nerve and bilateral broad ligament. A similar signal intensity and enhancement pattern was also noted within the hypertrophied clitoris and bilateral mass lesion measuring approximately 5 × 2 × 4 cm was seen involving clitoris and bilateral labial tissue. Urinary bladder was grossly distended with diffuse, irregular wall thickening suggesting neurogenic bladder. A provisional diagnosis of neurofibromatosis-1 was given based on the MRI picture of plexiform neurofibroma and presence of extensive cafe au lait spots. The patient was referred to pediatric surgery department where excision of the clitoris mass was done with clitoroplasty. Histopathological examination confirmed corpus cavernous tissue infiltrated by a plexiform neurofibroma.