Detection of Novel Gene Variants Associated with Congenital Hypothyroidism in a Finnish Patient Cohort
ABSTRACT
---
Background:: Congenital hypothyroidism (CH) is defined as the lack of thyroid hormones at birth. Mutations in at least 15 different genes have been associated with this disease. While up to 20% of CH cases are hereditary, the majority of cases are sporadic with unknown etiology. Apart from a monogenic pattern of inheritance, multigenic mechanisms have been suggested to play a role in CH. The genetics of CH has not been studied in Finland so far. Therefore, multigenic sequencing of CH candidate genes was performed in a Finnish patient cohort with both familial and sporadic CH.
Methods:: A targeted next-generation sequencing (NGS) panel, covering all exons of the major CH genes, was applied for 15 patients with sporadic and 11 index cases with familial CH.
Results:: Among the familial cases, six pathogenic mutations were found in the TPO, PAX8, and TSHR genes. Furthermore, pathogenic NKX2.1 and TG mutations were identified from sporadic cases, together with likely pathogenic variants in the TG, NKX2.5, SLC26A4, and DUOX2 genes. All identified novel pathogenic mutations were confirmed by Sanger-sequencing and characterized in silico and/or in vitro.
Conclusion:: In summary, the CH panel provides an efficient, cost-effective, and multigenic screening tool for both known and novel CH gene mutations. Hence, it may be a useful method to identify accurately the genetic etiology for dyshormogenic, familial, or syndromic forms of CH.
No MeSH data available.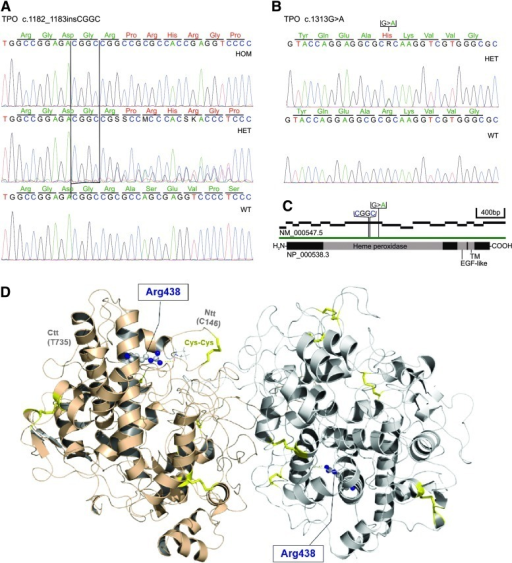 © Copyright Policy - open-access
License
getmorefigures.php?uid=PMC5036323&req=5
Mentions: Among the 11 index cases with familial CH, the following thyroid or associated phenotypes were found: goiter, athyreosis, thyroid gland hypoplasia, kidney agenesis, and, in one family, the cases were twins born prematurely at gestational week 29 + 3 (Fig. 1). Other families showed no obvious phenotypic signs or syndromes. Among 11 families, five were from the same district in Finland. In four of those families, a frameshift (fs) mutation (c.1182_1183ins CGGC) in the TPO gene in exon 8 was identified. This fs mutation altered the amino acid sequence of TPO after amino acid 394, and introduced a premature stop codon in exon 9. This change led to a large truncation of TPO and its peroxidase domain with no expected activity (Fig. 2). In three out of four families, this TPO mutation was homozygous in affected children. The thyroid ultrasound was normal, and no clinical goiter was observed in the affected cases during the clinical follow-up. Parents were heterozygous carriers, and all had a normal thyroid size and function. In family F3 (Fig. 1, F3), two cousins (#5 and #6) with CH had a heterozygous TPOfs mutation. Besides this mutation, one of them (#5) also had a rare novel heterozygous c.1313G>A, p.R438H mutation, which is absent in databanks and located in a well-established functional TPO domain. Based on the structural protein modeling, the histidine mutant at position 438 impairs the important intramolecular interaction. This led to the modification of the structural adjustment inside the domain, which is essential for regular enzymatic function of TPO (Fig. 2). The heterozygous TPOfs mutation was present in the mother and the R438H mutation in the father with normal thyroid function tests (TFTs). Thus, these compound heterozygous mutations of TPO most likely explain the development of CH in this patient. However, only the TPOfs mutation could be identified, not another TPO variant from his cousin who also suffered from CH.