Role of the N -Acetylmuramoyl- l -Alanyl Amidase, AmiA, of Helicobacter pylori in Peptidoglycan Metabolism, Daughter Cell Separation, and Virulence
ABSTRACT
---
The human gastric pathogen, Helicobacter pylori, is becoming increasingly resistant to most available antibiotics. Peptidoglycan (PG) metabolism is essential to eubacteria, hence, an excellent target for the development of new therapeutic strategies. However, our knowledge on PG metabolism in H. pylori remains poor. We have further characterized an isogenic mutant of the amiA gene encoding a N-acetylmuramoyl-l-alanyl amidase. The amiA mutant displayed long chains of unseparated cells, an impaired motility despite the presence of intact flagella and a tolerance to amoxicillin. Interestingly, the amiA mutant was impaired in colonizing the mouse stomach suggesting that AmiA is a valid target in H. pylori for the development of new antibiotics. Using reverse phase high-pressure liquid chromatography, we analyzed the PG muropeptide composition and glycan chain length distribution of strain 26695 and its amiA mutant. The analysis showed that H. pylori lacked muropeptides with a degree of cross-linking higher than dimeric muropeptides. The amiA mutant was also characterized by a decrease of muropeptides carrying 1,6-anhydro-N-acetylmuramic acid residues, which represent the ends of the glycan chains. This correlated with an increase of very long glycan strands in the amiA mutant. It is suggested that these longer glycan strands are trademarks of the division site. Taken together, we show that the low redundancy on genes involved in PG maturation supports H. pylori as an actractive alternative model to study PG metabolism and cell shape regulation.
No MeSH data available.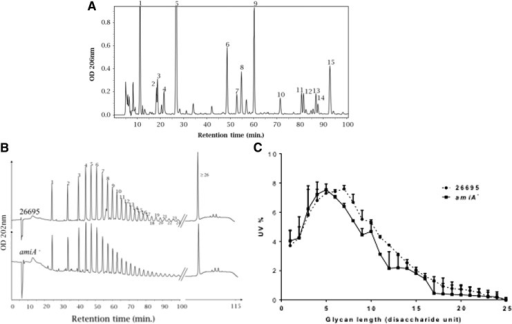 © Copyright Policy - open-access
License
getmorefigures.php?uid=PMC5036311&req=5
Mentions: Analysis of the muropeptide composition of the wild-type (WT) strain 26695 and the amiA mutant showed several modifications (Fig. 1A and Table 1). In exponentially growing bacteria, we observed an increase in proportion in muropeptides carrying pentapeptides and a decrease of the ones carrying tripeptides or dipeptides. The most striking difference concerned the proportion of the N-acetyl-d-glucosaminyl-β(1,4)-N-acetylmuramyl-l-Ala–d-Glu (GM-dipeptide) motif at different times of the growth curve. While the WT accumulated this motif in stationary phase (3.3% at 8 hr to 23.3% at 48 hr), the amiA mutant did it to a much lower extent (1.7% at 8 hr to 10.3% at 48 hr). In the contrary, the GM-tripeptide decreased over time in 26695 WT (from 16.8% at 8 hr to 4.96% at 48 hr) but stayed constant in the amiA mutant (around 14%). Those modifications were first described by Costa et al.13 and its biological relevance characterized by Chaput et al.7 Otherwise, another strong modification of the PG composition was that while the proportion of anhydromuropeptides increased over time in the 26695 WT strain (13% at 8 hr to 15.8% at 48 hr), the amiA mutant showed a drastic decrease (12.2% at 8 hr to 6.7% at 48 hr). Anhydromuropeptides consist of muropeptides carrying an N-acetyl-anhydromuramic acid residue (anhM), which is a signature for the end of glycan chains in Gram-negative bacteria. So, the relative amounts of anhydromuropeptides can be correlated to the length of glycan chain. This difference was mainly due to the decrease of dimeric GanhM-tetrapeptide-pentapeptide-GM (which contributed to 60% of the decrease of anhydromuropeptides in comparison with the WT), whereas the WT strain in the same period of time accumulated those motifs. During exponential growth, the amiA mutant had glycan chains of an average of 10.7 disaccharide units comparable to the WT strain (10.2). However, in stationary phase, the average increased to 18.7 disaccharide repeating units, compared to 8.3 disaccharide repeating units for the WT. Consequently, the amiA mutant appeared to have longer glycan chains than the parental strain 26695 in stationary phase. Even though, the major dimer GM-tetra-penta-GM increased in the amiA mutant (11.2% vs. 7.2%), the overall percentage of dimers was lower in the amiA mutant, particularly, in stationary phase (25.7% vs. 30.8%). Since in Escherichia coli when the endogenous amidases are mutated an increase of highly cross-linked muropeptides such as trimers or tetramers was observed, we were expecting that those motifs will appear in our amiA mutant even though WT H. pylori do not produce those motifs. Interestingly, no new muropeptides including highly cross-linked muropeptides were identified in the amiA mutant.