Controllable Edge Oxidation and Bubbling Exfoliation Enable the Fabrication of High Quality Water Dispersible Graphene
ABSTRACT
---
Despite significant progresses made on mass production of chemically exfoliated graphene, the quality, cost and environmental friendliness remain major challenges for its market penetration. Here, we present a fast and green exfoliation strategy for large scale production of high quality water dispersible few layer graphene through a controllable edge oxidation and localized gas bubbling process. Mild edge oxidation guarantees that the pristine sp2 lattice is largely intact and the edges are functionalized with hydrophilic groups, giving rise to high conductivity and good water dispersibility at the same time. The aqueous concentration can be as high as 5.0 mg mL−1, which is an order of magnitude higher than previously reports. The water soluble graphene can be directly spray-coated on various substrates, and the back-gated field effect transistor give hole and electron mobility of ~496 and ~676 cm2 V−1 s−1, respectively. These results achieved are expected to expedite various applications of graphene.
No MeSH data available.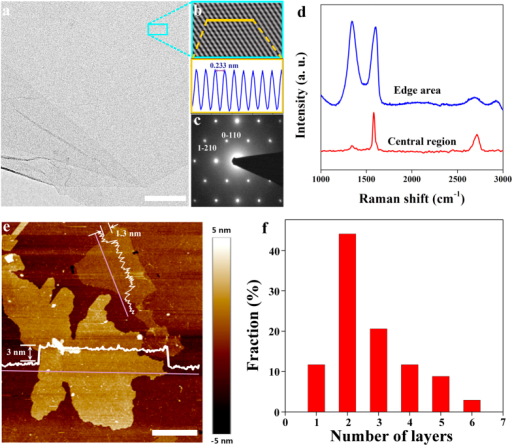 © Copyright Policy - open-access
License
getmorefigures.php?uid=PMC5036305&req=5
Mentions: To evaluate the quality of bubbling-exfoliated graphene, the samples were characterized by SEM, transmission electron microscope (TEM), atomic force microscopy (AFM), X-Ray Diffraction (XRD), Raman, XPS and Fourier transform infrared spectroscopy (FT-IR). The SEM image of Supplementary Fig. S8 shows graphene sheets with a typical area of 3 μm × 2 μm, which is comparable with that of reduced graphene oxides1617 and electrochemically exfoliated graphene18, and is much larger than ultrasonication10 or liquid phase shearing11. TEM image of Fig. 2a shows the wrinkles of a graphene thin sheet, suggesting a good flexible and ultrathin nature. High resolution TEM (HR-TEM) image of Fig. 2b shows the distinct crystallinity with lattices of 0.25 nm, which can be attributed to the (1120) lattice1418. The single-layer, bilayer, trilayer and few-layer graphene sheets are determined by the dark lines in the folded regions (Supplementary Fig. S9). According to HR-TEM image analysis, the products are predominately less than 6 atomic layers. Selected area electron diffraction pattern (SAED) (Fig. 2c) indicates typical six fold symmetry structure of graphene with same strong diffraction from the (1–210) plane and from the (0–110) plane, indicating the high crystallinity of single and bilayer graphene sheet19. Moreover, the Raman in Fig. 2d and XRD in Supplementary Fig. S10 further confirmed the formation of thin graphene. The low ID/IG ratio (0.13) in Raman data on the central region of a graphene basal plane indicates the highly crystallized sp2 structure of the products. Compared with the ID/IG ratio of precursor (0.12), the slight change implies no additional oxygen-containing groups formed in exfoliation progress. Moreover, the symmetrical 2D band (ca. 2700 cm−1) suggests the sample is the complete few layer graphene rather than the multilayered graphite (with asymmetrical 2D band)1520. The typical AFM image is shown in Fig. 2e, indicating two graphene sheets with irregular shape and a lateral size of several microns. The thickness of the graphene sheets 1.3 and 3.0 nm, calculated from the height difference between the graphene and the substrate, corresponding to approximately 3 and 6 atomic layer thickness, respectively1218. According to a lot of AFM tests, the thickness distribution of the obtained graphene sheets is shown in Fig. 2f. The thickness mainly distributes in 0.5–3.0 nm, which is consistent with HR-TEM data. In addition, the XPS and FTIR measurements were undertaken to characterize the functional groups on typical graphene. XPS survey spectrum shows a predominant narrow graphitic C 1s peak at ca. 284.2 eV (83.75 at. %), along with an O 1s peak at ca. 532 eV (16.25 at. %), as shown in Supplementary Fig. S11a. Well-fitted C 1s XPS spectrum is shown in Supplementary Fig. S11b. The C 1s XPS spectrum can be divided into three different peaks, which correspond to the signals of sp2-hybridised carbon (C=C, 284.86 eV, 67.4%), epoxy/hydroxyls (C–O, 287.0 eV, 24.2%) and carboxyl/carbonyl groups (C=O, 288.0 eV, 8.4%)21. The O 1s XPS spectrum can be divided into two different peaks (Supplementary Fig. S11c), and oxygen-containing groups are doubly confirmed by FT-IR results (Supplementary Fig. S12).