Hide and Seek: How Lyme Disease Spirochetes Overcome Complement Attack
ABSTRACT
---
Overcoming the first line of the innate immune system is a general hallmark of pathogenic microbes to avoid recognition and to enter the human host. In particular, spirochetes belonging to the Borrelia burgdorferi sensu lato complex have developed various means to counter the immune response and to successfully survive in diverse host environments for a prolonged period of time. In regard to complement resistance, Borrelia utilize a plethora of immune evasion strategies involves capturing of host-derived complement regulators, terminating complement activation as well as shedding of cell-destroying complement complexes to manipulate and to expeditiously inhibit human complement. Owing to their mode of action, the interacting surface-exposed proteins identified among B. burgdorferi sensu stricto (s.s.), Borrelia afzelii, Borrelia spielmanii, and Borrelia bavariensis can be classified into at least two major categories, namely, molecules that directly interfere with distinct complement components including BBK32, CspA, BGA66, BGA71, and a CD59-like protein or molecules, which indirectly counteract complement activation by binding various complement regulators such as Factor H, Factor H-like protein 1 (FHL-1), Factor H-related proteins FHR-1, FHR-2, or C4Bp. The latter group of genetically and structurally unrelated proteins has been collectively referred to as "complement regulator-acquiring surface proteins" and consists of CspA, CspZ, ErpA, ErpC, ErpP, and the as yet unidentified protein p43. This review focuses on the current knowledge of immune evasion mechanisms exhibited by Lyme disease spirochetes and highlights the role of complement-interfering, infection-associated molecules playing an important part in these processes. Deciphering the immune evasion strategies may provide novel avenues for improved diagnostic approaches and therapeutic interventions.
No MeSH data available.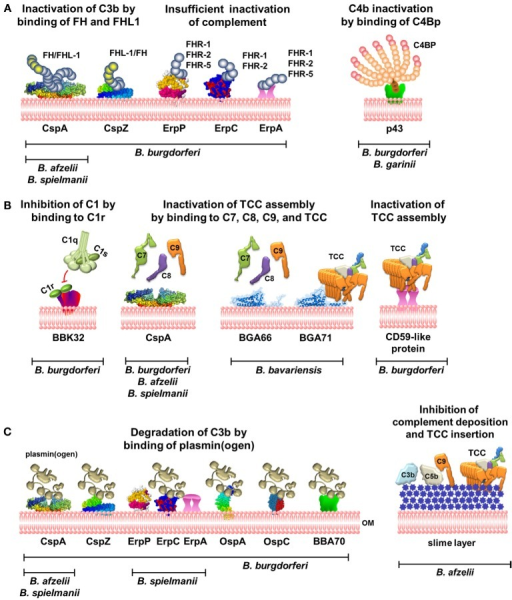 © Copyright Policy
License
getmorefigures.php?uid=PMC5036304&req=5
Mentions: In 1997, two independent studies demonstrated that serum-resistant strains exhibit significantly lower amounts of deposited activation products (C3, C6, and TCC) compared to serum-susceptible strains, leading to the assumption that the complement cascade is inhibited at the level of C3 and/or C5 activation; however, no underlying mechanism(s) were elucidated (26, 27). Several years later in 2001, OspE of B. burgdorferi s.s. (40) and the so-called Complement Regulator-Acquiring Surface Proteins (CRASP) of B. burgdorferi s.s. and B. afzelii (41, 42) were identified as ligands for FH and, in part, for FHL-1. Binding of these complement regulators by serum-resistant spirochetes inhibits activation at the central step of the complement cascade, C3 activation and the formation of C3 convertase, and thereby terminates the assembly and finally the integration of the TCC into the bacterial membrane (28, 42) (Figure 1A). Thereafter, several FH-binding proteins were detected in serum-resistant B. spielmanii, B. japonica, and B. bissettii isolates (31, 43, 44), while serum-sensitive B. garinii, B. lusitaniae, and B. valaisiana isolates did not bind functionally active FH (28, 30, 36, 42). The importance of disrupting complement activation at the level of C3 by surface-bound FH and FHL-1 was confirmed both in initial and follow-up studies investigating different borrelial species (29, 31–33). With the exception of serum-resistant B. bavariensis (45), almost all serum-resistant borrelial species are able to co-opt human FH and FHL-1 to protect themselves from complement-mediated killing, allowing LD spirochetes to survive in humans and in diverse, immune competent animal hosts (13).