Tanshinones and diethyl blechnics with anti-inflammatory and anti-cancer activities from Salvia miltiorrhiza Bunge (Danshen)
ABSTRACT
---
1–45–1844444: Four novel compounds () as well as fourteen reported compounds () were isolated and purified from Salvia miltiorrhiza Bunge (Danshen). The structures of novel compounds were determined by 1D and 2D NMR, HRESIMS data, etc. The anti-inflammatory properties of all the compounds on RAW264.7 macrophages and their cytotoxicity on H1299 and Bel-7402 cell lines coupled with a structure-activity relationship (SAR) were investigated. Compound demonstrated the best anti-inflammatory activity and was chosen for further research. Compound greatly suppressed secretion of nitric oxide (NO), tumor necrosis factor (TNF)-α and interleukin-6 (IL-6) in the RAW264.7 macrophages stimulated by LPS. Additionally, the protein expression of inducible nitric oxide synthase (iNOS) and cyclooxygenase-2 (COX-2) was decreased and the nuclear translocation of NF-κB was attenuated after treatment with compound in vitro. Compound was able to dramatically inhibit LPS-induced activation of JNK1/2 and ERK1/2 and remarkably disrupted the TLR4 dimerization in LPS-induced RAW264.7 macrophages. Thus, the new compound suppressed LPS-induced inflammation partially is due to the blocking TLR4 dimerization. In addition, the anti-cancer activity investigation indicated that most of isolated compounds exhibited cytotoxicity and the SAR analysis showed that the intact D ring was indispensable and unsaturated D ring played vital role.
No MeSH data available.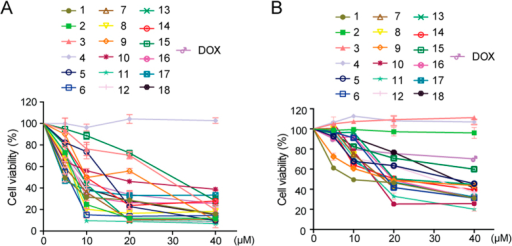 © Copyright Policy - open-access
License
getmorefigures.php?uid=PMC5036060&req=5
Mentions: Previous studies have shown that some tanshinones, such as tanshinone IIA, tanshinone I and cryptotanshinone exhibited anti-cancer properties both in vitro and in vivo4142434445. However, the anti-cancer activities of some trace compounds such as 6, 7, and 11 have not been tested. Herein, the toxicity of the isolated compounds towards non-small cells lung cancer H1299 cells and hepatocellular carcinoma Bel-7402 cells was tested. The IC50 values on H1299 cells and the inhibitory curves were shown in Table 3 and Fig. 7A, respectively. For most compounds, the IC50 values on human embryonic lung fibroblasts (HELF) were much higher than those on H1299 (Figure S3A). Structurally, the majority of isolated compounds belonged to diterpenes except compound 4. In terms of the saturation level of A and D ring of isolated compounds, they could be divided into five categories. Compounds 1, 8 and 17 that have both saturated A and D ring belong to category A; compounds 10 and 15 that have both unsaturated A and D ring belong to category B; compounds 5, 6, 7, 11, 12, 13 and 16 that have saturated A ring and unsaturated D ring belong to category C; compounds 19 and 14 that have unsaturated A ring and saturated D ring belong to category D, and the remnant compounds 2, 3 and 4 belong to category E. From Table 2 and Fig. 7A, most compounds exhibited significant anti-cancer effect on H1299 bar compounds 2 and 4. No cytotoxicity of compound 2 on H1299 cells indicated that an intact funan ring might be indispensable, which was consistent with previous report46. The cytotoxic activities of some compounds such as 1, 6, 7, 11, 17, 18, etc. were higher than that of the positive control. Compounds from A category showed the most significant cytotoxicity against H1299 cells and compounds from C category demonstrated the second better activity followed by compounds from D category. Therefore, the anti-cancer activities of compounds were ranked as: A > C > D > B. Among these compounds from category C, compounds 6 and 7 showed better activities than that of others in the same category C, which indicated 3-OH played a vital role on the anti-cancer activity. In addition, the cytotoxicity of these compounds was less efficient against Bel-7402 than that of H1299 cells (Table 2 and Fig. 7B). Almost all the IC50 values were over 10 μM, even the IC50 value of the positive control doxorubicin was over 40 μM. The IC50 values of these compounds on LO2 cells were similar to those on Bel-7402 (Figure S3B), which indicated that they exhibited lower cytotoxicity to normal cells. However, the anti-cancer structure activity relationship (SAR) in Bel-7402 cells was similar to that of in H1299 cells. Taken together, SAR of these compounds in against both H1299 cells and Bel-7402 cells was as: A > C > D > B.