Tanshinones and diethyl blechnics with anti-inflammatory and anti-cancer activities from Salvia miltiorrhiza Bunge (Danshen)
ABSTRACT
---
1–45–1844444: Four novel compounds () as well as fourteen reported compounds () were isolated and purified from Salvia miltiorrhiza Bunge (Danshen). The structures of novel compounds were determined by 1D and 2D NMR, HRESIMS data, etc. The anti-inflammatory properties of all the compounds on RAW264.7 macrophages and their cytotoxicity on H1299 and Bel-7402 cell lines coupled with a structure-activity relationship (SAR) were investigated. Compound demonstrated the best anti-inflammatory activity and was chosen for further research. Compound greatly suppressed secretion of nitric oxide (NO), tumor necrosis factor (TNF)-α and interleukin-6 (IL-6) in the RAW264.7 macrophages stimulated by LPS. Additionally, the protein expression of inducible nitric oxide synthase (iNOS) and cyclooxygenase-2 (COX-2) was decreased and the nuclear translocation of NF-κB was attenuated after treatment with compound in vitro. Compound was able to dramatically inhibit LPS-induced activation of JNK1/2 and ERK1/2 and remarkably disrupted the TLR4 dimerization in LPS-induced RAW264.7 macrophages. Thus, the new compound suppressed LPS-induced inflammation partially is due to the blocking TLR4 dimerization. In addition, the anti-cancer activity investigation indicated that most of isolated compounds exhibited cytotoxicity and the SAR analysis showed that the intact D ring was indispensable and unsaturated D ring played vital role.
No MeSH data available.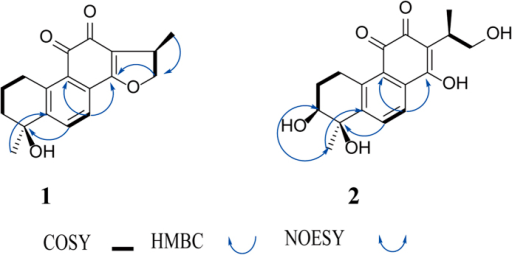 © Copyright Policy - open-access
License
getmorefigures.php?uid=PMC5036060&req=5
Mentions: Compound 1 was red powder with molecular formula as C18H18O4 determined by HRESIMS at m/z 299.1272 [M + H]+. The IR adsorptions 1637, 2967 and 3368 cm−1 indicated the presence of methyl, hydroxyl and carbonyl groups, respectively. 1H NMR data revealed the presence of one tertiary methyl (δH 1.69, 3H, s), one secondary methyl (δH 1.29, 3H, d, J = 6.8 Hz), and AB pattern for ortho-aromatic protons (δH 7.65, 1H, d, J = 7.5; δH 8.32, 1H, d, J = 7.5) (Table 1). All 18 carbons of 1 were resolved as individual carbon resonances (Table 1) by means of 13C NMR spectrum and classified by DEPT and HSQC spectrums showing as the presence of two methyls, four sp3 methylenes (one oxygenated), one quaternary carbon (oxygenated), four double bonds, and two carbonyls (δC 184.9, 176.6). In terms of the NMR data of cryptotanshinone and tanshinol B2021, compound 1 had a similar structure with them. As indicated by spectrum results from 1H-1H COSY experiment (Fig. 2), H-2 showed correlations with H-1 and H-3, respectively, while H-15 had correlations with H-16 and H-17, respectively, and H-6 had a correlation with H-7. The hydroxyl group was located at C-4, which was supported by the key HMBC correlations of C-4 and H-6/H-2. The stereochemistry of compound 1 was elucidated by NOESY spectrum (Fig. 2) and literatures published2021. In comparison of NMR data of cryptotanshinone and tanshinol B, H-15 was α-oriented and 15- methyl group was β-oriented, 4-methyl group was α-oriented and 4-hydroxyl group was β-oriented. Therefore, the structure of compound 1 was identified as (1R,6S)-6-hydroxy-1,6-dimethyl-1,2,6,7,8,9hexahydrophenanthro[1,2-b]furan-10,11-dione.