Migratory blackcaps can use their magnetic compass at 5 degrees inclination, but are completely random at 0 degrees inclination
ABSTRACT
---
It is known that night-migratory songbirds use a magnetic compass measuring the magnetic inclination angle, i.e. the angle between the Earth's surface and the magnetic field lines, but how do such birds orient at the magnetic equator? A previous study reported that birds are completely randomly oriented in a horizontal north-south magnetic field with 0° inclination angle. This seems counter-intuitive, because birds using an inclination compass should be able to separate the north-south axis from the east-west axis, so that bimodal orientation might be expected in a horizontal field. Furthermore, little is known about how shallow inclination angles migratory birds can still use for orientation. In this study, we tested the magnetic compass orientation of night-migratory Eurasian blackcaps (Sylvia atricapilla) in magnetic fields with 5° and 0° inclination. At 5° inclination, the birds oriented as well as they did in the normal 67° inclined field in Oldenburg. In contrast, they were completely randomly oriented in the horizontal field, showing no sign of bimodality. Our results indicate that the inclination limit for the magnetic compass of the blackcap is below 5° and that these birds indeed seem completely unable to use their magnetic compass for orientation in a horizontal magnetic field.
No MeSH data available.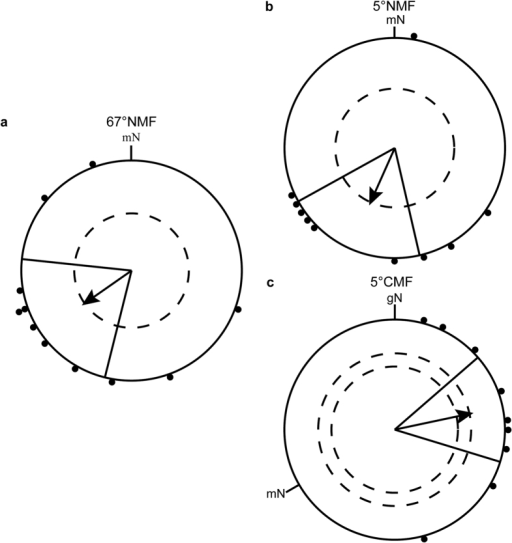 © Copyright Policy - open-access
License
getmorefigures.php?uid=PMC5036058&req=5
Mentions: In autumn 2014, we tested blackcaps in the 5°NMF and 5 °CMF conditions as well as in a control condition, where the inclination angle corresponded to the natural geomagnetic field of Oldenburg (67° inclination, 67°NMF). The condition with 0° inclination was not used during the autumn season in case it would function as a migration stop or migration direction reversal cue4445. The blackcaps were significantly oriented in their appropriate migratory direction in all conditions (autumn 2014: 67°NMF: group mean orientation = 235° ± 41°, r = 0.55, p < 0.05, N = 11, Fig. 3a; 5°NMF: group mean orientation = 204° ± 37°, r = 0.57, p < 0.05, N = 10, Fig. 3b; 5°CMF: group mean orientation = 78° ± 29°, r = 0.73, p < 0.01, N = 9, Fig. 3c). The Mardia-Watson-Wheeler test showed significant differences in the orientation directions between 5°NMF and 5 °CMF (W = 12.348, df = 2, p < 0.002), but not between the 67°NMF and the 5°NMF condition (W = 0.574, df = 2, p > 0.607 (ns)).