Polyoxazoline multivalently conjugated with indocyanine green for sensitive in vivo photoacoustic imaging of tumors
ABSTRACT
---
Photoacoustic imaging, which enables high-resolution imaging in deep tissues, has lately attracted considerable attention. For tumor imaging, photoacoustic probes have been proposed to enhance the photoacoustic effect to improve detection sensitivity. Here, we evaluated the feasibility of using a biocompatible hydrophilic polymer, polyoxazoline, conjugated with indocyanine green (ICG) as a tumor-targeted photoacoustic probe via enhanced permeability and retention effect. ICG molecules were multivalently conjugated to partially hydrolyzed polyoxazoline, thereby serving as highly sensitive photoacoustic probes. Interestingly, loading multiple ICG molecules to polyoxazoline significantly enhanced photoacoustic signal intensity under the same ICG concentration. In vivo biodistribution studies using tumor bearing mice demonstrated that 5% hydrolyzed polyoxazoline (50 kDa) conjugated with ICG (ICG/polyoxazoline = 7.8), P14-ICG7.8, showed relatively high tumor accumulation (9.4%ID/g), resulting in delivery of the highest dose of ICG among the probes tested. P14-ICG7.8 enabled clear visualization of the tumor regions by photoacoustic imaging 24 h after administration; the photoacoustic signal increased in proportion with the injected dose. In addition, the signal intensity in blood vessels in the photoacoustic images did not show much change, which was attributed to the high tumor-to-blood ratios of P14-ICG7.8. These results suggest that polyoxazoline-ICG would serve as a robust probe for sensitive photoacoustic tumor imaging.
No MeSH data available.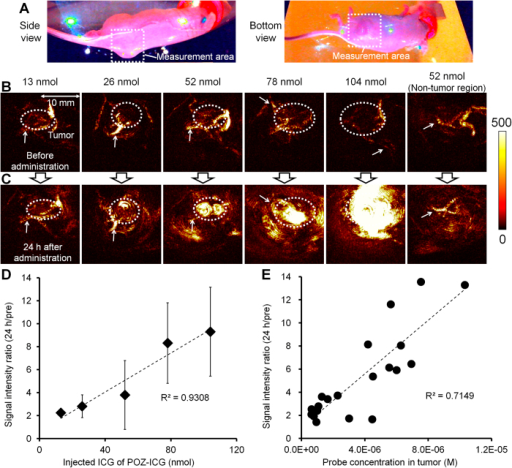 © Copyright Policy - open-access
License
getmorefigures.php?uid=PMC5036052&req=5
Mentions: Finally, we evaluated the feasibility of POZ-ICG as a tumor-targeted PA imaging probe. P14-ICG7.8 was investigated for further in vivo PA imaging studies because of the high tumor accumulation, high tumor-to-background ratio (Fig. 3), and high PA signal intensity (Fig. 4). In vivo PA imaging of tumor region (2 × 2 × 2 cm) at the mouse thigh was performed (Fig. 5A). Before probe injection, only blood vessels were observed (Fig. 5B, supplementary video S1). At 24 h after administration with P14-ICG7.8 (13 nmol or more), the tumor regions were clearly visualized and PA signal intensity in blood vessels was hardly changed (Fig. 5C, supplementary video S2). The PA signal intensity in the tumor region was significantly higher than that in the non-tumor region when P14-ICG7.8 (52 nmol ICG) was administered (4.7 ± 2.5 × 105 vs 1.2 ± 0.6 × 105 (a.u.) for tumor vs non-tumor) (Fig. 5B,C). The increase in PA signal generated by P14-ICG7.8 in the tumor region had a good linearity relationship with the injected dose in the range of measurement (124 ± 28, 181 ± 99, 279 ± 300, 731 ± 351%, and 830 ± 387% increase compared to pre-injection for 13, 26, 52, 78, and 104 nmol ICG, respectively) (Fig. 5D). Furthermore, PA signal intensity was also in proportion with ICG concentration in isolated tumors (Fig. 5E).