Paraspeckles modulate the intranuclear distribution of paraspeckle-associated Ctn RNA
ABSTRACT
---
Paraspeckles are sub-nuclear domains that are nucleated by long noncoding RNA Neat1. While interaction of protein components of paraspeckles and Neat1 is understood, there is limited information on the interaction of non-structural RNA components with paraspeckles. Here, by varying paraspeckle number and size, we investigate how paraspeckles influence the nuclear organization of their non-structural RNA component Ctn RNA. Our results show that Ctn RNA remains nuclear-retained in the absence of intact paraspeckles, suggesting that they do not regulate nuclear retention of Ctn RNA. In the absence of Neat1, Ctn RNA continues to interact with paraspeckle protein NonO to form residual nuclear foci. In addition, in the absence of Neat1-nucleated paraspeckles, a subset of Ctn RNA localizes to the perinucleolar regions. Concomitant with increase in number of paraspeckles, transcriptional reactivation resulted in increased number of paraspeckle-localized Ctn RNA foci. Similar to Neat1, proteasome inhibition altered the localization of Ctn RNA, where it formed enlarged paraspeckle-like foci. Super-resolution structured illumination microscopic analyses revealed that in paraspeckles, Ctn RNA partially co-localized with Neat1, and displayed a more heterogeneous intra-paraspeckle localization. Collectively, these results show that while paraspeckles do not influence nuclear retention of Ctn RNA, they modulate its intranuclear compartmentalization.
No MeSH data available.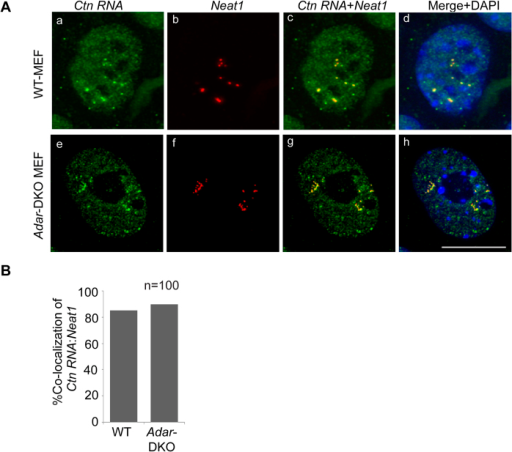 © Copyright Policy - open-access
License
getmorefigures.php?uid=PMC5036046&req=5
Mentions: There has been an ongoing debate about the potential involvement of A-to-I editing in the retention of hyper-edited transcripts to nucleus and also to paraspeckles92629303132. While some earlier studies have shown that inverted Alu (IRAlu) containing RNA is retained in the nucleus by paraspeckles, other studies show that IRAlu containing RNA are efficiently exported into the cytoplasm92629303132. A very recent study reported that in LPS-induced immune cells, a significant fraction of transcripts with hyper-edited regions tends to be retained in the nucleus33. In its 3′UTR, Ctn RNA harbors three inverted repeats (IR) of SINE origin that are inverted with respect to the forward repeat (FwR) (Fig. S2A)26. Double stranded regions formed by pairing of FwR and IR are frequently A-to-I edited by RNA editing enzyme Adenosine deaminases acting on RNA (ADARs)34. While three forms of this enzyme exist in human cells -ADAR1, 2 and 3, only ADAR1 and ADAR2 display editing activity34. In case of Ctn RNA, we have previously reported that the several adenosines within the FwR and IR2 repeats undergo A-to-I editing26. Taken together with the fact that the 3′UTR was involved in the nuclear localization of Ctn RNA, it was hypothesized that editing of Ctn RNA and its association with paraspeckle components such as NonO could influence it nuclear retention. Thus, we ascertained if A-to-I editing regulates the paraspeckle association and nuclear retention of Ctn RNA. We examined the cellular localization of Ctn RNA in WT and Adar1/Adar2 double knockout MEFs by RNA-fluorescence in situ hybridization (RNA-FISH) (Fig. 3A)3536. In WT-MEFs, Ctn RNA showed homogenous nuclear distribution, and also localized to paraspeckles, as confirmed by co-staining of cells with Neat1 (Fig. 3Aa–d). Ctn RNA displayed similar paraspeckle localization in the Adar-KO MEFs (Fig. 3A,B), even though these cells showed complete loss of A-to-I editing within the FwR and IR2 repeats of Ctn RNA (data not shown). Furthermore, Ctn RNA showed similar paraspeckle localization both control and Adar1-depleted (using siRNAs) transformed WT-MEFs (Fig. S3Aa–h,B). Together, our results indicate that in MEFs, A-to-I editing does not influence the nuclear localization and paraspeckle-association of Ctn RNA.