Enhanced cardiac TBC1D10C expression lowers heart rate and enhances exercise capacity and survival
ABSTRACT
---
TBC1D10C is a protein previously demonstrated to bind and inhibit Ras and Calcineurin. In cardiomyocytes, also CaMKII is inhibited and all three targeted enzymes are known to promote maladaptive cardiomyocyte hypertrophy. Here, in accordance with lack of Calcineurin inhibition in vivo, we did not observe a relevant anti-hypertrophic effect despite inhibition of Ras and CaMKII. However, cardiomyocyte-specific TBC1D10C overexpressing transgenic mice exhibited enhanced longevity. Ejection fraction and exercise capacity were enhanced in transgenic mice, but shortening of isolated cardiomyocytes was not increased. This suggests longevity resulted from enhanced cardiac performance but independent of cardiomyocyte contractile force. In further search for mechanisms, a transcriptome-wide analysis revealed expressional changes in several genes pertinent to control of heart rate (HR) including Hcn4, Scn10a, Sema3a and Cacna2d2. Indeed, telemetric holter recordings demonstrated slower atrial conduction and significantly lower HR. Pharmacological reduction of HR was previously demonstrated to enhance survival in mice. Thus, in addition to inhibition of stress signaling, TBC1D10C economizes generation of cardiac output via HR reduction, enhancing exercise capacity and survival. TBC1D10C may be a new target for HR reduction and longevity.
No MeSH data available.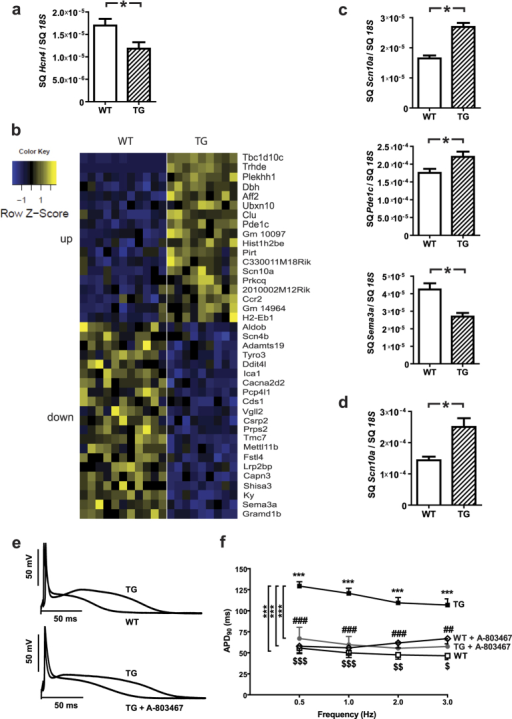 © Copyright Policy - open-access
License
getmorefigures.php?uid=PMC5036039&req=5
Mentions: We identified significant inhibition of CaMKII and Ras activity in TG mice. However, the sustained beneficial effect of TBC1D10C expression in vivo is suggestive of concomitant differences in gene expression. As HCN4 is central to HR regulation, we measured expression of Hcn4 in TG vs. WT mice. Indeed, Hcn4 expression was significantly reduced in TG mice (Hcn4/18S: WT: 1.7 ± 0.1 E-5, n = 16; TG: 1.2 ± 0.2 E-5, n = 16; P < 0.05) (Fig. 6a). To address expression changes in more depth, we then utilized next-generation sequencing (NGS) for whole mRNA transcriptome analysis. Applying a threshold of a log2-fold change >0.25 and the false discovery rate method for multiple testing with a threshold of 5% resulted in 18 upregulated and 21 downregulated genes (Fig. 6b). Among the upregulated genes was Scn10a (Scn10a/18S: WT: 1.6 ± 0.1 E-5, n = 9; TG: 2.7 ± 0.1 E-5, n = 10; P < 0.0001), coding for the voltage-gated sodium channel NaV1.8. SCN10A was implicated in HR regulation and, by experimental and genome-wide association studies (GWAS), identified as a modulator of PR interval duration, i.e. atrial conduction time. Moreover, Sema3a, also demonstrated to control cardiac conduction and heart rhythm regulation, was significantly downregulated (Sema3a/18S: WT: 4.2 ± 0.3 E-5, n = 10; TG: 2.7 ± 0.2 E-5, n = 10; P < 0.005). Finally, Cacna2d2, also implicated in HR control, was significantly downregulated; however, absolute expression level was extremely low. Differential expression of exemplary genes was confirmed via real-time RT-PCR (Fig. 6c,d). In order to examine patterns of transcriptional regulation which might result in increased lifespan and voluntary exercise capacity of Carabin TG mice, a pathway enrichment analysis was conducted using significantly regulated genes (cut off adjusted p-value < 0.05). The Analysis resulted in a gene ontology/pathway term network showing significant overlapping functional groups (p-value < 0.05) of a number of regulated genes (Supplemental Fig. 5). The analysis suggests that cardiac conduction, regulation of heart rate, regulation of sodium ion transmembrane transport and cardiac muscle contraction are central to the phenotype and closely interconnected. In addition to Scn10a, CaMKII2b and Sema3a, also transcriptional changes of genes encoding Slow skeletal muscle troponin T (Tnnt1), a phospholipid-transporting ATPase (Atp8a2), Calpain 3 (Capn3), the Sodium channel type I beta (Scn1b) and -4 beta (Scn4b), the Na+/Ca2+ exchanger (Slc8a1 also known as Ncx1), and a number of genes grouping to regulation of sodium ion transmembrane transport (Lrrc15, Vamp5, Pacs1, F11r, Fhl1, Tesc) contributed to the network. However, while this analysis confirms the central role of regulation of cardiac conduction and heart rate for the phenotype of TBC1D10C transgenic mice, the detailed relationships and mechanism of these network components need to be examined in detail in the future.