Enhanced cardiac TBC1D10C expression lowers heart rate and enhances exercise capacity and survival
ABSTRACT
---
TBC1D10C is a protein previously demonstrated to bind and inhibit Ras and Calcineurin. In cardiomyocytes, also CaMKII is inhibited and all three targeted enzymes are known to promote maladaptive cardiomyocyte hypertrophy. Here, in accordance with lack of Calcineurin inhibition in vivo, we did not observe a relevant anti-hypertrophic effect despite inhibition of Ras and CaMKII. However, cardiomyocyte-specific TBC1D10C overexpressing transgenic mice exhibited enhanced longevity. Ejection fraction and exercise capacity were enhanced in transgenic mice, but shortening of isolated cardiomyocytes was not increased. This suggests longevity resulted from enhanced cardiac performance but independent of cardiomyocyte contractile force. In further search for mechanisms, a transcriptome-wide analysis revealed expressional changes in several genes pertinent to control of heart rate (HR) including Hcn4, Scn10a, Sema3a and Cacna2d2. Indeed, telemetric holter recordings demonstrated slower atrial conduction and significantly lower HR. Pharmacological reduction of HR was previously demonstrated to enhance survival in mice. Thus, in addition to inhibition of stress signaling, TBC1D10C economizes generation of cardiac output via HR reduction, enhancing exercise capacity and survival. TBC1D10C may be a new target for HR reduction and longevity.
No MeSH data available.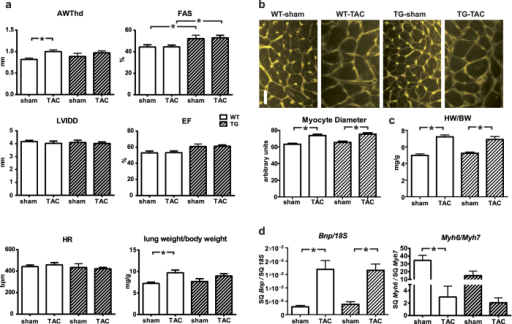 © Copyright Policy - open-access
License
getmorefigures.php?uid=PMC5036039&req=5
Mentions: In isolated cardiomyocytes with adenoviral mediated overexpression of TBC1D10C we observed significantly impeded CaN signalling and diminished hypertrophic growth in response to phenylephrine (PE) and angiotensin II (AngII) treatment (Supplemental Fig. 2). We hypothesized that TBC1D10C TG mice would display a similarly decreased hypertrophic response. Accordingly, TBC1D10C TG mice and WT littermates underwent aortic banding surgery. Four weeks after transverse aortic constriction (TAC) anterior wall thickness (AWThd) was significantly increased (WT sham: 0.69 ± 0.03 mm, n = 20; WT TAC: 0.93 ± 0.04 mm, n = 23; P < 0.05), while echocardiography displayed no signs of dilatation or functional impairment (Supplemental Fig. 3). However, the hypertrophic response towards increased afterload by TAC was similar in TBC1D10C TG mice compared to WT at 4 weeks (WT TAC: 0.93 ± 0.04 mm, n = 23; TG TAC: 0.96 ± 0.04 mm, n = 19; n.s.) and at 8 weeks (Fig. 2), although hypertrophy, increase in lung weight and percentage of mice with lung edema were somewhat less pronounced in TG compared to WT mice subjected to TAC (assuming a threshold of 10 mg/g, 8 of 19 WT animals (42%) and 5 of 17 TG animals (29%) exhibited lung edema 8 weeks after TAC). Furthermore, both groups had a similar increase in myocyte diameters measured via wheat germ agglutinin (WGA) staining and similar heart weight/body weight ratios at 8 weeks after TAC (Fig. 2b,c) excluding marked protection from maladaptive hypertrophy in this model. Likewise, the expression of both the B-type natriuretic peptide gene (Bnp) and of Myh6/Myh7 was induced equally in both groups after TAC (Fig. 2d), clearly demonstrating that these TBC1D10C TG mice are not protected from TAC-induced hypertrophy or heart failure. Moreover, to exclude the possibility of a blunted antihypertrophic effect due to higher transaortic gradients with enhanced SV in TG mice, we evaluated whether TBC1D10C was antihypertrophic in mice subjected to chronic AngII infusion utilizing implanted micro-osmotic pumps. Consistent with the observations in the TAC model, TBC1D10C TG mice did not display a blunted hypertrophic response after AngII treatment, as demonstrated by echocardiography, WGA staining, and real-time reverse transcriptase-polymerase chain reaction (RT-PCR) of Bnp and Myh6/Myh7 expression (Fig. 3). To evaluate the effect of TBC1D10C in a model of more severe heart failure compared to TAC we induced myocardial infarction (MI) by permanent ligation of the left anterior descending artery (LAD). Mice exhibited large infarctions and clinical signs of heart failure. At two weeks after MI surgery, mice exhibited large akinetic areas with thinning of the myocardium extending towards the inferior wall and severely impaired contractile function (Supplemental Fig. 4a,b). Although heart weight and echocardiography did not reveal marked differences in WT compared to TG mice, myocyte cross sectional (transversal) diameters determined with WGA staining in unaffected regions of the LV revealed a small difference between the genotypes, suggesting a modest anti-hypertrophic effect of TBC1D10C in this model. Likewise, in a healthy cohort of mice 12 month of age there was a small statistically significant difference in cross sectional myocyte diameter in WGA stain although this did not translate to significant differences in echocardiographic or morphometric parameters. Staining for fibrosis was similar in aged mice (Supplemental Fig. 4c,d).