A general and efficient strategy for generating the stable enzymes
ABSTRACT
---
The local flexibility of an enzyme's active center plays pivotal roles in catalysis, however, little is known about how the flexibility of these flexible residues affects stability. In this study, we proposed an active center stabilization (ACS) strategy to improve the kinetic thermostability of Candida rugosa lipase1. Based on the B-factor ranking at the region ~10 Å within the catalytic Ser209, 18 residues were selected for site-saturation mutagenesis. Based on three-tier high-throughput screening and ordered recombination mutagenesis, the mutant VarB3 (F344I/F434Y/F133Y/F121Y) was shown to be the most stable, with a 40-fold longer in half-life at 60 °C and a 12.7 °C higher Tm value than that of the wild type, without a decrease in catalytic activity. Further analysis of enzymes with different structural complexities revealed that focusing mutations on the flexible residues within around 10 Å of the catalytic residue might increase the success rate for enzyme stabilization. In summary, this study identifies a panel of flexible residues within the active center that affect enzyme stability. This finding not only provides clues regarding the molecular evolution of enzyme stability but also indicates that ACS is a general and efficient strategy for exploring the functional robustness of enzymes for industrial applications.
No MeSH data available.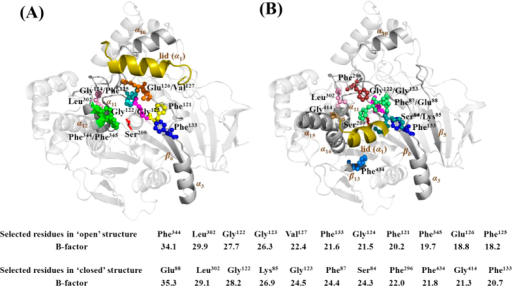 © Copyright Policy - open-access
License
getmorefigures.php?uid=PMC5036031&req=5
Mentions: The initial step of the ACS strategy was to select flexible residues. Indeed, critical catalytic residues were excluded to avoid any impairing on catalysis. To efficiently obtain stability improved LIP1 variants, those residues within 10 Å of catalytic residue Ser209 were considered as candidates for mutagenesis. The B-factors were analyzed using B-FITTER25 in two different structures of LIP1 (PDB codes: 1CRL and 1TRH), corresponding to the lipase 'open' and 'closed' states, respectively. Due to LIP1 structural complexity, the residues within 10 Å of catalytic residue Ser209 exhibit varied B-factor rankings as shown in the lower section of Fig. 3. Based on the B-factors analysis, eleven residues from each structure with the top highest B-factor ranking were selected, respectively, which resulted in total 22 candidate residues. However, four residues (Gly122, Gly123, Phe133, Leu302) are repeated in those candidate mutagenesis residues. Finally, only 18 residues of the top highest B-factor ranking were chosen around the active center for saturation mutagenesis. These residues were located in the α12 helix (Phe344, Phe345), the β13 strand (Phe434), the loop connecting the α1 helix and the β5 strand (Ser84, Lys85, Phe87, Glu88), the loop connecting the β6 strand and the α3 helix (Phe121, Gly122, Gly123, Gly124, Phe125, Glu126, Val127, Phe133), the loop connecting the α10 helix and the α11 helix (Phe296, Leu302), as well as a bend connecting the α15 helix and the α16 helix (Gly414). For efficient mutagenesis, the sites in cluster were combined for constructing one single library. Twelve libraries were constructed as following, library A (Phe344, Phe345), library B (Leu302), library C (Phe133), library D (Gly124, Phe125), library E (Glu126, Val127), library F (Phe121), library G (Phe87, Glu88), library H (Gly122, Gly123), library I (Ser84, Lys85), library J (Phe296), library K (Phe434), and library L (Gly414) (Fig. 3).