Dephosphorylated parafibromin is a transcriptional coactivator of the Wnt/Hedgehog/Notch pathways
ABSTRACT
---
Evolutionally conserved Wnt, Hedgehog (Hh) and Notch morphogen pathways play essential roles in the development, homeostasis and pathogenesis of multicellular organisms. Nevertheless, mechanisms that intracellularly coordinate these signal inputs remain poorly understood. Here we found that parafibromin, a component of the PAF complex, competitively interacts with β-catenin and Gli1, thereby potentiating transactivation of Wnt- and Hh-target genes in a mutually exclusive manner. Parafibromin also binds to the Notch intracellular domain (NICD), enabling concerted activation of Wnt- and Notch-target genes. The transcriptional platform function of parafibromin is potentiated by tyrosine dephosphorylation, mediated by SHP2 phosphatase, while it is attenuated by tyrosine phosphorylation, mediated by PTK6 kinase. Consequently, acute loss of parafibromin in mice disorganizes the normal epithelial architecture of the intestine, which requires coordinated activation/inactivation of Wnt, Hh and/or Notch signalling. Parafibromin integrates and converts signals conveyed by these morphogen pathways into appropriate transcriptional outputs in a tyrosine phosphorylation/dephosphorylation-regulated manner.
No MeSH data available.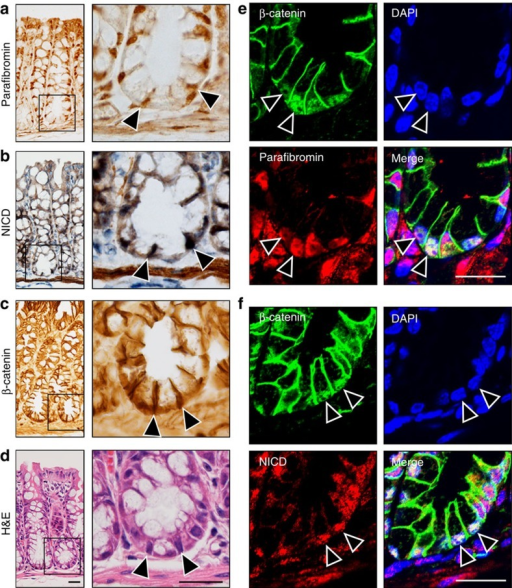 © Copyright Policy - open-access
License
getmorefigures.php?uid=PMC5036006&req=5
Mentions: To determine the in vivo relevance of parafibromin-mediated morphogen signal coordination, we analysed the expression of parafibromin and Wnt/Notch-related molecules in the mouse intestinal epithelium. We found that the Wnt targets CD44 and Sox9 and the Notch target Hes1 were expressed in cells at the bottom region of colonic crypts (Supplementary Fig. 6a–c), confirming that Wnt and Notch signals are simultaneously activated in this region where parafibromin, NICD and β-catenin were all expressed (Fig. 6a–f). To further elucidate in vivo roles of parafibromin, we used parafibromin conditional knockout (cKO) mice (Hrpt2flox/flox/CAG-CreER mice)33. On acute deletion of parafibromin (Supplementary Fig. 7a), the intestinal epithelium exhibited a marked reduction in expression of the Wnt targets CD44 and Sox9 (Fig. 7a,b) and the Notch target Hes1 (Fig. 7c). Thus, parafibromin was indispensable for activation of the Wnt and Notch signals in the adult intestinal epithelium. Furthermore, parafibromin cKO crypts exhibited significant reduction in the number of Ki-67-positive cells (Fig. 7d,e), indicating that parafibromin was indispensable for crypt cell proliferation, which depends on coordinated Wnt and Notch activation. Since parafibromin cKO crypts did not contain TUNEL-positive cells and retained normal expression of Gapdh and SHP2 proteins (Supplementary Fig. 7b,c), the observed changes in cKO crypts were not due to apoptosis. In control mice, differentiated enterocytes were present at the top of colonic crypts (Fig. 7f,g). In contrast, the parafibromin cKO colonic mucosa lost columnar morphology of enterocytes with defective microvilli formation (Fig. 7f,g). Since Hh signal activation in sub-villus mesenchymal cells is essential for enterocyte differentiation7, these abnormalities might be due to impaired Hh signalling caused by the loss of parafibromin. Consequently, the intestinal mucosa underwent severe structural disintegration even at 5 days after tamoxifen treatment (Fig. 7h). We also performed intestinal organoid culture using intestinal crypts isolated from parafibromin cKO mice and found that conditional removal of parafibromin results in the demise of intestinal organoids (Fig. 7i,j). Using intestinal organoids, we also investigated the upstream signal regulating the expression of PTK6. In the intestinal epithelium, BMP secreted from villous mesenchymal cells induces epithelial cell differentiation34. Accordingly, we assumed that BMP induces PTK6 in intestinal epithelial cells and thereby represses parafibromin-mediated activation of the Wnt and Notch signals in maturing epithelial cells. To test this possibility, we treated intestinal organoids with BMP4. We found that BMP4 stimulation induced PTK6 expression (Fig. 7k), which was concomitantly associated with reduced levels of the Notch target Hes1 and Wnt target CD44 (Fig. 7l,m). These observations indicated that BMP-induced PTK6 inhibited the ability of parafibromin to stimulate Wnt and Notch signals by tyrosine phosphorylation. We also generated Hrpt2flox/flox/Villin-Cre mice in which intestinal epithelium-specific Cre-dependent recombination is initiated at embryonic day 9 (E9). Strikingly, Hrpt2flox/flox/Villin-Cre mouse embryos failed to develop the embryonic intestinal epithelium, which was formed in wild-type littermates by E16.5 (Fig. 7n). These observations provided compelling evidence for the indispensable role of parafibromin in the development and maintenance of intestinal epithelial linings.