Dephosphorylated parafibromin is a transcriptional coactivator of the Wnt/Hedgehog/Notch pathways
ABSTRACT
---
Evolutionally conserved Wnt, Hedgehog (Hh) and Notch morphogen pathways play essential roles in the development, homeostasis and pathogenesis of multicellular organisms. Nevertheless, mechanisms that intracellularly coordinate these signal inputs remain poorly understood. Here we found that parafibromin, a component of the PAF complex, competitively interacts with β-catenin and Gli1, thereby potentiating transactivation of Wnt- and Hh-target genes in a mutually exclusive manner. Parafibromin also binds to the Notch intracellular domain (NICD), enabling concerted activation of Wnt- and Notch-target genes. The transcriptional platform function of parafibromin is potentiated by tyrosine dephosphorylation, mediated by SHP2 phosphatase, while it is attenuated by tyrosine phosphorylation, mediated by PTK6 kinase. Consequently, acute loss of parafibromin in mice disorganizes the normal epithelial architecture of the intestine, which requires coordinated activation/inactivation of Wnt, Hh and/or Notch signalling. Parafibromin integrates and converts signals conveyed by these morphogen pathways into appropriate transcriptional outputs in a tyrosine phosphorylation/dephosphorylation-regulated manner.
No MeSH data available.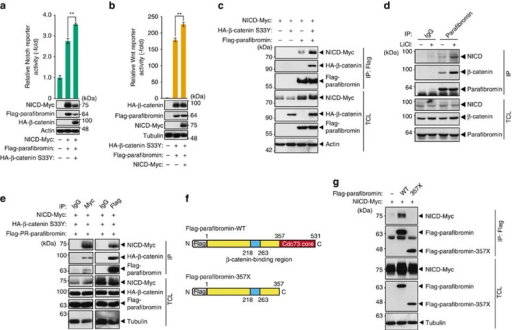 © Copyright Policy - open-access
License
getmorefigures.php?uid=PMC5036006&req=5
Mentions: In the mammalian intestinal epithelia, maintenance of intestinal stem cells and proliferative progenitor cells requires the cooperative activation of Wnt and Notch signalling1011. However, molecular mechanisms underlying cooperative activation of these two pathways remain poorly understood. To examine the effect of Wnt signal activation on parafibromin-dependent Notch signal activation, we co-expressed parafibromin, NICD and β-catenin in HEK293T cells and performed a Notch-dependent reporter assay. In contrast to the case of Hh signalling, β-catenin enhanced rather than inhibited parafibromin-dependent Notch activation (Fig. 4a). We also found that endogenous Wnt signal activation by LiCl promoted endogenous Notch signalling in HEK293T cells (Supplementary Fig. 4a). Reciprocally, NICD potentiated parafibromin-dependent Wnt activation (Fig. 4b). Thus, parafibromin stimulated Wnt- and Notch-dependent gene activation in a cooperative manner. To gain insights into the mechanism underlying the signal cooperation, we examined the effect of β-catenin on parafibromin/NICD interaction and we found that parafibromin/NICD interaction was strengthened in the presence of ectopic β-catenin (Fig. 4c). We also examined endogenous protein interaction using HEK293T cells and found that endogenous NICD and endogenous β-catenin were co-precipitated with endogenous parafibromin (Fig. 4d). Furthermore, the complex formation between these endogenous proteins was substantially potentiated upon stimulation of Wnt signalling by LiCl (Fig. 4d). These results indicated that β-catenin stimulated parafibromin/NICD complex formation and thereby promoted parafibromin-dependent Notch signal activation. The notion that β-catenin did not compete with parafibromin/NICD interaction raised the possibility that β-catenin and NICD simultaneously interact with parafibromin and thereby form a heterotrimeric complex. To test this idea, we triply expressed parafibromin, β-catenin and NICD in HEK293T cells and performed a co-immunoprecipitation study. Immunoprecipitation of parafibromin or NICD from lysates prepared from the triple-transfected HEK293T cells co-immunoprecipitated the other two proteins (Fig. 4e), indicating that the three proteins are present in a complex in the cell. This idea was further supported by the data showing that the C-terminal Cdc73 core homology domain of parafibromin (aa 357–531), which is located separate from the N-terminal β-catenin-binding site (aa 218–263), was required for NICD binding as well as potentiation of Notch signalling (Fig. 4f,g and Supplementary Fig. 4b). On the basis of these observations, we concluded that parafibromin co-stimulated the Wnt and Notch signals by forming a complex with β-catenin and NICD, respectively.